LAUNCH BST-500 Cranking and Charging System Test 6V 12V 24V Load Tester 100-2000 CCA Car Battery Tester
Description
LAUNCH BST-500 Cranking and Charging System Test 6V 12V 24V Load Tester 100-2000 CCA Car Battery Tester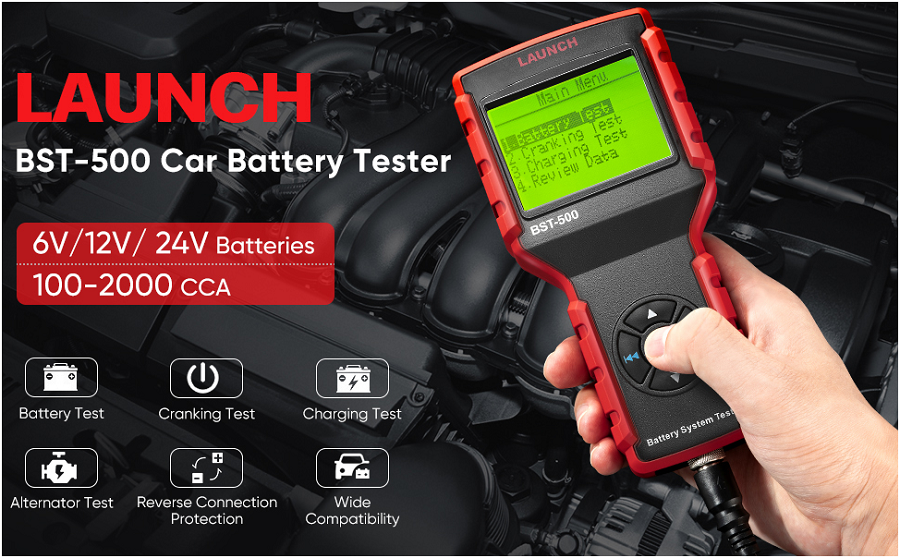 Highlights:
1. Portable & Easy to Use
Support both in-vehicle and out-of-vehicle tests, no need to remove the battery from the vehicle. Compared with traditional load battery testers, the battery alternator tester is easy-to-use and can get accurate results in seconds.
2. Fast and Accurate: High precision amplifier and calibrated by professional instruments give you reliable results in seconds!
3. Wide Compatibility: Works on all 6V -30V lead-acid batteries ranging from 100 to 2000 CCA (testing range:30-220AH).
Including regular flooded, AGM flat plate, AGM spiral, GEL, and EFB batteries for the truck, boat, Car, motorcycles, lawn mowers and other gardening machines,etc. Supports the majority of vehicle battery standards, such as CCA, BCI, CA, MCA, JIS, DIN, IEC, EN, SAE, GB.
4. Safe to Use: Fully Insulated Alligator Clips are built with user safety in mind through spark-free operation and reverse polarity protection.
This car battery load tester offers vehicle electrical safety through exceptionally polarity reverses connection protection, and it does not emit light, heat, spark, and discharge to safeguard all users, the vehicle, the battery and the device itself.
5. Battery & Cranking & Charging Test 
With this LAUNCH BST-500 car battery tester, you can check the overall health of the battery including the cranking test, and run a complete system charging test. Cranking test helps you test and analyze the starting motor to check it works properly or not, and the charging test is to check the charging system status to avoid damaging the battery. It's much more convenient than driving miles to find the nearby auto repair shop.6. A Must Tool For DIYERS & PROS
Applying the advanced conductance testing technology, LAUNCH BST-500 automotive battery tester can give you accurate testing results in seconds. Fit in your glove box, it's a handy device for automobile factory, garage, auto battery manufacturer, and DIYERS.
7. Multi-Language Support: English, Spanish, French, German, Russian, Polish,Italian,Portuguese.
LAUNCH BST-500 Features:
Launch BST-500, an excellent device that enables you to check battery condition with ease and simplicity, equips with key features to give you a comprehensive analysis of your battery's lifespan:
* Test 12 and 24-volt batteries
* Tests multiple battery types— VRLA, GEL, AGM, EFB, and regular flooded batteries
* 100-2000 CCA testing capacity
* Ideal for cars, light trucks, RVs, motorcycles, ATVs, boats, etc.
* Battery check, cranking check, charging check
* More fast and accurate result presentation
* Reverse polarity protection
* Firm and secure battery clamps
* Small and compact design
* Operation is guided through each step in the testing process
* Ergonomic design for better grip
* The latest test can be retrieved in the data review section
* Multi-language support
* Save a lot of money down the road
* 2. 4″ LCD for clear test results showing
* No harm to batteries
Why You Need A LUANCH BST-500 Car Battery Tester?
You must have met one of following situations ever when dealing with car battery:
Spending a lot of money on OEM car battery testing and try to keep the battery working normally;
Found a non-OEM battery for replacement but concerned about the actual battery health condition;
Long-time unused batteries being vulnerable to damages.
LUANCH BST-500 battery load tester is your savior! All the battery-related tests can be conducted with a simple click. As for the test results, it will be presented to you in seconds to deeply understand the battery health status and avoid unnecessary losses.
Specification:
| | |
| --- | --- |
| ITEM | VALUE |
| Place of Origin | China |
| | Guangdong |
| Brand Name | LAUNCH |
| Model Number | LAUNCH BST-500 |
| CCA/BCI/CA/MCA/EN/SAE | 100~2000 |
| JIS | 26A17~245H52 |
| DIN/IEC | 100~1400 |
| Test Clip | Double conductor Kelvin clip |
| Shell material | Acid-resistant ABS plastic |
| Battery test range | 30~200AH |
| Product Size | 185x95x30(mm) |
| Product Weight | 220g |
| Measuring voltage range | 7~30V |
| Cranking system/Charging system test | Support |
Package Includes:
1pc*LAUNCH BST-500 car battery tester
Only logged in customers who have purchased this product may leave a review.