Launch X431 IMMO Plus Programmer with XPROG3 MCU3 Adapter and SI KEY Smart Key Emulator
Description
LAUNCH X431 IMMO Plus Key Fob Programming Tool
LAUNCH X431 IMMO PLUS key programmer is a new generation of 8-inch automobile special IMMO matching tool with high configuration and super performance. The host is developed based on the Android 10.0 open system, adopts a 2.0Ghz 4-core high-efficiency processor, 4GBRAM 64GBROM large storage, and is equipped with a high-endurance battery, which make the diagnosis faster, more stable and more durable.
X431 IMMO PLUS integrates powerful IMMO matching, IMMO programming, full-model system-wide diagnosis with plus functions and special functions. It is the best choice for intelligent maintenance of the IMMO matching tool in repair shops.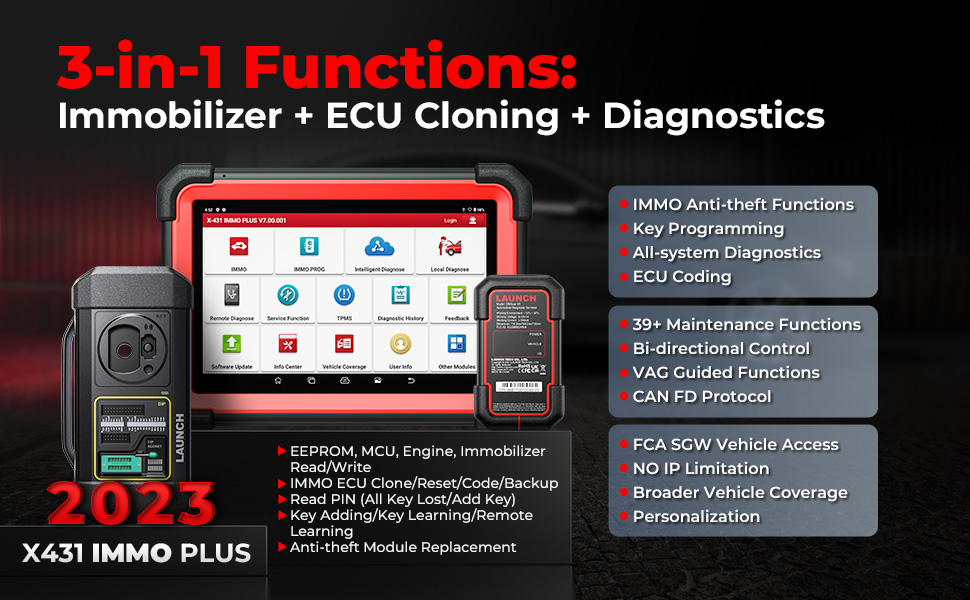 Launch X431 IMMO Plus Highlights:
1. IMMO Anti-theft Functions: IMMO PLUS LAUNCH scanner can read the immobilizer PIN and backup the key information for later reset/relearn. Include Read PIN; Key De-lete/Add/All Lost; Key Learning; Module Data Wiping; Module Replacement, IMMO E.CU Reset, etc.
2. Key Programming: Working with X431 PROG3 key programming tool, LAUNCH X431 IMMO PLUS serves 99% of coverage and provides Engine/Gearbox E.CU Module Cloning & Replacement; Remote Matching; Key Generation; Key Learning; Read/Write Key EEPROM, MCU, Engine, Immobilizer; Backup & Restore Engine E.CU Programming Data, etc.
3. ECU Coding: Solving some E.CU-related issues and allowing you to personalize your vehicle functions as preference need.
4. 39 Maintenance Functions: IMMO PLUS scanner not only configure comprehensive IMMO functions but also integrates common reset functions for a full range of diagnostics.
5. All-system Diagnostics: IMMO PLUS scans all the vehicle control modules and finds out all the DTCs to help you to know what's wrong with the car.
6. Bi-directional Control: An essential feature for quickly locating vehicle problems and saving your time.
7. VAG Guided Functions: Offer step-by-step instructions and guide technicians to do fast repairs.
8. CAN FD Protocol: With the assistance of new communication standards, LAUNCH IMMO PLUS auto scanner enables much higher data rates & faster diagnostic speed than ever.
9. AutoAuth for FCA SGW: Use the latest software update function AutoAuth to provide diagnosis, active testing, etc., making the diagnostics more sE.CUre.Applicable to FCA vehicles equipped with a sE.CUrity gateway module (SGW) in 2017 and later.
10. X-PROG 3 Key Programming Tool: Compatible with X-PROG 3 enables reading and writing EEPROM, generating special keys, anti-theft type identification, remote control matching, key chip reading and matching, anti-theft password reading and anti-theft component replacement.
11. 2 Years Free Update: Provides 2 Years free update, One-Touch update via WiFi to enjoy more functions, get wider available vehicle coverage, add more languages, and improve the performance.
12. 99% of Vehicle Coverage: No IP limitation and offering FCA SGW vehicle access.
13. 24 Language Support, No Language Barrier: Italian, English, German, Japanese, Russian, French, Spanish, Portuguese, Polish, Turkish, Dutch, Greek, Hungarian, Arabic, Danish, Korean, Persian, Romanian, Serbian, Finnish, Swedish, Czech, Chinese Simplified, Chinese Traditional
Advantages:
1. Supports VW/AUDI MQB platform engine ECU replacement or cloning (Read engine ECU data directly from the key).
2. Supports VW/AUDI MQB platform gearbox ECU replacement or cloning.
3. Supports ECU replacement for fifth-generation Audi (0AW/0B5) gearboxs.
4. Supports reading, writing & cloning of the ECU for fourth-generation VW UDS engines.
5. Supports BMW E chassis 8HP gearbox ECU program wiping.
6. Support Mercedes(Engine, Gearbox, EIS) and BMW(Gearbox) ECU IMMO data erase.
7. Supports 170 Bosch, 10 Siemens engine ECU and 18 gearbox ECU BENCH mode clone.
– Bosch engine ECU: ME17,MED17,EDC17,MEVD17, etc.
– Siemens engine ECU: BMW(MSV90, MSD87, MSD85,MSD81, MSD80), Mercedes(SIM271DE2.0,SIM271KE2.0), VW/Audi(SIMOS8.6x,SIMOS8.5x,SIMOS8.4x), etc.
– Gearbox ECU: DQ200-MQB, DQ250XX, DL501 Gen1,VL381,VGS2- FCVT,VGS-FDCT,DQ400E,DL501 Gen2,DL382-7F,VGS2-FDCT,9G_Tronic,DQ380,DQ381, DQ500,AL551,AL450,AL552,AL951,8HPXX, etc.
Work With X-PROG 3 For Further Extended Programming Capacibility
In order to get a new key, an experienced lo-cksmith together with LAUNCH IMMO PLUS programming tool can offer programming services chips/remote key fobs/transponder to perfectly match the settings of your car. LAUNCH IMMO PLUS programmer also has access to manufacturer's pin codes that 100% meet the preset specifications set by the manufacturer. Especially working with the X-PROG3 Immobilizer & Key Programmer, LAUNCH IMMO PLUS enables key chip reading & matching, key generation, ECU clone, etc., to be easily and effectively.
Advantages of PROG 3 Programmer Brings for LAUNCH IMMO Key Programming Tool:
Engine ECU Module Clone & Replacement ( for 5000 Models)
Gearbox ECU Module Clone & Replacement ( for 5000 Models)
Remote Control Matching / Key Generation / Key Learning
Read/Write Key EEPROM, MCU, Engine, Immobilizer
Backup & Restore Bosch/Siemens Engine ECU Programming Data
VW & Au-di Key Learning/All Lost
5th-Gen. Au-di (0AW/0B5) Gearbox ECU Replacement
5th-Gen. VW UDS engine ECU Reading, Writing & Clone
Mercedes-Benz Key Adding/All Lost, Mercedes-Benz IMMO ECU Data Wiping, Mercedes-Benz Infrared Key Reading/Writing
BMW Key Adding/All Lost; ECU Replacement
BMW E chassis 8HP Gearbox ECU Data Wiping
Porsche Key Adding/All Lost; ECU Replacement
Read BMW Engine INS Code
View more >>>
Launch X431 MCU3 Adapter for X-PROG3 GIII Work on Mercedes Benz All Keys Lost and ECU TCU Reading
To program Mercedes all keys lost with X431 V, X431 V , Pro5, Pros, Pro3S, X431 PAD V, PAD VII and X-PROG3 GIII, you will need to connect the MCU3 adapter to X-PROG3 correctly.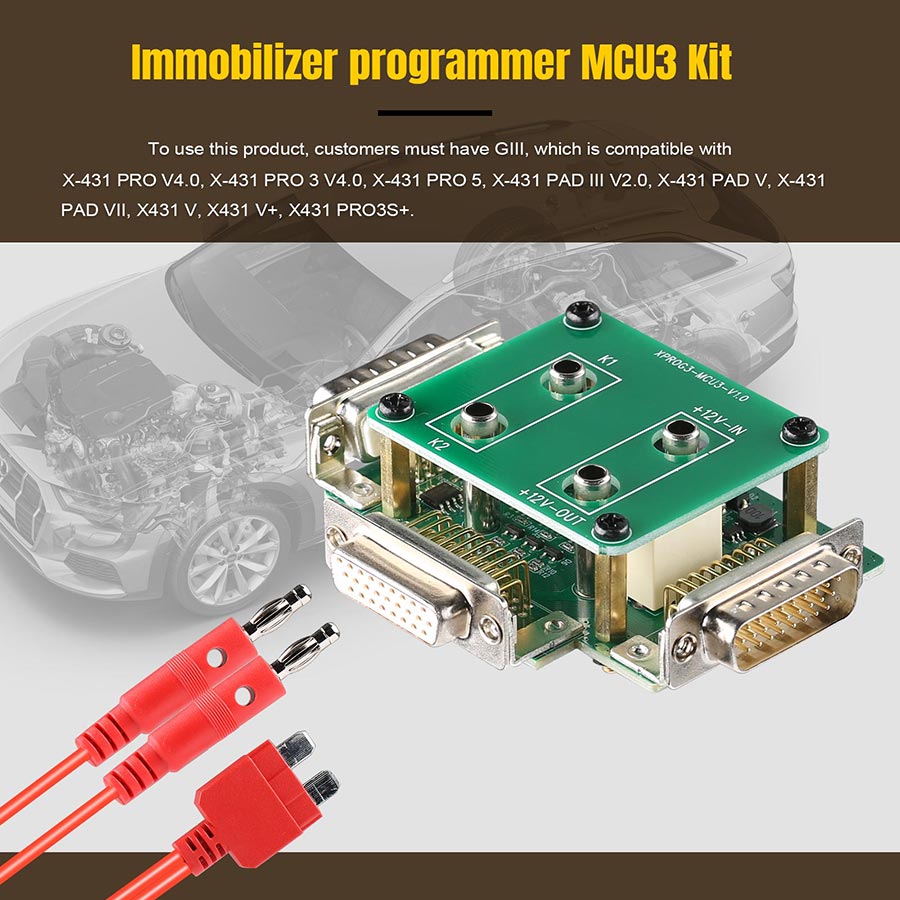 Adapter board code: 307140131
Equipment configuration: non-standard accessories, optional.
Applications and advantages of the new MCU3 adapter:
-ADAS Advanced Driving Assist System
-Audi VW MQB gearbox replacement
-BMW continental msv90 engine ecu replacement and cloning
-Peugeot Key Programming
-Mercedes Benz transmission deleted and operating instructions vgs nag2 vgs2 nag2 and vgs3 nag2
-Mercedes Benz w164 2009 Key Programming
-Volkswagen Audi 5th generation engine reading engine data via direct connection and online programming and coding
-For BMW E chassis 8hp EGS deleted
-BMW 8hp chassis F and G delete function
-Key programming cas4/cas4 all keys lost and adding keys
-Programming cas1 cas2 cas3 cas3 lost keys and add key
-CAS4 immobilizer module replacement
-Replacement of Volkswagen Audi engine and reading data med17 and edc17
-Mercedes Benz med9.7 ecu deleted
-Volkswagen Audi Replacement 4th Generation Instrument Replacement
-Engine replacement for Volkswagen Audi MED17.5.22
-Programming of lost keys and adding key Porsche Cayenne 2011 2017
-Cloning and virginization e39 ac delco
-Power shift cloning and virginization
-Nissan ecu and Tcm conversion and virgin ecu programming and calibrations
-Special features in Chrysler and registration at autoauth FCA sgw
-Special features in GM and Ford
View More >>>
LAUNCH X431 Immobilizer Programmer Simulate Key Support X-431 IMMO ELITE / IMMO PLUS/ IMMO Pro
Launch X431 smart key simulator is designed to collect the data sent from the ignition coil, aiming to identify the ignition coil troubles and decode the data of the vehicle key chip. It can also simulate the vehicle key chip. Currently, it supports to simulate the Toyota smart key chip and more key chip types will be supported with subsequent upgrades.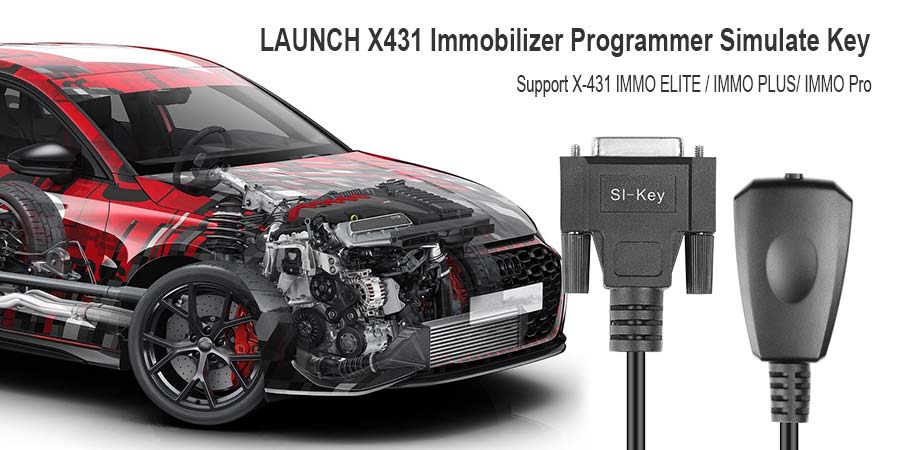 Prodct Functions:
Support all keys lost for Toyota, BYD and other models
Pakcage List:
1set full package Launch X431 IMMO Plus
1set full package MCU3 Adapter
1set full package X431 Simulator SI-KEY
Only logged in customers who have purchased this product may leave a review.