Original LAUNCH WiFi Mini Printer for X431 V/ X431 V+/ Pro3/ PRO/ PAD II with WiFi Function
Free shipping by fast way 4-9 days
Description
Original LAUNCH WiFi Mini Printer for X431 V/ X431 V / Pro3/ PRO/ PAD II with WiFi Function Fast
Notice:
1. USA Specification Only
2. Password for Wifi Printer: 12345678
3. Instant print out of fault codes and live data
4. Easily attaches to X431 V/PRO/PRO3/V /5C/PAD II
5. Keep a record of common faults
6. Record stored fault codes before clearing and testing
7. If You Need More Printing Paper, You Can Buy Printing Paper on Our website
Description:
Introducing a sleek and ergonomic printer to go with your Launch Diagnostic Pad or Tablet– and the best part – it's wireless to the scan tool! Print codes and their definitions, along with live data, coding information and relearn procedures – any screen that has a "Print" button can now be printed! The Wi-Fi Mini Printer fits right in your pocket and makes printing fast and easy
Features:
1. Print Wirelessly From Your Launch Pad II or Tablet With Ease!
2. Print Codes, Code Denitions, Module Information,Live Data, Coding Information, & Diagnostic Procedures!
3. Highly Portable, Sleek , Ergonomic, & Lightweight, Design – Fits Right
4. In Your Pocket! Includes Thermal Paper, Charger & Form Fitting Storage Box
5. Rechargeable Lithium Ion Battery – Lasts Days On A Single Charge
6. Automatic Battery Charge Indicator
7. Autoload & Feed Printer Design
8. Ultra-Fast Printing Capabilities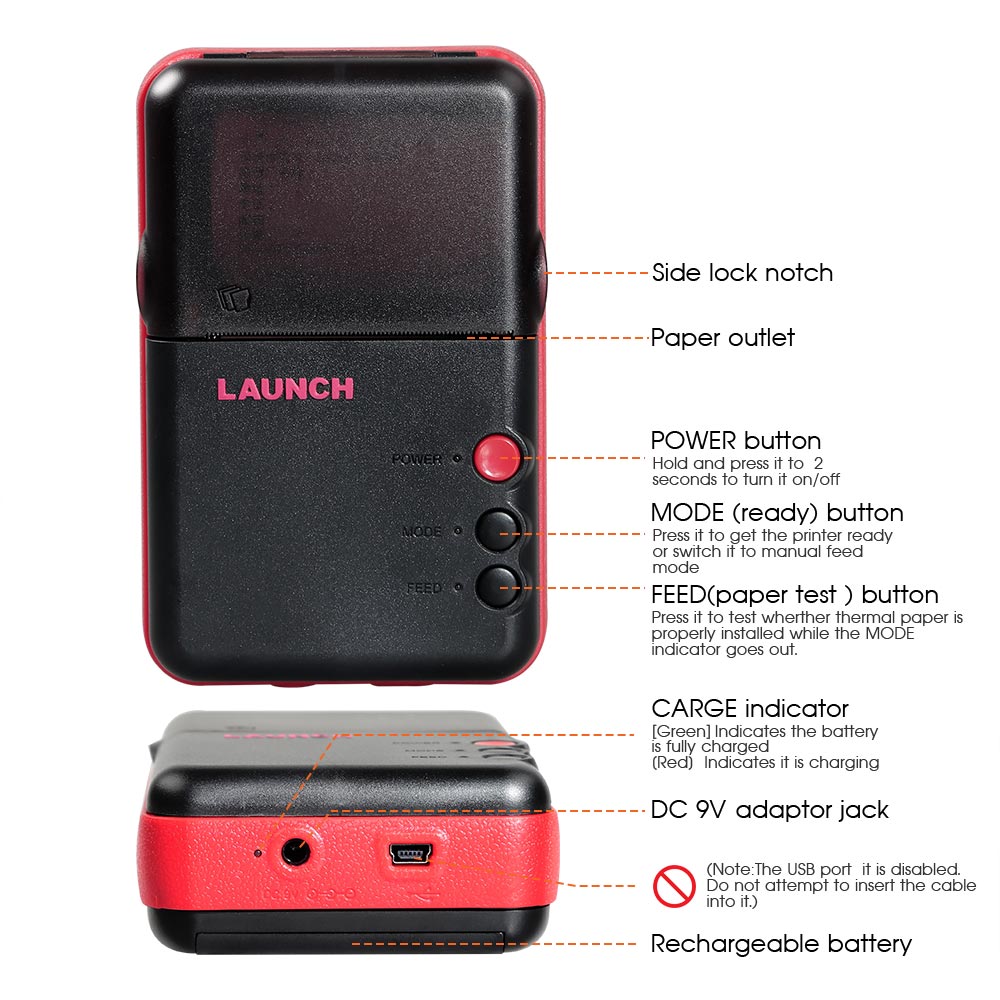 Package List:
1pc X Color box
1pc X Original Launch wifi Printer
1pc X Product manual
1pc X The power supply
1pc X Printing paper
Only logged in customers who have purchased this product may leave a review.