HINKCAR Thinkdiag Full System OBD2 Diagnostic Tool with All Brands License Free Update for One Year
Free shipping by fast way 4-9 days
$89.00 – $94.00
Description
THINKDIAG Professional Automotive Full System OBD2 EOBD Code Reader Scanner for iPhone & Android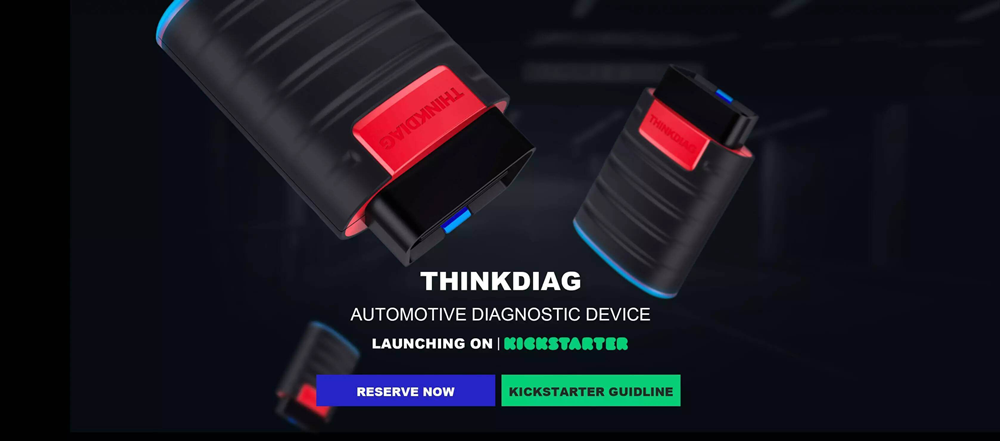 Thinkdiag Highlights:
1. All Car Brands License Activated and 1 Year Free Update Online
After 1 Year, you can pay Thinkdiag All Car Brands 2 Year License or pay for the unique software you need only in app.
2. Connect car via bluetooth on smartphone, app name is ThinkDiag
3. Plug ThinkDiag into the OBD port, open ThinkDiag App on the smartphone to do the vehicle diagnosis.
4. 16 kinds of reset service
5. Full System Diagnosis
6. Cover Up to 115 Major Vehicle Manufacturers: ThinkDiag covers 115 major vehicle manufacturers in the market, and keep updating
7. Multi-language: English, French, Spanish, German, Italian, Portuguese, Japanese and Russian
THINKCAR THINKDIAG is an automotive diagnostic device more powerful than easydiag, which supports full systems diagnsis for the car and 16 kinds of reset functions. ThinkDiag will be a $3000 level professional scan tool.
Comprehensive functions include diagnostic module, ThinkStore module, ThinkMoments module, Me module, etc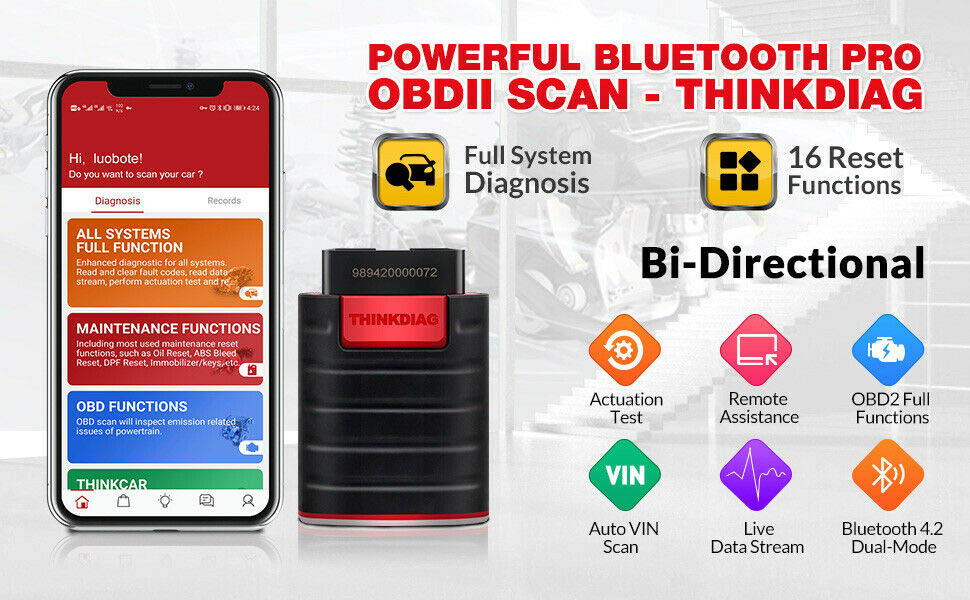 THINKDIAG Diagnostic Scanner Advantages:
1. Full-System Diagnoses: The diagnostic scanner THINKDIAG enables you to scan full control units for a number of cars such as Engine, ABS, SAS, Transmission, Fuel system, Emission system, Body, and so on. Therefore, there is no need to buy other tools for diagnosing systems, saving you much time and money from the long term.
2. 16 Service Functions: THINKDIAG provides you with commonly-used service functions(OIL RESET, INJECTOR, BRAKE RESET, SAS RESET, BAT.RESET, BLEEDING, ELEC.THROTTLE RLRN, TPMS RESET, DPF REG, DEAR LEARN…), enabling to quickly access the vehicle systems for various scheduled service and maintenance performances.
3. Full OBDII Functions: The diagnostic scanner features all 10 OBDII test modes, such as I/M Readiness, Live Data Stream (in graphic format), O2 Sensor Test, On-board Monitor Test, etc.For all car models, OBDII functions are FREE with lifetime.
4. Easy-To-Use Adapter: The THINKDIAG is a portable yet powerful scanner that composed of a Bluetooth adapter and a free diagnostic App (THINKDIAG App) for individual owners to check vehicle health status, and for service workshop to troubleshoot the issues. You are able to access all of the OBDII test modes for free once purchased the adapter.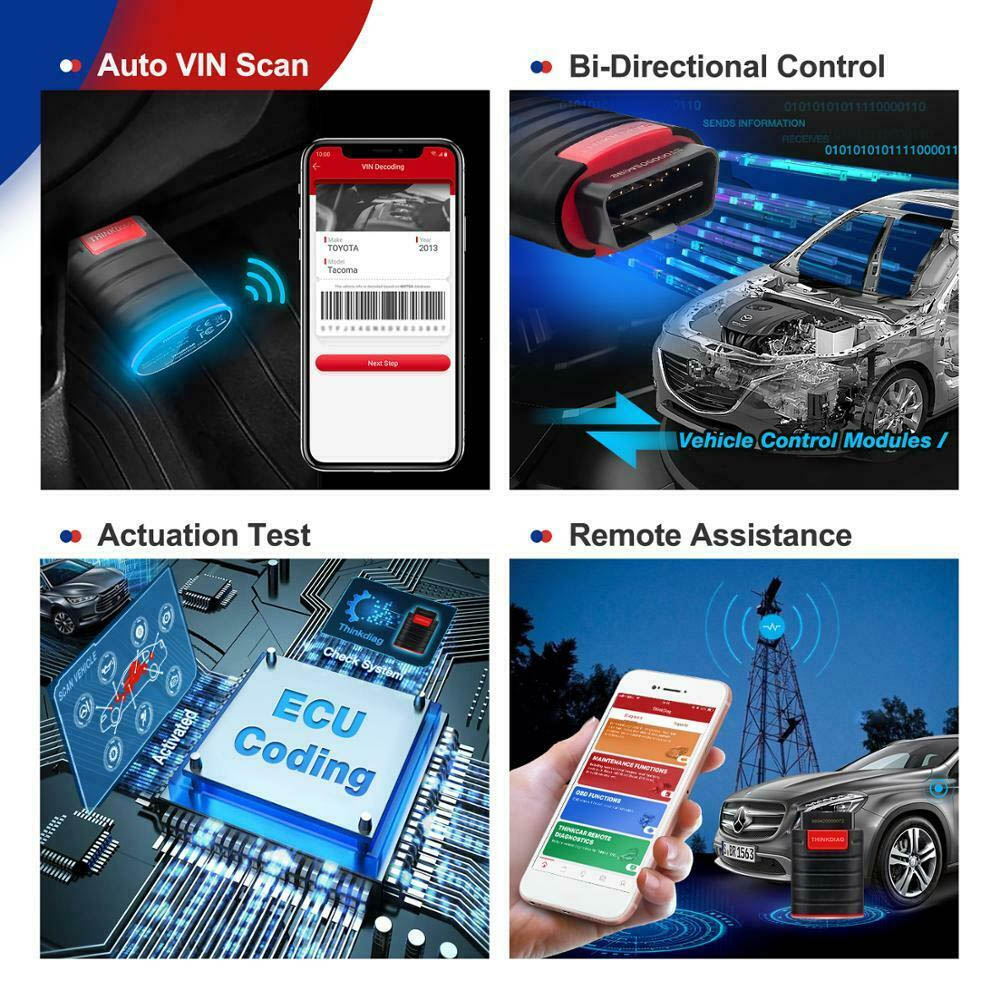 5. One Free Manufacturer Software: After activating the device, you will get EOBD , OBDII and a free manufacturer software. You can select ONE of the manufacturer software in ThinkStore and you can use it free for one year.If you need more,you can buy software on the application.Manufacturer Software Price for Each: $39.95/year; Reset Software Price for Each: $49.95/year
6. Bi-directional Control (Actuation Test): Requests a module to perform a specific test and function.(Turn on and off actuators to determine whether there are problems with sensors and actuators).This function can be use in ENGINE SYSTEM /STEERING ANGLE SYSTEM / DASHBOARD SYSTEM / EMISSION SYSTEM…etc.(depends on the specific car models, not for all cars)
7. Cost-effective: Within the price range of under $150, this scanner is a no-brainer decision. Featuring full system diagnoses, full OBD2 functions,16 special srvice functions,actuation test,easy operation, compact design,easy to carry,etc.It especially made for people who don't want bulky devices,easily pack and carry it to anywhere.With a budget friendly price, it's the best possible solution for mechanics,garage techni-cians,and individual owners to perform basic car maintenance.THINKDIAG will be a $3000 level professional scan tool.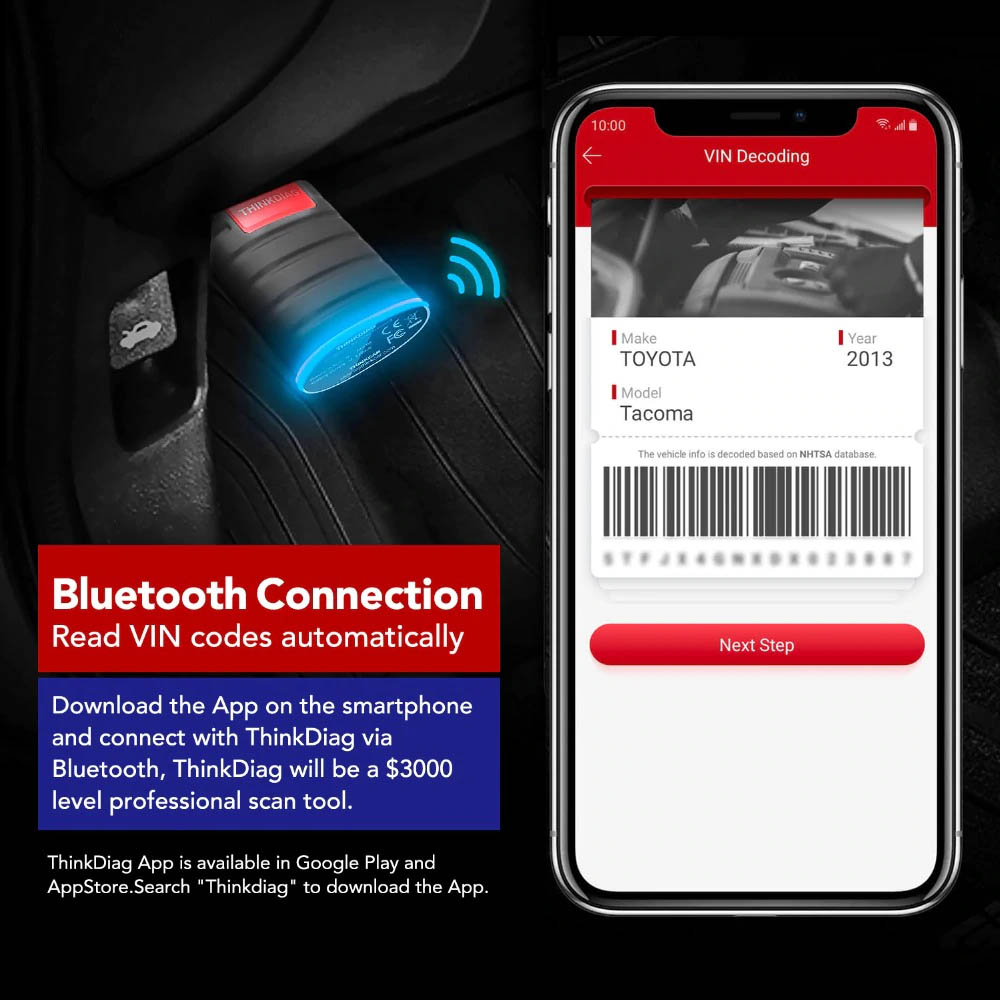 Description:
A professional vehicle diagnostic tool has launched via Kickstarter this week providing an easy way to monitor your vehicles tuning and more. THINKDIAG is an automobile diagnostic tool with professional-grade functions, removing the need for mechanics and car tuners to use bulky diagnostic tools with large screens and connector cables, or laptops plugging into the OBD II port.
THINKDIAG is an Automotive Diagnostic Device like easydiag, compatible with both Android and iOS smart phones.It featured with full systems diagnoses for the car,16 kinds of reset functions,full OBDII functions, real time remote diagnostic,and it includes kinds of car software, you can read and clear car errors codes and reset the system if you have THINKDIAG.THINKDIAG is perfect to use with our unique App. Easy and convenient, anytime and anywhere. You can choose a manufacturer software using and update free for one year and enjoy all automotive diagnostic functions, same as a scanner over $500 can do.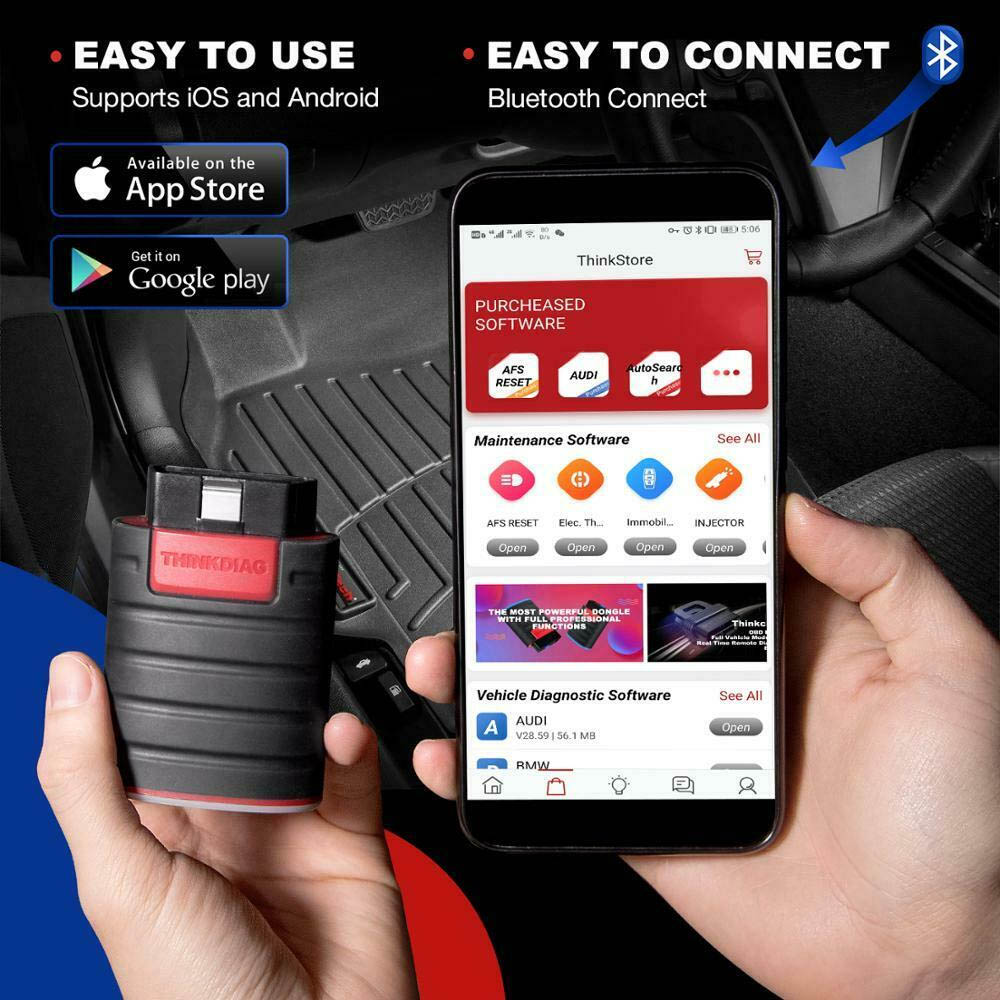 THINKDIAG with Advanced Features
1. One Free Manufacturer Software: THINKDIAG allows you to select a vehicle software,use it and update one year for free.You can enjoy all automotive diagnostic functions, just like what a scanner over $500 can do. Bi-Directional Actuation Test :THINKDIAG can be used to turn on and off actuators to determine whether there are problems with sensors and actuator
2. Live Data Stream: This Bluetooth adapter supports viewing data in value or in waveforms to help you well analyze the vehicle running status.
3. AutoVIN: This code reader is capable of reading vehicle VIN automatically to ensure faster and more accurate diagnostics.
4. Communicating With ECU: Communicating with ECU to get information within ThinkDiag App on smartphone, be aware of vehicle operation data.
5. Bluetooth Connection : With the fast and stable Bluetooth connection, this THINKDIAG can turn your smartphone into a powerful diagnostic scan tool. All of the iOS and Android devices (smartphones & tablet) are available for working with this adapter. And you can also use this scanner on different devices (just need to log in with the same registered account).
6. Real-time Remote Diagnostics: Allows you to perform remote diagnostics via PC or smart devices through internet.
7. Matching/Self Adaption: Also known as adaptive function, it can adjust the data of the actuator so that the data of the replaced actuator can be accepted and recorded by ECU
8. Diagnostic Report : You can can view Online diagnostic reports, VIN diagnostic reports, Datastream Record and Playback, which helps you analyze the trouble when driving and solve it.
9. Community Interaction: In our App, we provide a communication platform for you. You can share with other users about your maintenance experience, or you can also check for related vehicle maintenance knowledge, and even seek for help if you have any maintenance questions. You can also follow other users and have a live chat with them. Meet more friends here.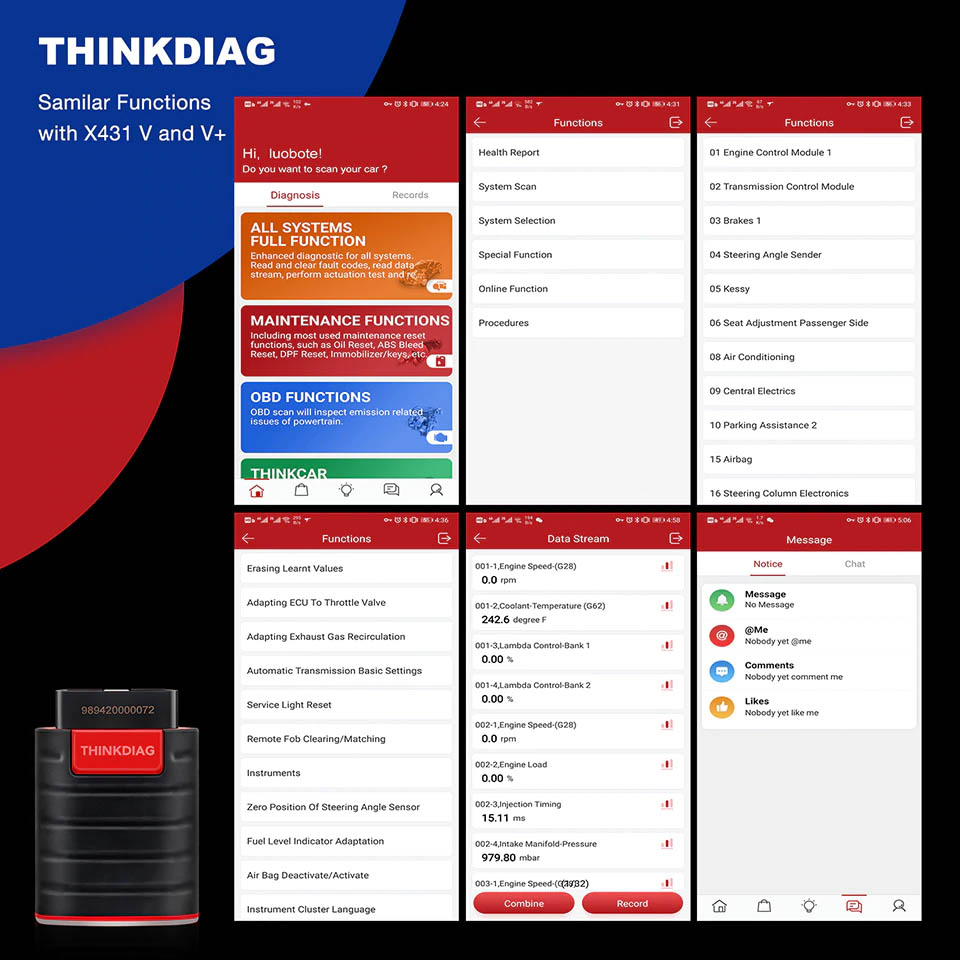 Extensive Vehicle Coverage – Cover Up to 115 Major Vehicle Manufacturers
Cover Up to 115 Major Vehicle Manufacturers:
for AUDI,for BENZ,for BMW,for CHRYSLER,for CITROEN,for DAEWOO,for FERRARI,for FIAT,for HONDA,for JPIAUZU,for KIA,for LANDLOVER,for MASERATI,for MAZDA,for MITSUBISHI,for NISSAN,for OPEL,for PORSCHE,for RENAULT,for ROVER,for SAAB,for SEAT,for SGM,for SKODA,for SMART,for SPRINTER,for SUBARU,for SUZUKI,for TOYOTA,for USAFORD,for VOLVO,for VW,for HYUNDAI,for PEUGEOT,for SSANGYANG,for GM,UPDATING……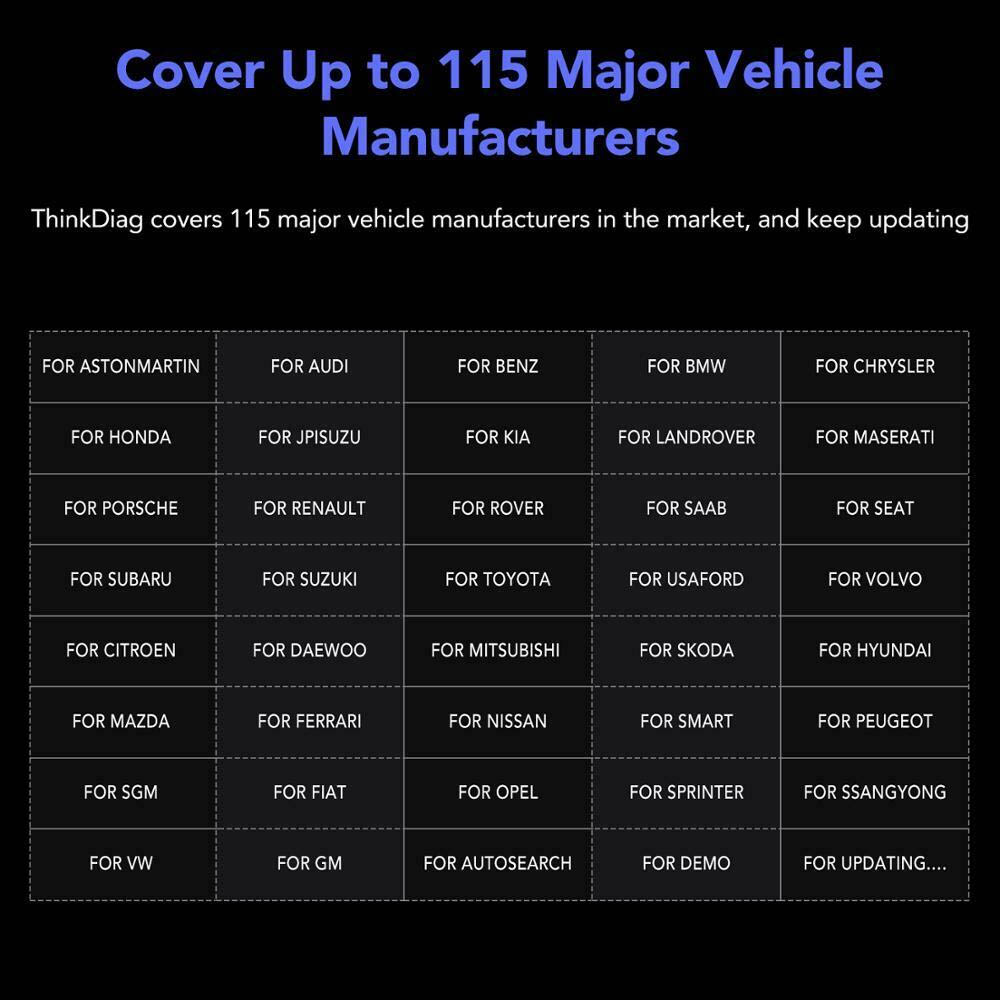 Functions Supported:
1. Full Diagnostic Functions Simple Use Without Further Learning
To diagnose car comprehensively, it can read DTCs and data streams for ALL systems. For instance, Fuel system, Emission system, Transmission, Engine, Body, Powertrain and more. You do not have to buy other tools for diagnosing systems, saving you much time and money from a long term.
1) Select All Systems Full Functions Diagnosis, reading system fault codes, and clear system fault codes
2) Read vehicle's information automatically
3) Start communicating with ECU, scanning fault codes
4) Read vehicle's live data, and present by graph. Optional combination of multiple data.
5) Actuation test: Active test is to test output elements. You can figure out whether a specific subsystem or component in your car functions well or not by using this tool to make the tester outputs function instead of checking in ignition status.For example, Actuation tests to activate actuators such as doors,windows,and windscreen wipers ect.
6) Auto scan car VIN code: Thinkdiag can automatically scan the car's vechicle information, include VIN number, release year, model and engine type.
7) Remote diagnosis: If you encounter any problems during use, you can ask a friend who also owns this product to help you solve it remotely.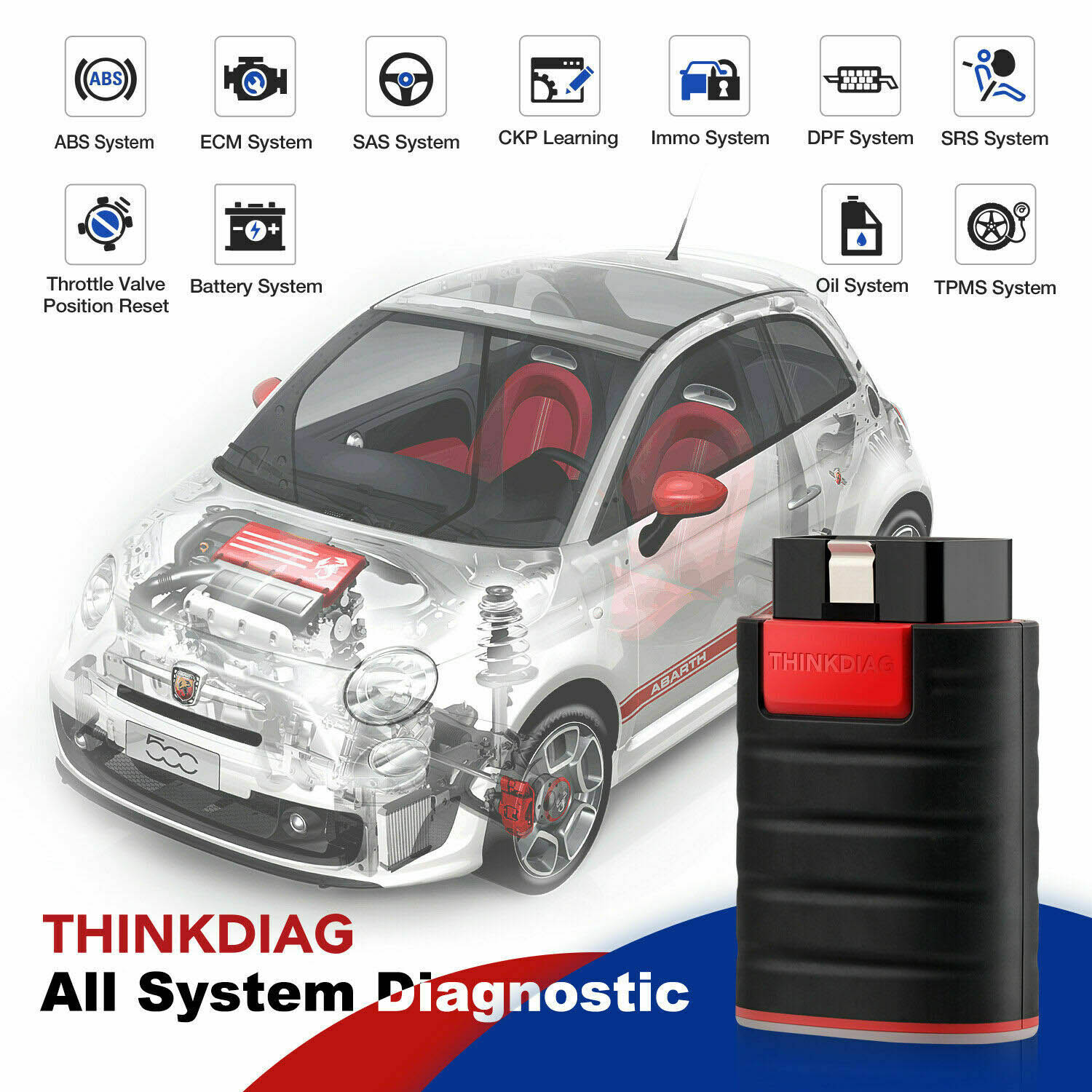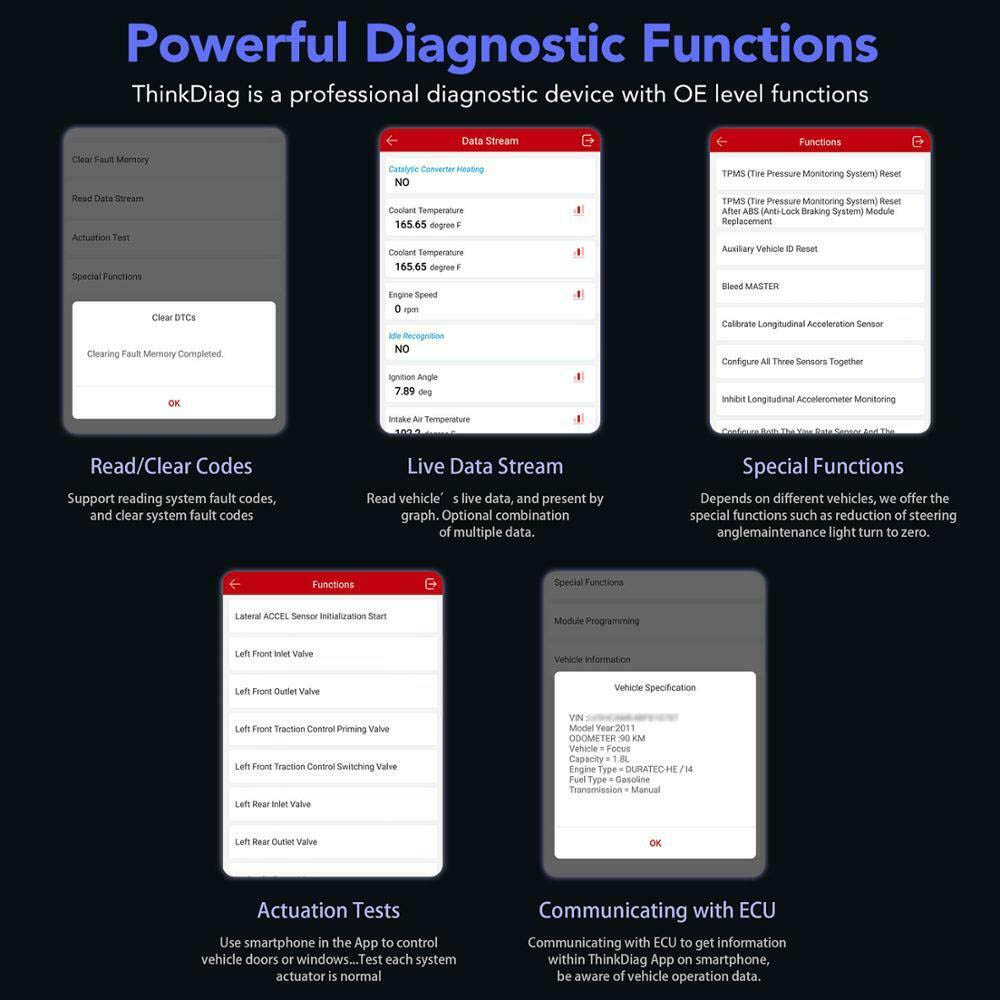 2. ECU Coding: The Coding function is used to re-flash the vehicle control modules.It is used to reprogram adaptive data for vehicle control modules after repairs or replacements of vehicle parts;Provide solutions for the issues of Drivability, Fuel Efficiency, Power Loss, Fault Codes, Durability of Mechanical Parts etc.;
Brake the limitations and restrictions; make full use of the car hidden features, like change the chimes on car, set how many times the one-touch signal flickers for one touch, remember settings for Start/Stop systems, and more.
3.16 Maintenance Commonly-Used Service Functions- Special Functions
1) Oil Reset Service(RESET OIL):Allows you to perform reset for a new calculation of Engine Oil Life system once changed the oil.
2) Steering Angle Calibration(RESET SAS):Helps clear the fault steering angle sensor memories and plays an important role in the steering angle sensor calibration.
3) Electronic Parking Brake Reset(RESET BRAKE):Helps maintain the electronic braking system safely and effectively, deactivating and activating the brake control system, assisting with brake fluid control, opening and closing brake pads, and setting brakes after disc or pad replacement, etc.
4) Battery Register & Battery Maintenance(RESET BMS):allows the scan tool to evaluate the battery charge state, monitor the close-circuit current, register the battery replacement, and activate the rest state of the vehicle.
5) ABS Bleeding(RESET BLEED):The function is used for ABS (Anti-lock Braking System) exhaust. When the ABS system contains air, it is necessary to exhaust the braking system through the ABS exhaust function, thereby restoring the sensitivity of the ABS system braking.
6) Electronic Throttle Position Reset & Learn(Elec.Trottle RLRN):The throttle body is a tube containing a pivoting flat valve (butterfly) that is used to control the amount of air entering an engine. In an electronically fuel injected car, a throttle position sensor and air flow sensor communicate with the computer, which supplies the corresponding amount of fuel needed at the injectors. It must need re-learning throttle sensor position after clearing or repair
7) Diesel Particulate Filter (DPF) Regeneration(RESET DPF):This function is used to regenerate diesel particulate filters. The DPF regeneration function is mainly to periodically use combustion oxidation methods (such as high-temperature heating and combustion, fuel additives or catalysts to reduce the ignition point of particulate matter) to remove particulate matter from the trap, so that the performance of the trap can always maintain the best stable state.
8) Tire Pressure Monitor System Reset(RESET TPMS):This function is used to reset the tire pressure sensor. When the car tire pressure fault indicator is on, the tire pressure system needs to be reset by the tire pressure reset function after the repair, and the tire pressure fault indicator is turned off. Makes sense in displaying sensor IDs from the vehicle's ECU, inputting TPMS sensor replacement IDs and testing sensors.
9) Injector matching(INJECTOR):This software is used for injector coding function. Write the actual code of the fuel injection nozzle or rewrite the code stored in the ECU to the code corresponding to the fuel nozzle of each cylinder, so that the fuel injection amount of each cylinder can be controlled or corrected more accurately.
10) Air Suspension Reset(RESET SUS):Try reset electronic suspension air ride with the massage system close all doors KOEO flip through message system go to suspension reset or on off
11) Gearbox Reset(RESET BOX):Procedure Reset Transmission Adaptive Learning DIY. Start the car and drive. Once you perform this procedure the Engine Control Unit (ECU) and Transmission Control Unit (TCU) will work together to learn how you drive by monitoring your driving pattern. After you follow this programming method of the TCU / ECU drive the car.
12) Sunroof RESET(SUNROOF):The sunroof memory generally needs to be reset when the vehicle's battery is replaced or the car dies
13) AFS Reset:'AFS' means Adaptive Front lighting System (at night with the Bi-Xenon headlights) it swivels either side, pressing that button means they stay pointing straight ahead and don't turn when you turn the steering wheel
14) EGR Reset: EGR means Exhaust Gas Recirculation.This function is applicable when EGR system cannot work normally, so that the amount of exhaust gas recirculation reaches the optimal condition at each operating point, so that the combustion process is always in the most ideal situation, and finally Ensure that pollutants in emissions are kept to a minimum.
15) Gear Learning:This function is used for the self-adaptive learning of the crankshaft position sensor by the tooth learning function, and the crankshaft position sensor learns the machining error of the crankshaft teeth, and stores it into the computer for more accurate engine misfire diagnosis.
Note : These special function NOT for all car models, if you are confused, Please send your car brand, model and release year to seller to check it for you .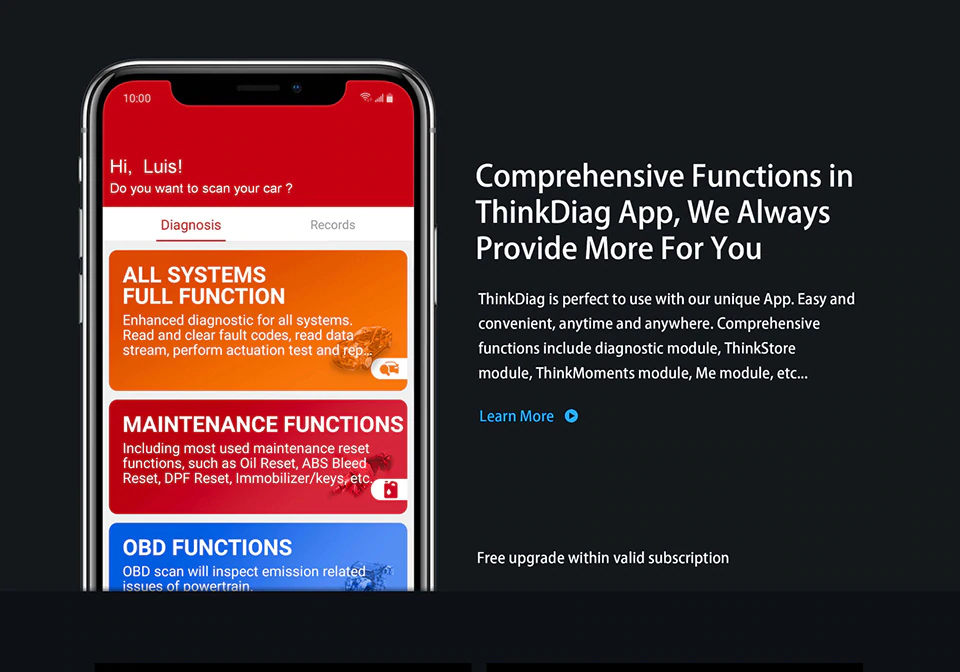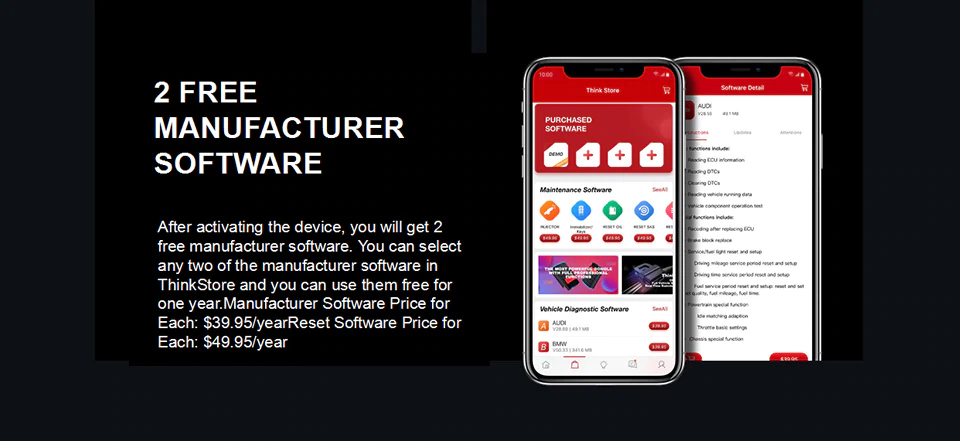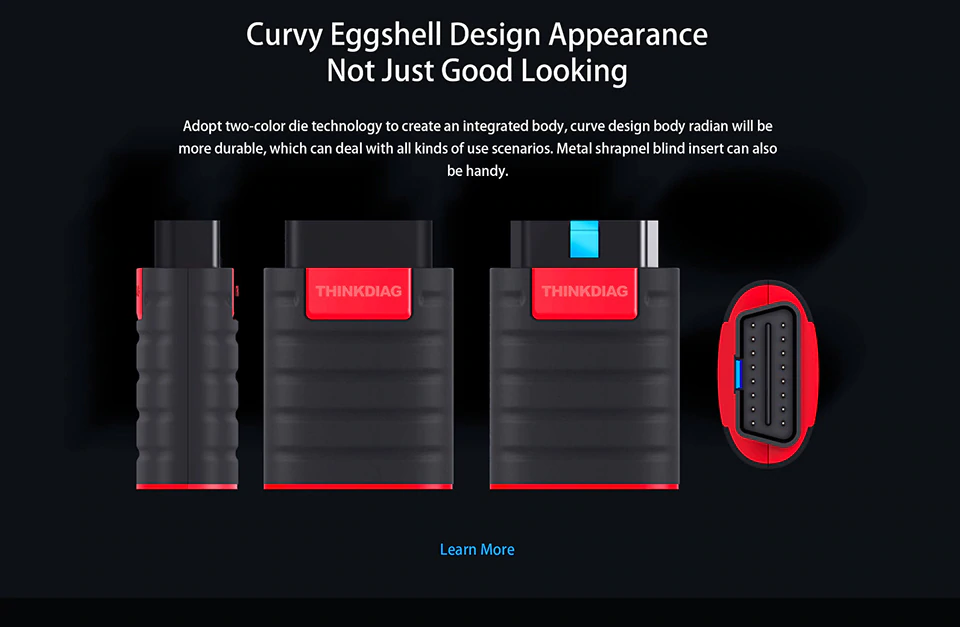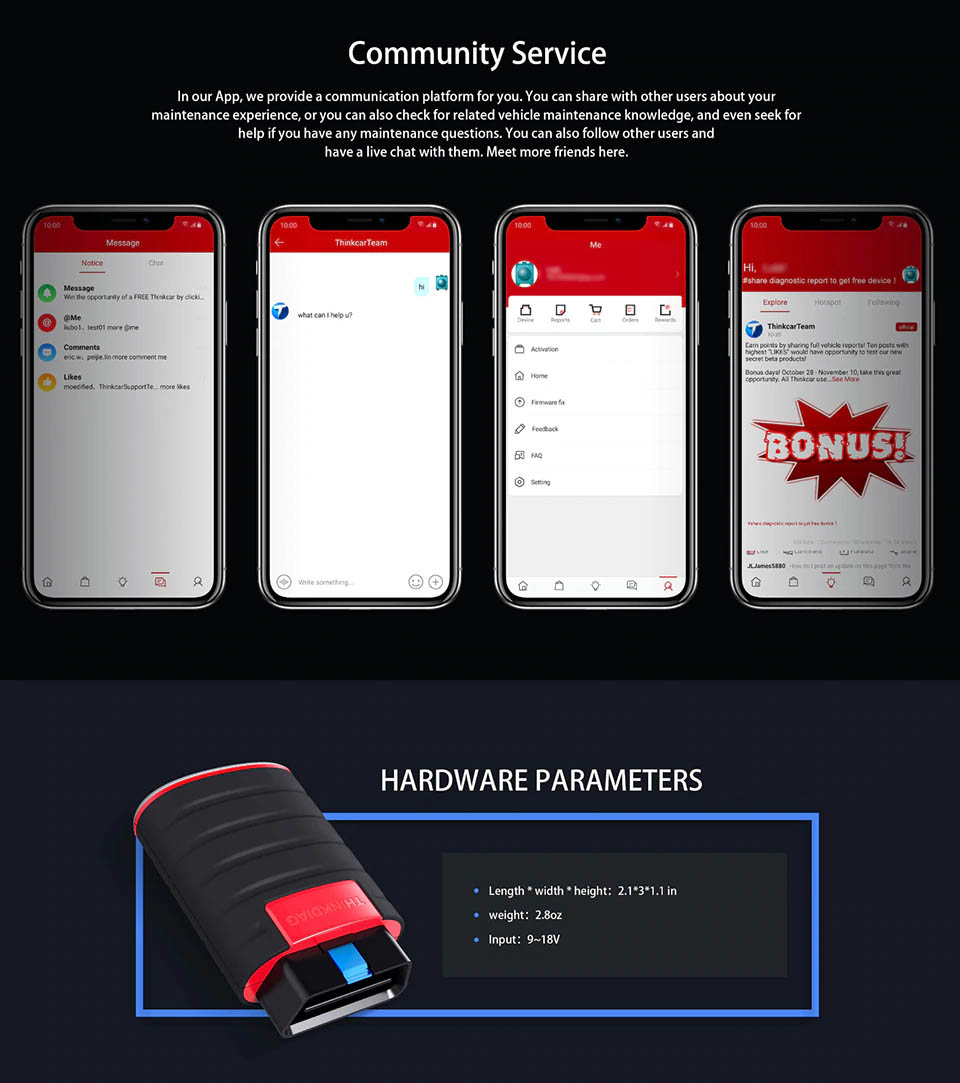 4. OBD2 Full Functions: 
This diagnostic software can test vehicle Engine and Transmission systems.All models with engine meeting SAE J1850,ISO9241-2,ISO14230-4,ISO15765 Standard in OBD2&EOBD.
1) View freeze frame date
2) Support graph data stream
3) O2 Sensor test
4) Evap system test
5) On-Board monitor test
6) Read & Clear DTCs
7) Identify VIN information
8) DTC code look up
9) Turn off MIL(Malfunction Indicator Lights)
10) I/M Readiness status test
5. Print vehicles diagnostic report:
Thinkdiag support do a OBD vehicles diagnostic report, and print the vehicles report from PC it help you to understand car's problem.and make you know how to repair car.
6. Data display in 1 Graph: 
Thinkdiag will Read vehicle's live data, and present by graph. Optional combination of multiple data.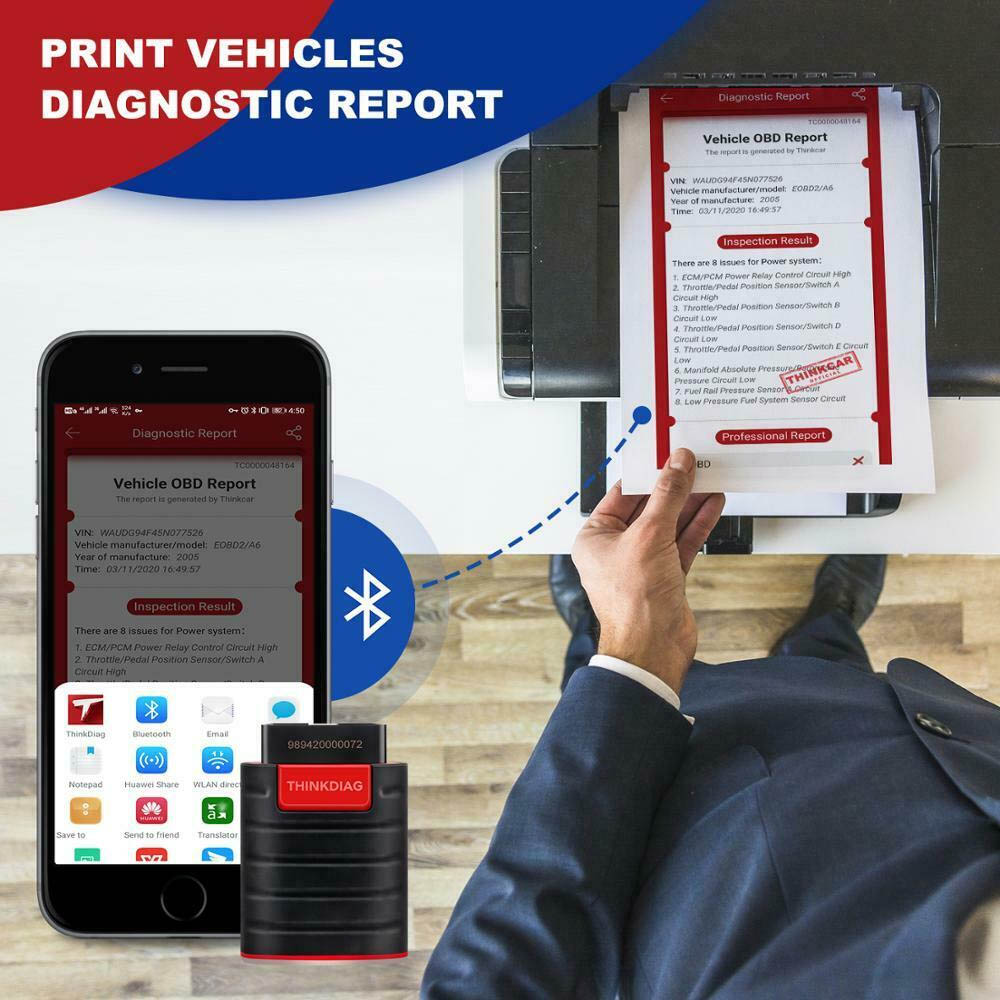 How to use Thinkdiag: 
Step 1: Smartphone go to download thinkdiag APP (APP name: thinkdiag )
Step 2: Plug thinkdiag into the car obd connector, use the phone to search bluetooth, then connect .
Step 3: Open thinkdiag APP, go to register.
Step 4: Download the car software you want, then you can go to diagnose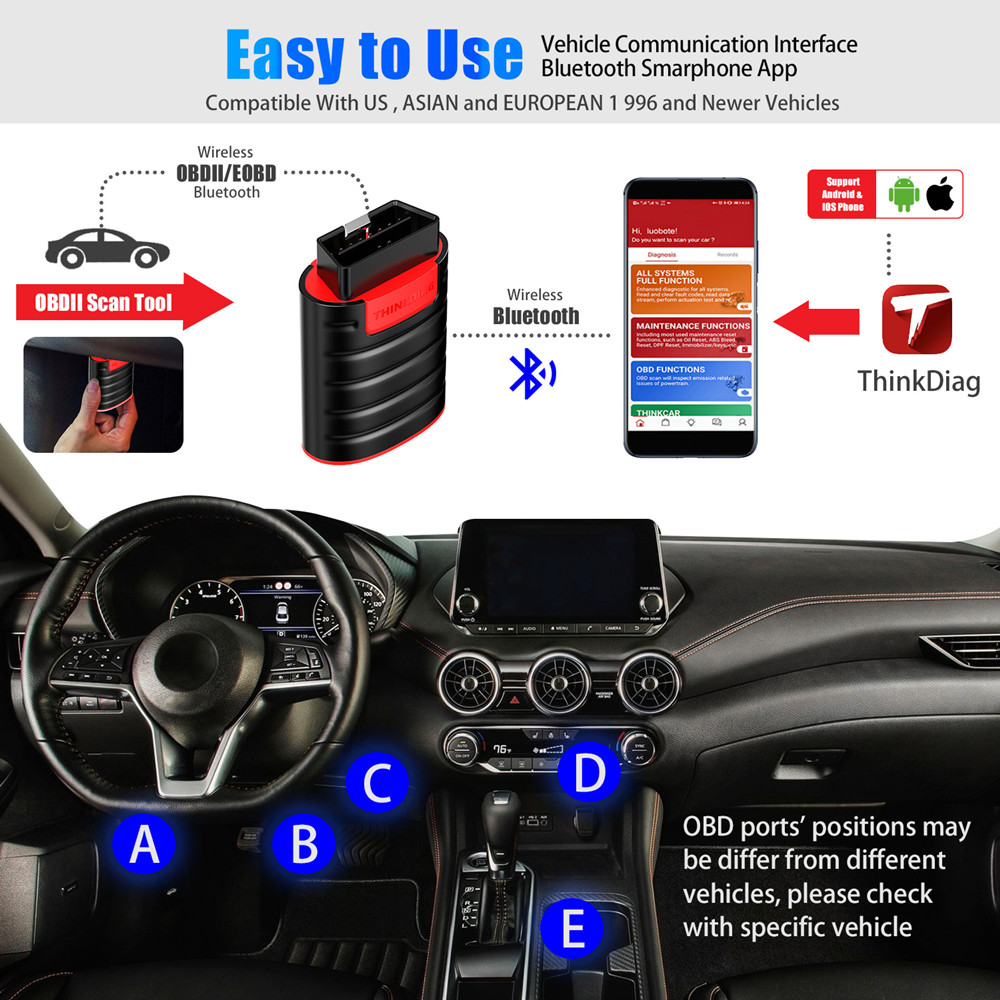 THINKDIAG vs. Other Brands:
| | | | |
| --- | --- | --- | --- |
| Diagnostic Functions | THINKDIAG | THINKCAR | BLUEDRIVER |
| OBDII all systems diagnosis | √ | √ | √ |
| Read fault code | √ | √ | √ |
| Clear fault memory | √ | √ | √ |
| Special functions | √ | × | × |
| Actuation tests | √ | × | × |
| Automatic VIN reading | √ | √ | × |
| Reset | √ | × | × |
| Remote diagnosis | √ | Remote diagnosis is acceptable | × |
| Online diagnostic report | √ | √ | × |
| Community interaction | √ | √ | × |
| Wisdom online store | √ | √ | × |
| Real-time data stream (analyze group of waveform) | √ | √ | × |
Thinkdiag owns the same comprehensive functions as thousands of dollars valued diagnostic tool, but in a much lower price.
Thinkdiag Review
Review 1: Love this device it allows you to do about almost everything and can really tell you what's wrong and I love how you're able to use the live data stream to see live what's going on with the engine not to mention the special testing on certain actuators
Reviw 2: The AC actuator in my 2006 Trailblazer stopped working. I was able to read the internal fault code and manually test the actuator, which proved to be faulty. This is a great tool for the DIY auto mechanic that needs to troubleshoot and isolate a fault code. You get one free vehicle software, then the license for that software needs to be renewed each year for a subscription price. Very well worth the price considering the price of other scan tools.
Review 3: Really handy little tool. Use it for my personal vehicles. So far used it on a 08 Mini Cooper, performed great bidirectional control, power balance, lights, solenoids,etc. Definitely worth it. I've used it with Ford and Toyota aswell and its done everything I've required even on the powerstroke diesel.
Review 4: So far so good! Used it to on a 2013 Chevy Sonic to test the cooling fans low and high speeds. It was easy to use. I like that they give you two brands for free for the first year. I chose GM and Ford.
Thinkcar Thinkdiag FAQs:
Q1: Does ThinkDiag require an internet connection?
A1: ThinkDiag device required Bluetooth connection with your smartphone. If you need to update your vehicle diagnostic software, your smartphone needs an internet connection.
Q2: Can I share my test reports with others?
A2: Yes, you can share your reports on Facebook, Twitter, or in the ThinkDiag app's community ThinkMoments.
Q3: What format are the reports saved or exported in?
A3: The reports can be exported as PDF so you can easily share or print it.
Q4: Does ThinkDiag need charging?
A4: ThinkDiag is powered directly by the vehicle's OBD II port.
Q5: Can ThinkDiag be used on more than one car?
A5: Yes, it can be used with different vehicles as long as you download the corresponding diagnostic software.
Q6: Can my ThinkDiag device connect to multiple smartphones?
A6: Yes, simply use the same account to log into a new smartphone. You can restore the previously purchased software by downloading it on the new phone.
Q7: Do I need to pay extra to use ThinkDiag?
A7: Each ThinkDiag you purchase comes with free 1-year subscription for TWO manufacturer software. You'll pick two manufacturers from our store and enjoy a FREE first year subscription that costs $39.95 per manufacturer. You only need to pay after your subscription ends.
Q8: What is a Manufacturer Software subscription?
A8: Each manufacturer software subscription gives you access to ALL diagnostic functions, including read/clear codes, live data streaming, actuation tests, and ALL maintenance functions of the manufacturer you picked.
Specifications:
Model:TKD01
Working Voltage: 9~18V
Working Current:  ≤130mA
Working Temperature: 14℉~122℉(-10℉-50℉)
Storage Temperature: -4℉~140℉(-20℉-60℉)
Package List
1pc x ThinkDiag Bluetooth Adapter
Additional information
| | |
| --- | --- |
| Weight | 0.5 kg |
| cables | thinkdiag, thinkdiag+cable |
Only logged in customers who have purchased this product may leave a review.