Launch X431 PROS OE-Level Full System Diagnostic Tool Support Guided Functions
Free shipping by fast way 4-9 days
Description
Launch X431 PROS OE-Level Full System Diagnostic Tool Support Guided Functions
Highlights:
1. Global Version, No IP Limitation
2. With 2 Year Free Update Online
3. Worldwide Coverage: Cover mainstream cars in Asia, America and Europe. Serve for Passenger Car, SUV, Pickup, etc.
4. Multi-Language Supported: English, Italian, Chinese, German, Japanese, Russian, French, Spanish, Portuguese, Polish, Turkish, Dutch, Korean, Swedish, etc
5. High-End Configurations include Android 9.0 System, 5000mAh Capacity, Wi-Fi, Bluetooth Connection, ROM: 32GB 128GB (expandable), 8″ Screen, 1280*800, Front 2MP Rear 5MP.
6. Work with Other Extended Modules: Videoscope, X-PROG3, WiFi Printer, X431 TSGUN, Launch BST-360,  X-431 ADAS Mobile/ PRO
Description: 
LAUNCH X431 PROS V4.0 features a variety of useful reset & relearn, and advanced service functions to make servicing a breeze for mechanics in the workshop. It is a phenomenal diagnostic tool kit that has everything one could need for modern automotive maintenance and alteration. Programming, scanning, and testing are all covered by its accompanying software.
LAUNCH PROS V enables you to solve 98% of car problems worldwide. This cost-effective scanner is designed with so many useful diagnostic functions that can quickly locate the problems hidden in the hood and fix bugs. The top choice for diagnostic technicians, garages, and car mechanics, auto repair shops, automotive engineers and auto repair apprentices, etc. When the car breaks down in a remote road or at home, the LAUNCH PROS V will be your timely rain.
New Added "OE-LEVEL" Function of LAUNCH X431 PROS V4.0
1. Guided Functions: Compatible with Volkswagen / Audi / Skoda / Seat etc.
2. Component Matching: Compatible with Volkswagen / Skoda / Seat / BMW / GM / Ford / Opel / Mazda / Fiat / Honda / Nissan / Hyundai / Kia / Subaru etc.
3. Online Account Login Service: Compatible with Volkswagen / Audi / Skoda / Seat etc.
4. Online Calibration: Compatible with Volkswagen / Audi / Skoda / Seat etc.
5. Online Parameterization: Compatible with Volkswagen / Audi / Skoda / Seat etc.
6. Power Balance: Compatible with Chrysler / GM / Ford etc.
7. Programmable Module Installation: Compatible with Ford / Mazda etc.
8. Flash Hidden Functions: Compatible with BMW / Porsche / Toyota / Subaru etc.
9. Actuator Test : Injector Test ;Turn Off ACC Lane Keeping Assist System (LKAS) ;Turn ON/OFF Front and Rear side ACM Solenoid , turning the fuel pump on and off, cycling the a/c ,clutch on and off, Left clutch electromagnetic coil test,Acceleration Device Test,Oil Pressure Control Test,DYNAMIC camera aiming,Vehicle level position calibration, Brake Vacuum Pump, Inlet and Outlet Valve tests, Open Brakes tests, Parking Brake Botors, Wheel Speed Sensor Supply, PARKING BRAKE tests (Vary by car, Hundreds of actuation test functions ) …
More functions and vehicle coverage is developing and waiting you to discover.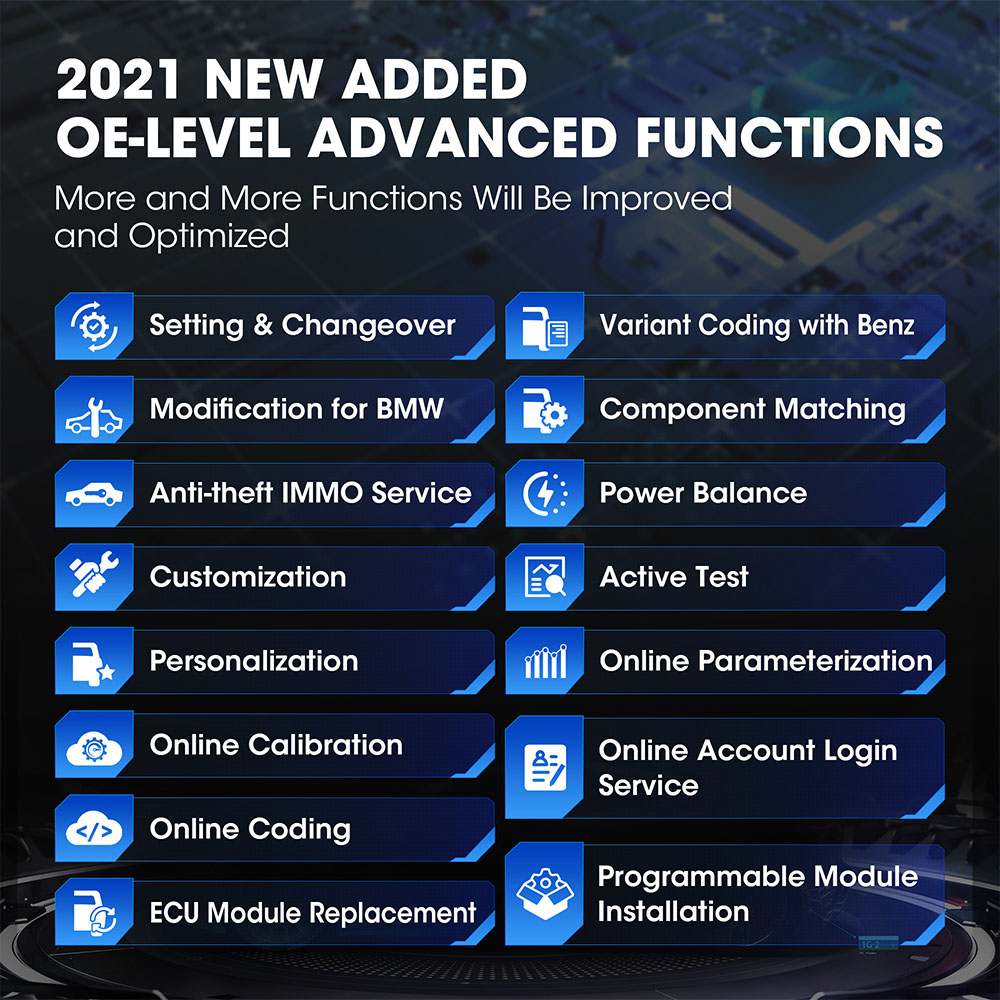 Vehicle Coverage:
Cover mainstream cars in Asia, America and Europe.
1. American Cars
Buick; Cadillac; Chevrolet; Chrysler; Dodge; Ford; GM; Hummer; Jeep; Lincoln; (BRAZIL) BX-Fiat; BX-GM
2. European Cars:
Abarth; Alfa Romeo; Audi; Bentley; Benz; BMW; Bugatti; Citroen; Dacia; EU-Ford; Ferrari; Fiat; Jaguar; Lamborghini; Lancia; LandRover; Maserati; Maybach; Mini; Opel; Peugeot; Porsche; Renault; Rolls-Royce; Rover; Saab; Seat; Skoda; Smart; Sprinter; Vauxhall; Volvo; VW; (UKRAINE) ZAZ; (RUSSIA) GAZ; IZH; PAZ; SEAZ; UAZ; VAZ
3. Asian Cars
(JAPAN) Acura; Daihatsu; Honda; Infiniti; Isuzu; Jpisuzu; Lexus; Mazda; Mitsubishi; Nissan; Nissan GTR; Scion; Subaru; Subaru; Suzuki; Tlisuzu; Toyota; (KOREA) Daewoo; Hyundai; KIA; Samsung; Ssangyong; (CHINA) Baic; Beijing; Changan; Changan-Ford; Changcheng; Changhe; Chsuzuki; DF Peugeot; DF Honda; DF Nissan; DF XK; Flyer,BYD; Fukang; Futian,Foton; Geely; Gonow; GZ Honda; Hafei; Haoqing; HC BMW; Hmada; Huachen; Isuzu,JMC; Jacty; Jianghuai; Jiao; Jinlong; Joylong; Lifan; Liuwel-TY; Luxgen; NJ Fiat; Qirul-TY,chery; Qoros; Saicmg; Spark-TY; TJ Toyota; Trumpchi GAC; Weili; Xiaokang Dongfeng; Xili,Faw Tianjin; Xinkai; YQ Mazda; Zhongshun; Zhongtai,Zotye; Zhongxing; (INDIA) Mahindra; Maruti; Tata; (MALAYSIA) Perodua; Proton; (IRAN) MVM
4. Australian Cars
Au-Ford; Holden
Functions Supported:
1. All Systems Diagnoses
This LAUNCH diagnostic scanner can establish a data link to all systems and subsystems of the vehicle being serviced to:
* Retrieve ECU information of the tested control units including unit type, version numbers, and other specifications, etc.
* Read & erase DTCs to locate problem areas and clear the codes.
* View Live Data of each parameter item.
The following is a list of modern vehicle systems that this scan tool can get access to:
* Engines/ Auto Transmission/ Airbags/ ABS / Cruise Control/ Instruments/ Self Leveling Suspension systems
* Seats/ Doors/ Gateway/ Steering Angle/ Air Suspension/ Body Systems/ Electronic Power Steering & Motor Assisted/ Power Steering/ Tyre Pressure/ Rain Sensors/ 4WD System
* Stabilizer/ Intelligent Parking Assist/ Door Motors/ Audio Systems/ Air Conditioning/ Tiptronic/ Anti Theft/ Soft Top/ Headlamp Leveling/ Central Locking/ Automatic Clutch/ DPF Reset
* Electric Windows/ Plip Programming/ Heated Rear Window/ Xenon Headlights/ Wash Wipe/ Fuel Burning Heater/ Transfer Box/ Seat Memory/ Oil Life Service Reset/ Sliding Doors/ Electronic Throttle
* Navigation System/ Rollover Sensor/ Cruise Control/ Multi Function Steering Wheel/ Aux Heating/ Electronic Parking Brake/ Clutch Electronics … and more.
This comprehensive scanning process is able to locate the faulty systems and retrieve the DTCs related easily. So you can work on all parts of the vehicle systems to enhance the performance, save energy, reduce emissions, and everything else.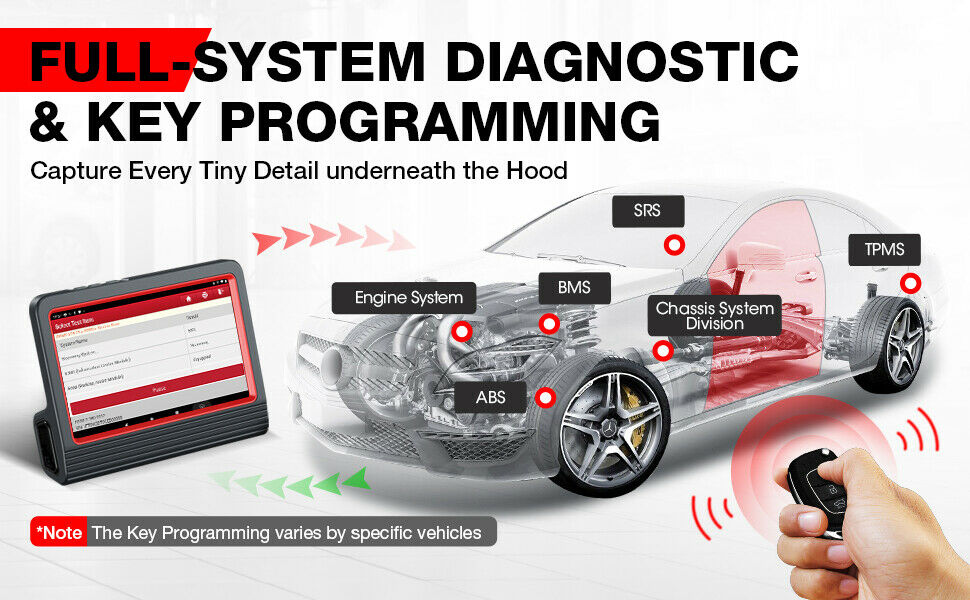 2. Special Functions
1) Oil Reset: Reset the oil life system and turn off the oil light after replacing the oil or oil filter  to start a new cycle.
2) TPMS Reset: Quickly look up the tire sensor IDs from the vehicle's ECU, and perform TPMS replacement and sensor test.
3) EPB Reset: Maintain the electronic braking system safely and effectively by deactivating and activating the brake control system, setting brakes after disc or pad replacement, etc.
4) BMS Service: Re-match the control module and motoring sensor for battery detecting more accurately, clear original low battery information and prevent the related control module from detecting false information.
5) IMMO Keys: Disable the lost vehicle keys and program a new replacement key fob.
6) ABS Bleeding: Bleed the air of a brake system to restore ABS brake sensitivity.
7) SAS Calibration Reset: Calibrate the steering angle after replacing the steering angle position sensor and the mechanical parts of the steering system, etc. Stores the current steering wheel position as the straight-ahead position in the steering angle sensor and clear fault memory.
8) DPF Regeneration: Perform the regeneration procedure as know as the DPF cleaning operation to clear particulate matter from the DPF filter through continuous combustion oxidation mode to stabilize the filter performance.
9) Injector Coding: Code the injector after replacing or adjusting to correct the fuel injection volume of each cylinder more accurately.
10) Suspension: Adjust the vehicle height sensor for level calibration when replacing the vehicle height sensor or control module in the air suspension system.
And Throttle, WIN DR ROOF, Seats, Odometer, Lang Change, Headlamp, CHG Tire Size, TEC Learn, Trans Adaption, etc.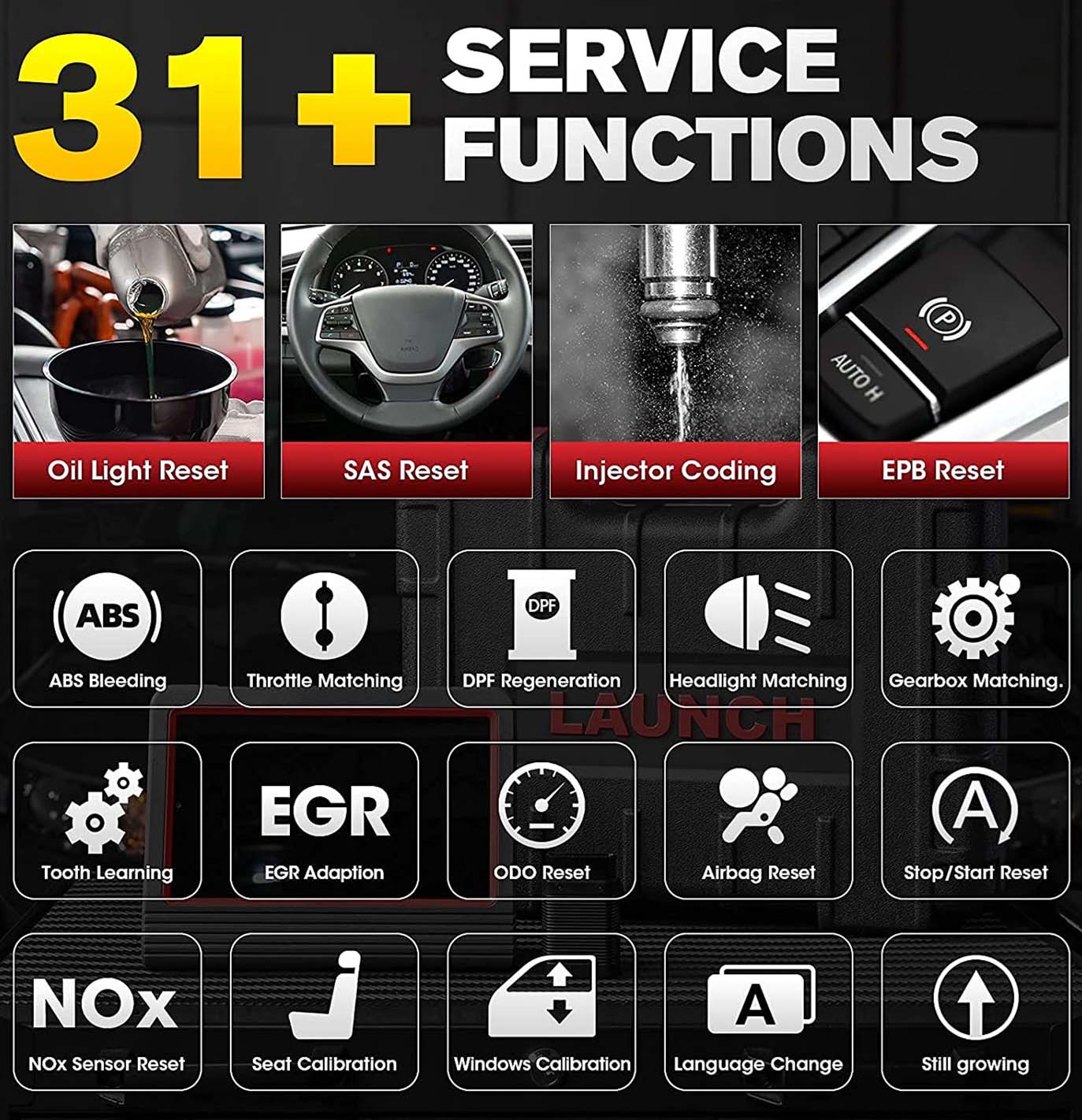 3. Advanced Functions
1) Personalization: Reflash the hidden features according to your likes. Compatible with Volkswagen, Audi, BMW, Toyota, Chrysler, Jeep, Fiat, Nissan, Subaru, etc.
2) Online Calibration: Connect the server online to perform a special adjusting function. Compatible with Volkswagen, Audi, Skoda, Seat, etc.
3) Online ECU Coding: Obtain the online data from the server, fast code your car, and no need for manual inputting code. Compatible with Volkswagen, BMW, Audi, Seat, Porsche, etc.
4) ECU Module Replacement: Match, learn, or code the newly replaced ECU. Compatible with Volkswagen, Audi, Skoda, Seat, etc.
5) VAG Guided Function: Give on-screen OE-level operating instruction for some complicated functions to simplify the diagnostic process and shorten the diagnostic time. Compatible with Volkswagen, Audi, Skoda, Seat, etc. Note: Pay for use!
6) Component Matching: Match new ECU module with on-board systems and make the car running smoothly. Compatible with Volkswagen, Audi, Skoda, Seat, Ford, Opel, Mazda, Chrysler, Jeep, Honda, Nissan, Hyundai, Kia, Subaru, Mitsubishi, etc.
7) Online Account Login Service: Help you skip passwords and access the operating authority directly. Compatible with Volkswagen, Audi, Skoda, Seat, etc.
8) Power Balance: Check the stability of cylinders and the working of components to ensure the balance of cylinder power output. Only for diesel cars. Compatible with Chrysler, GM, Ford, etc.
9) Programmable Module Installation: Program data to a new module and introduce it to the car system. Compatible with Ford, Mazda, etc.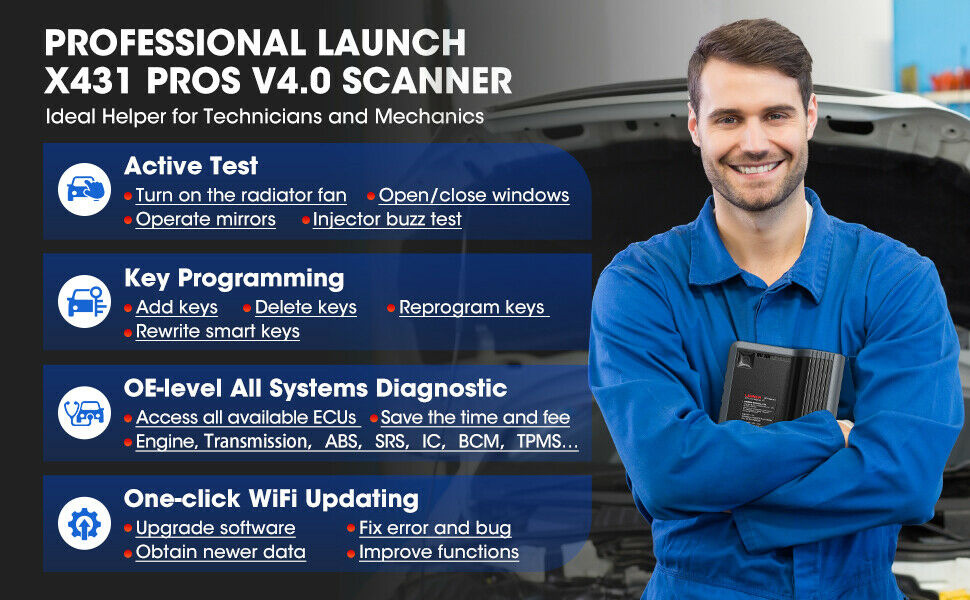 4. Extended Modules Create Double Achievement
NEW OPTIONAL FUNCTIONS: (Need Buy-Extra)
1) Videoscope: Check unseen parts and give you a direct image of the engine, gears, compressors, headers and valves, and body components.
2) X431 TSGUN: Active and relearn TPMS sensors; and program LAUNCH TPMS sensor.
3) X-431 ADAS Mobile/PRO: Operate ADAS calibration to vehicle cameras, LKA system, ACC system, LDW system, and AVM system.
4) X-PROG3: Add, delete, and reprogram keys; rewrite smart keys; replace key ECU.
5) X431 WiFi Printer: Print diagnostic data or report for further analyzing and reviewing.
6) Launch BST-360: Check the SOH of the on-board battery, functionality of discharge capacity and start-up capacity, etc. Provide a reliable analysis basis for the inspection and maintenance of car batteries.
Note: You can purchase these extended modules extra, if needed.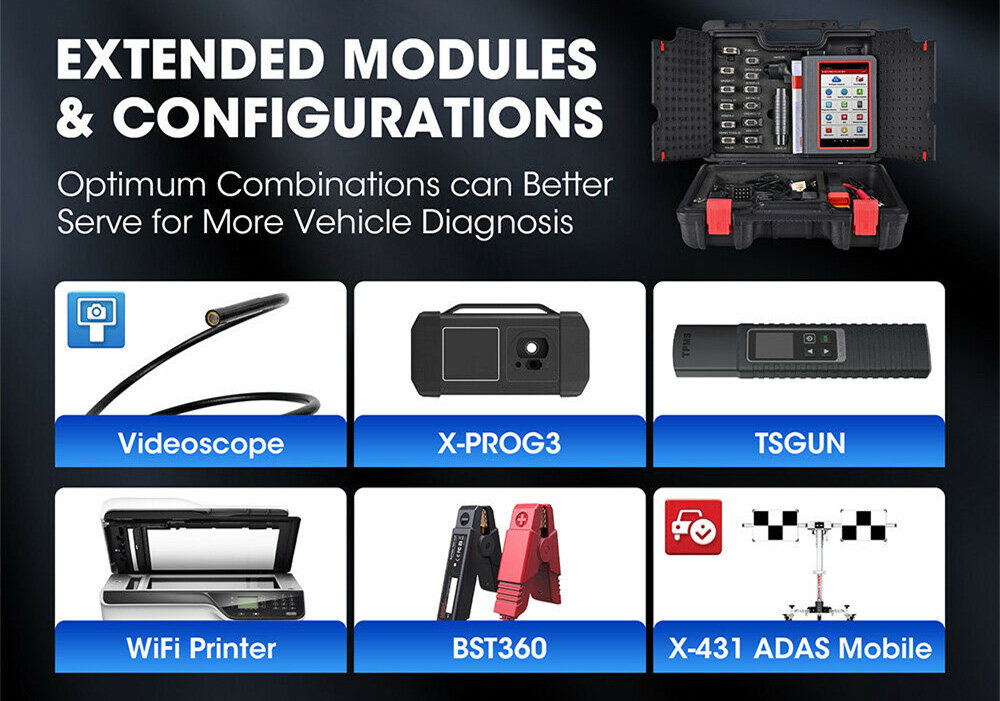 Comparation between X-431 PROS V4.0 with X-431 PROS V1.0
Model
X-431 PROS V4.0(for Passenger car)
X-431 PROS V1.0(for Passenger car)
Product parameter 
CPU
2.0 GHz  Quad-core
2.0 GHz  Quad-core
Operating System
Android™ 9.0
Android™ 9.0
Memory
3GB
3GB
Storage
32GB
32GB
Display
8″
8″
Resolution
1280*800
1280*800
Front camera
2MB Front
2MB Front
Rear camera
5MP Rear
5MP Rear
Battery
5MP Rear
5MP Rear
Operating temperature 
5000mAh
5000mAh
Storage temperature
0~50℃
0~50℃
VCI Connection
-20~70℃
-20~70℃
VCI Connector
DBSCar IV
DBSCar IV
Product Features
Full System Diagnosis
●
●
Auto VIN Identification
●
●
Reset Functions
16
16
Actuation Test
●
●
VW & AUDI Guided Function
Optional
Optional
Coding
●
●
Programming
–
–
Maintenance information
●
●
Remote diagnosis
●
●
FCA
●
●
J2534
–
–
D-PDU
–
–
DoIP
–
–
CAN FD
●'(With optional CANFD adapter)
●'(With optional CANFD adapter)
Topology 
–
–
ADAS Calibration
●
●
Osciloscope
–
–
Videoscope 
●
●
BST360 Battery Tester
●
●
X-431 TSGUN TPMS device
●
●
X-431 S2-2 Sensorbox
–
–
X-PROG 3  Immobilizer
●
●
Mall
●
●
Product advantages 
1. Adopt 2 GHz quad-core high-efficiency processor, push push structure,
2. Support TSGUN, endoscope and BST-360 expansion
3. Support ADAS and anti-theft programming function
1. Adopt 2 GHz quad-core high-efficiency processor, push push structure,
2. Support TSGUN, endoscope and BST-360 expansion
3. Support ADAS and anti-theft programming function
Specifications:
Operating System: Android 9.0
Memory: 3GB
Storage Capacity: 32GB (UP TO 128GB)
Screen: 8 inch high-definition capacitive touch screen
With a resolution of 1280 x 800 pixels
Camera: Front-facing 2.0MP camera Rear-facing 5.0MP camera
Wi-Fi:  802.11a/b/g/n/ac (2.4GHz / 5GHz)
Bluetooth: Supported
Working temperature: 0℃ ~ 50℃
Storage temperature: -20℃ ~ 70℃
Package List:
1pc x Main Unit LAUNCH X431 PROS V1.0
1set x OBD1 Cables and adapters
Additional information
| | |
| --- | --- |
| Weight | 6 kg |
| Dimensions | 43 × 17 × 36 cm |
Only logged in customers who have purchased this product may leave a review.