Launch CRP123 4 System Automotive Diagnostic Tool for Engine/ ABS/ SRS/ Transmission Same as Creader VII+
Description
LAUNCH OBD2 Scanner CRP123 – Engine/ABS/SRS/Transmission Diagnostic Scan Tool SRS Code Reader lifetime free update
TOP Reason to choose LAUNCH CRP123
1.Read and clear fault codes, view live data stream and turn off the warning lights in the Engine system, Transmission system, ABS and SRS.
2. Real-time data stream analysis, reads, records, graphs and replays live data streams for engine, transmission, ABS and SRS systems.
3. Support obd2 full test , I/M Readiness, Data Stream, Freeze Frame, vehicle Information, O2 Sensors test, EVAP system test etc.
4. Data print, mechanics can print out the vehicle data for customer.
5.DTC lookup: reads generic and manufacturer-specific trouble codes directly identify the code definitions on the screen.
6. Lifetime free online update.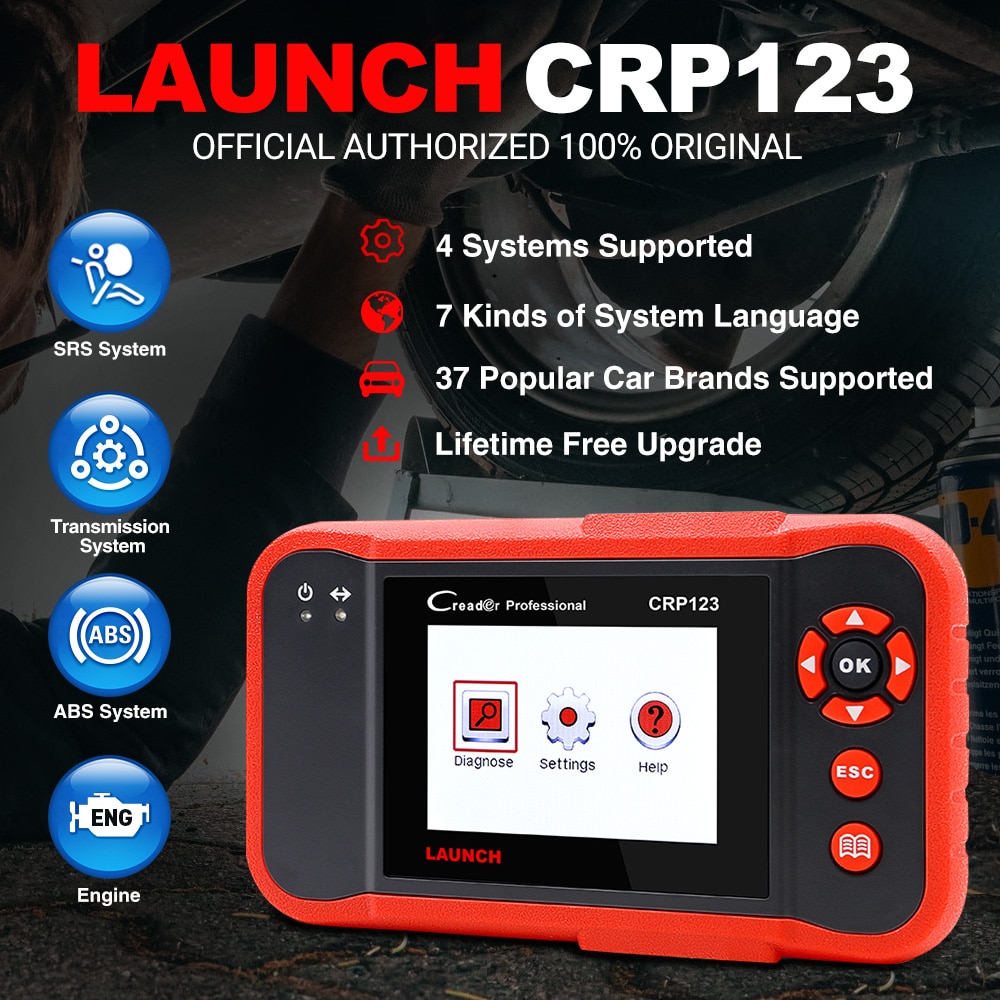 Engine / ABS / SRS / Transmission diagnosis
For Engine System Diagnostic:
The diagnostic tool can help detect the engine ignition, fuel injection, air and fuel ratio, and exhaust emission conditions in Engine system to enhance vehicle performance, save energy and reduce exhaust emission.
For Transmission Diagnostic:
It makes great sense in the safe driving when your car is slipping or difficult to shift. This diagnostic scanner can figure the problems out via reading codes in the Transmission system, or check the health status via live data viewing.
For ABS System Diagnostic:
Diagnosing an ABS problem should always start with a visual inspection of all brake components, next you will need to retrieve ABS codes to tell you where the problem is, and this is what this scanner does for you.
For SRS System Diagnostic:
SRS, safety restraint system, is made up of impact sensors, a control module, and the airbags themselves, and this diagnostic device can detect every electronic parameter to check its health status.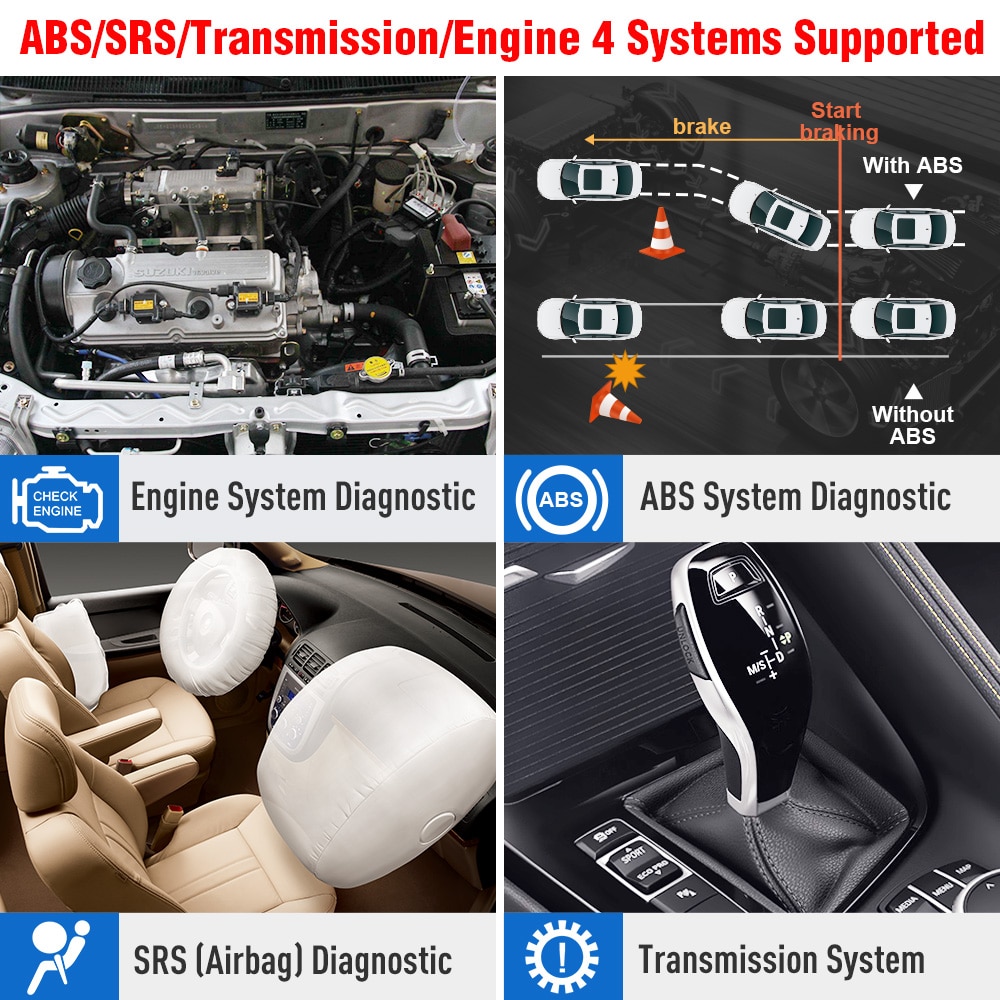 Multi-Language
English/French / German / Spanish/Portuguese / Russian /Japanese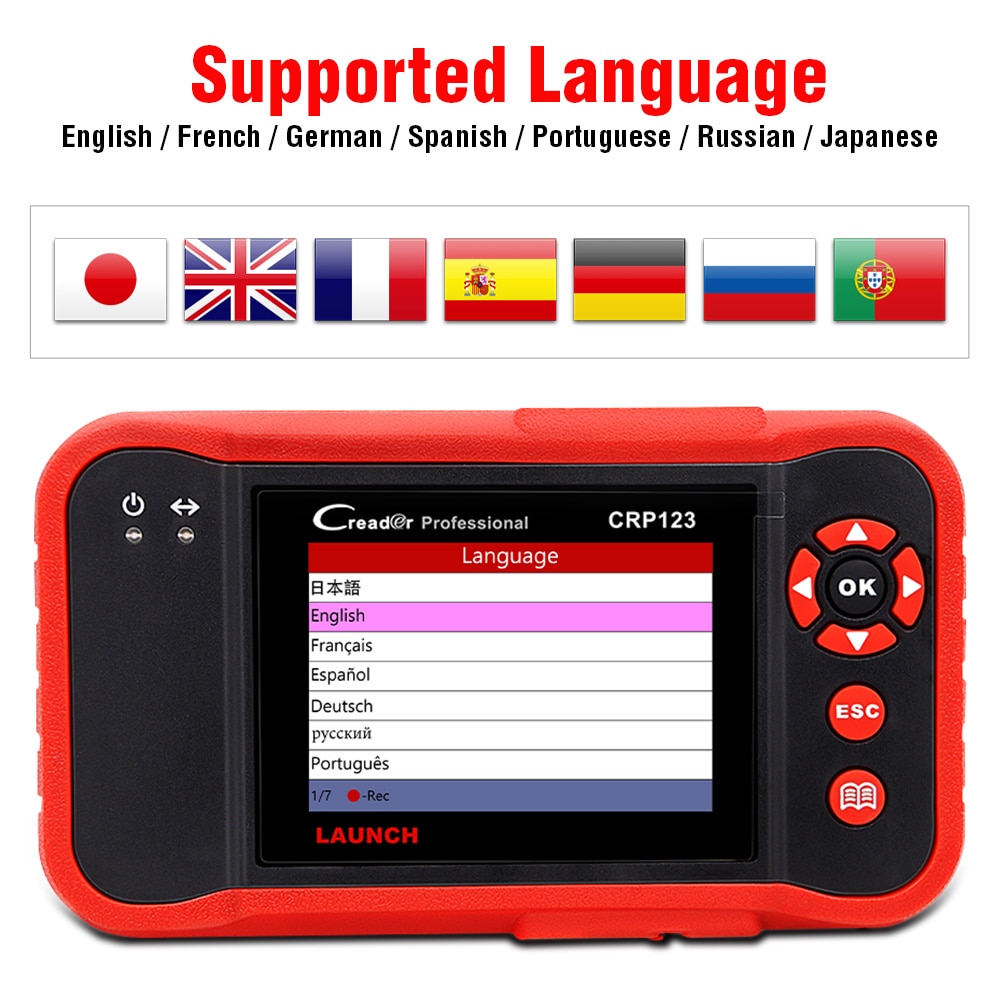 Full OBD2 Function diagnostic
Reading Codes: Show the detailed description of the Diagnostic Trouble Code (DTCs)
Erasing Codes & Reset: Turns off Check Engine Light (MIL), clears codes and resets monitors.
Data Stream: Reads and displays live ECU/PCM data stream, plotting functions graphically and stores freeze frame data.
I/M Readiness Status: Shows whether the various emissions-related systems on the vehicle are operating properly and are ready for inspection and maintenance testing.
Read Live Data Stream: Show the information of continuous data stream from a vehicle in live graphic (waveform) display.
View Freeze Frame Data: Check the certain vehicle conditions which are recorded by the on-board computer at the time the emission-related fault occurs.
O2 Sensor Test: Allows retrieval and viewing of O2 sensor monitor test results for the most recently performed tests from the vehicle's on-board computer.
On-Board Monitor Test: Retrieves and displays test results for emission-related powertrain components and systems.
Read Vehicle Information: Display the information such as VIN (Vehicle Identification Number), CID (Calibration ID) and CVN (Calibration verification number), etc.
Component Test: Certain vehicle components can be actuated by commands sent from the scanner to test their operability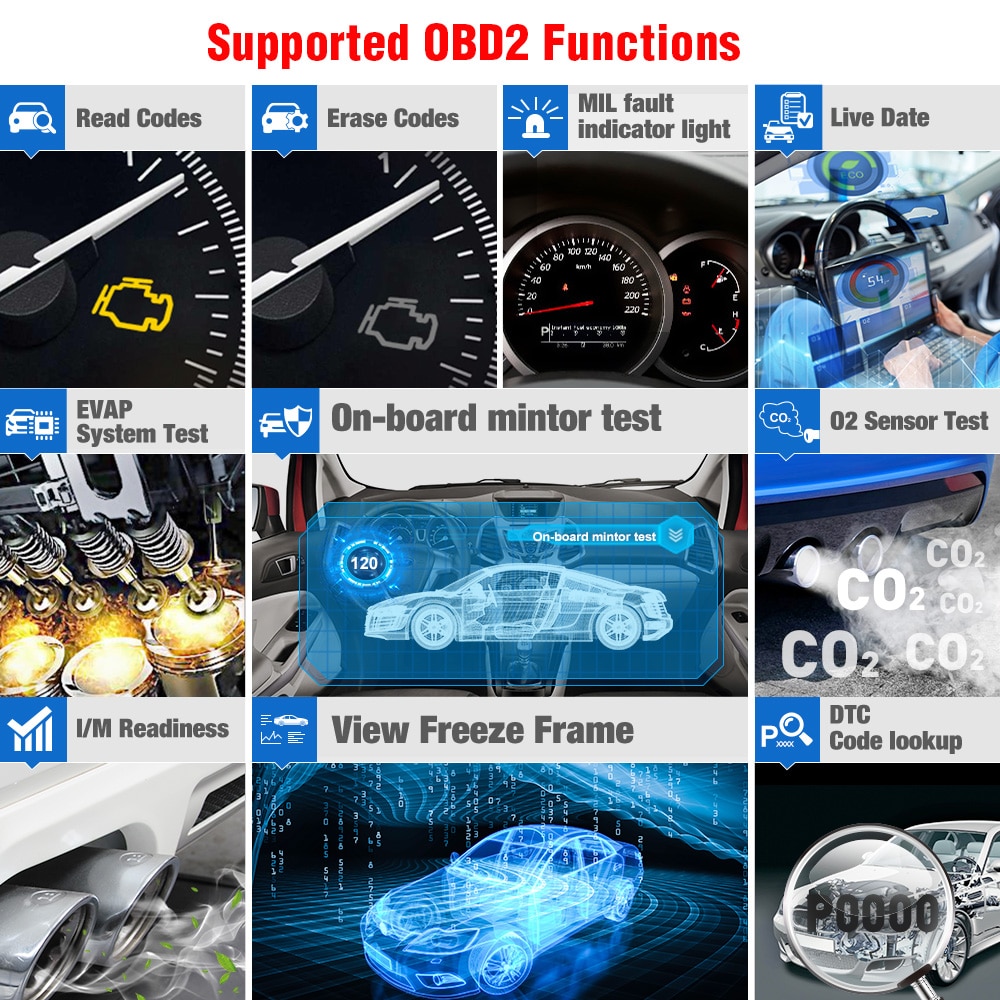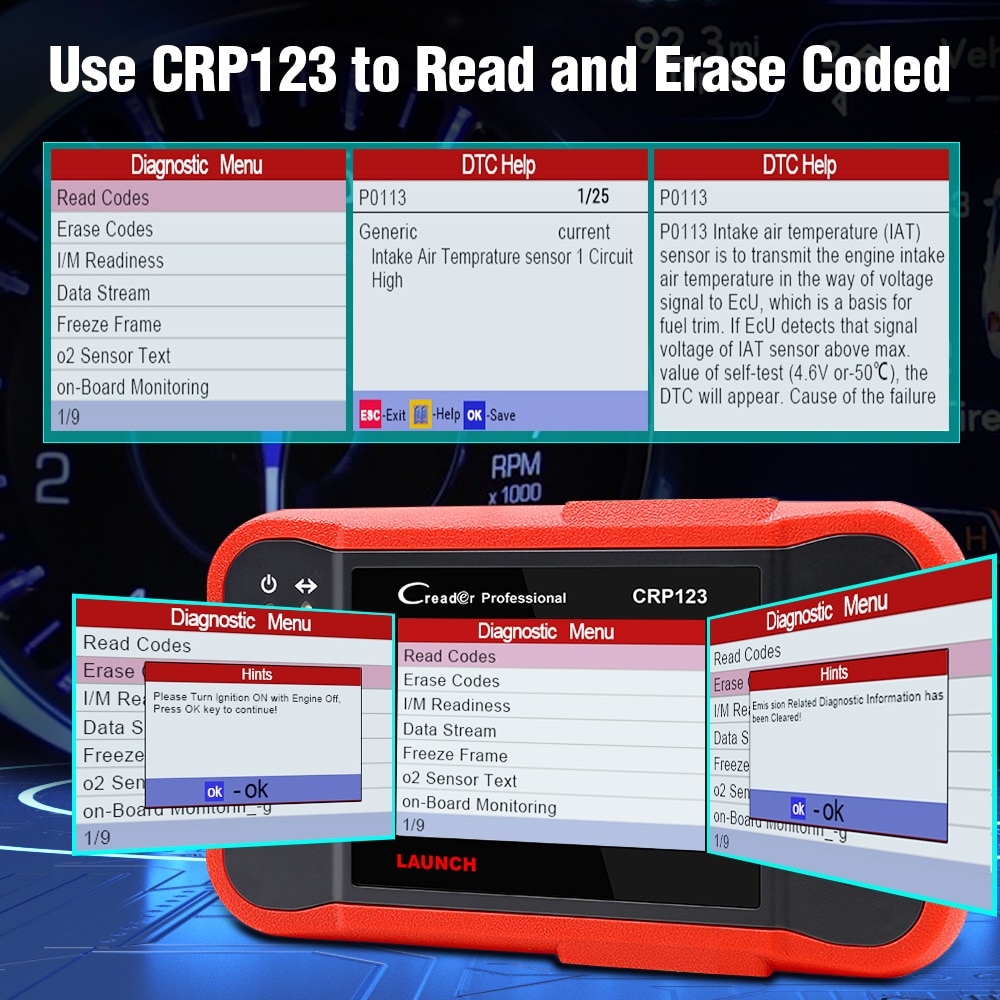 LAUNCH CRP123 Support Car Brands
for PEUGEOT , for USAFORD ,for GM ,for CHRYSLER ,for RENAULT ,for CITROEN ,for SUZUKI ,for BENZ ,for BMW ,for VW ,for HONDA ,for MITSUBISHI ,for NISSAN ,for TOYOTA ,for OPEL ,for MAZDA ,for VOLVO ,for FIAT ,for HYUNDAI ,for KIA ,for SUBARU ,for LANDROVER ,for PORSCHE ,for SEAT ,for SKODA ,for AUDI ,for SAAB ,for SMART ,for SPRINTER ,for JAGUAR ,for INFINITI ,for LEXUS ,for ACURA ,for EUROFORD ,for JPISUZU ,for HOLDEN ,for AUSTFORD
1.OBDII cars includes:
USA cars after 1996; Europe cars after 2002; Aisa cars after 2008, Japan cars after 2005;
If you were not sure if you car is included or not, please leave us the information of your car, we will check for you.
Leave as this: car brand, model, year.
2. ENG/AT/ABS/SRS testing
When we say "car supported list", we mean the car testing list for 4 system(ENG/AT/ABS/SRS). You will see the car supported list below, please remember that , that just for ENG/AT/ABS/SRS testing.
And for ENG/AT/ABS/SRS testing, it just supports the cars after 2006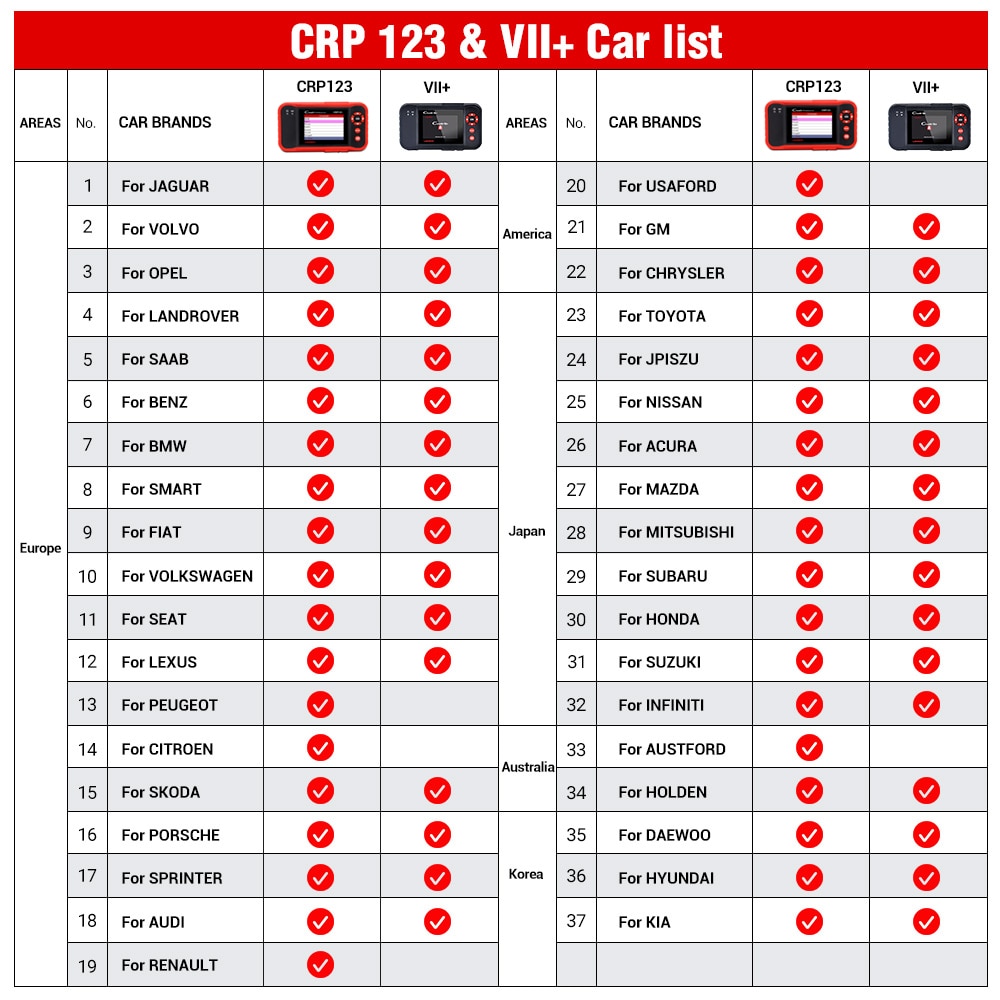 Live Data Stream Analyse in 1 Graph
View Live Data Graphing of Engine/Airbag/ABS Systems, 4 Live Data Stream Analyse in 1 Graph: This OBDII automotive scanner shows live vehicle sensors data in text,multiple graph format. shows 4 live Readiness and allows you to focus on any suspicious or symptom-specific data parameters.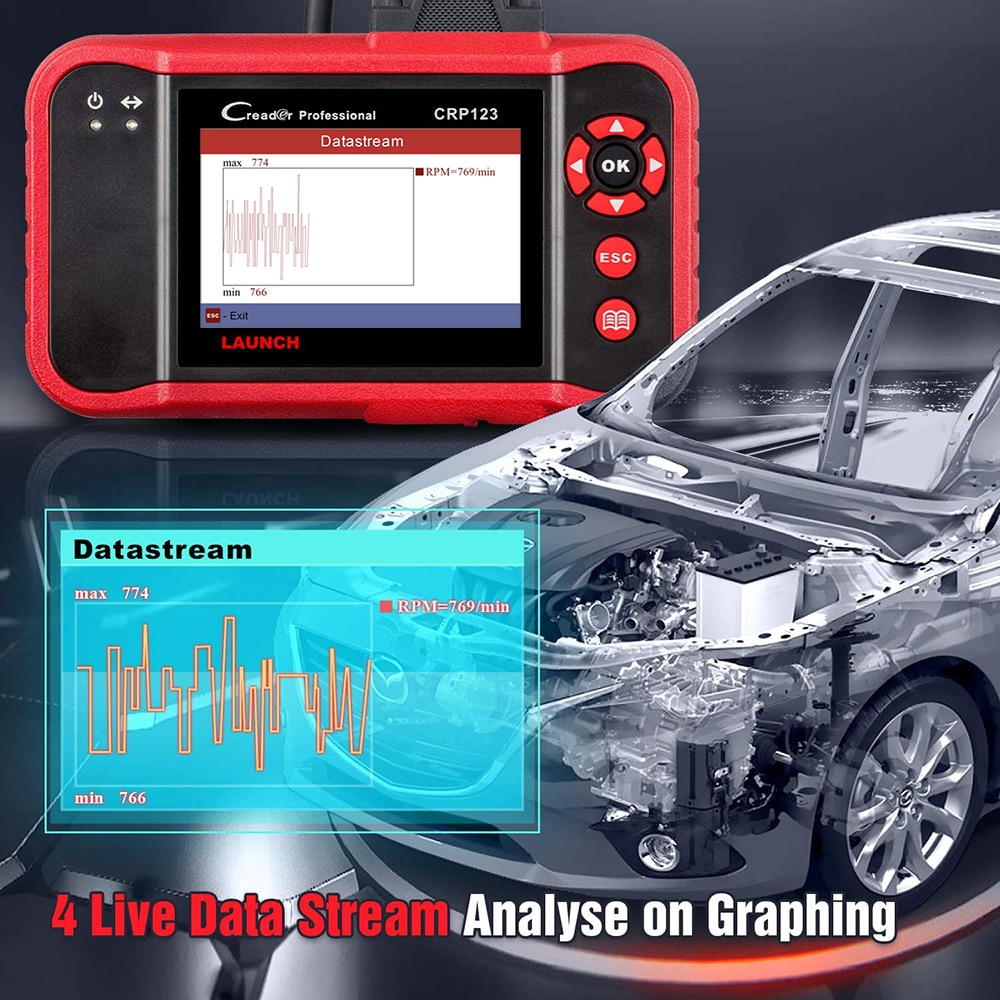 Function shows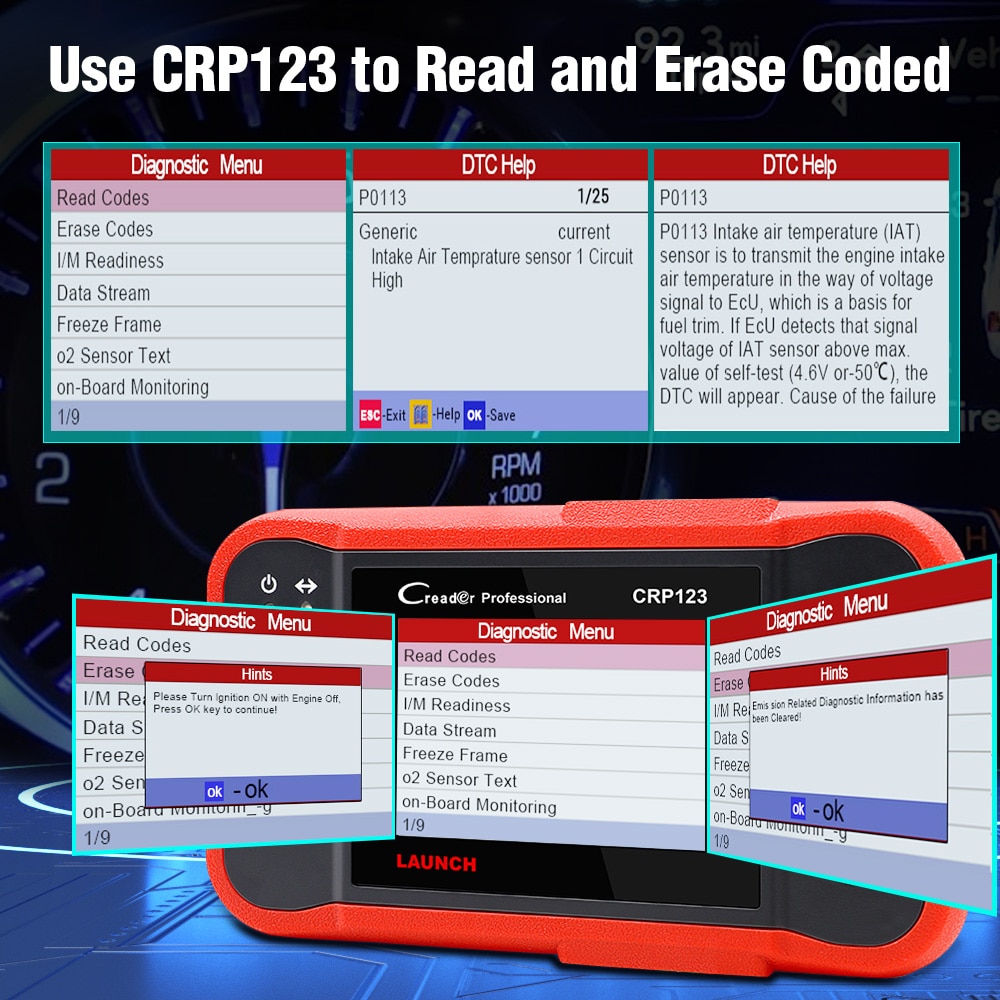 Lifetime Free Update
Provides lifetime free update online via a TF card or a USB cable at Launch official website , and print date via PC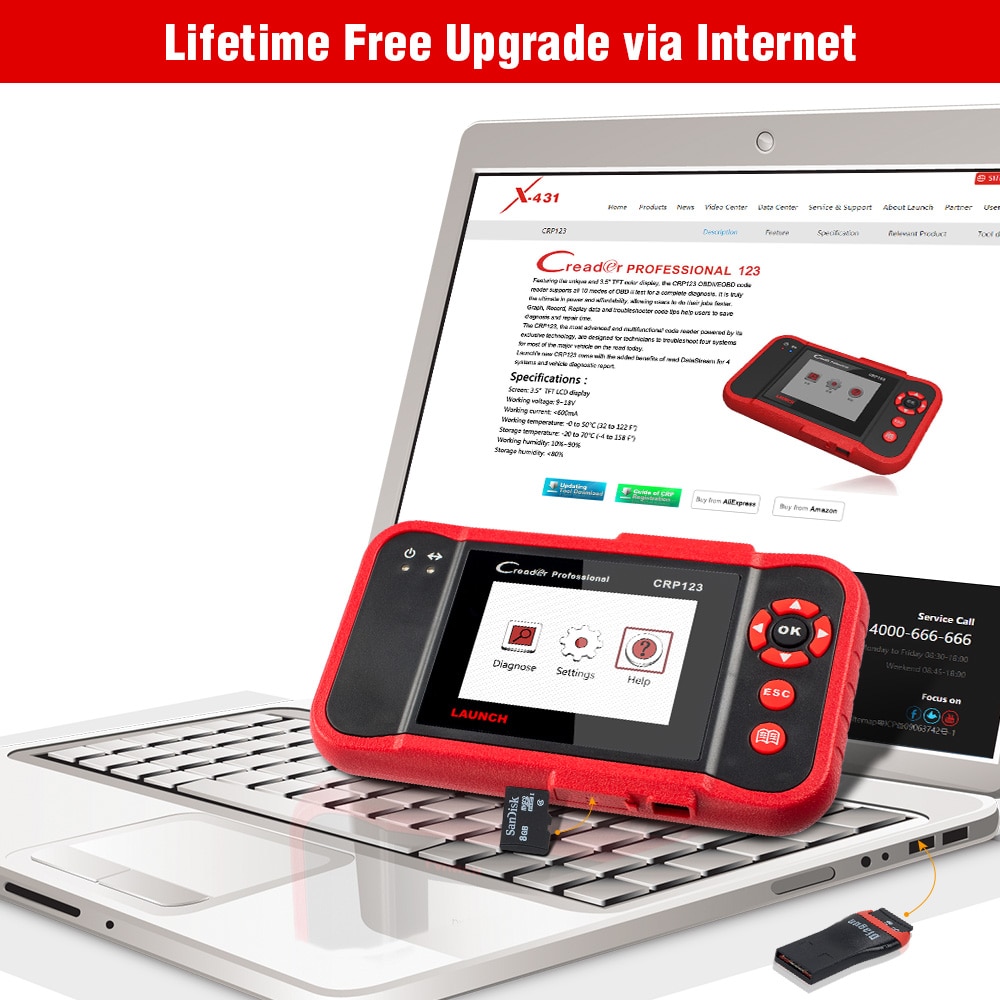 How to Update CRP123? HOW TO REGISTER & UPDATE?
Step 1: Go to LAUNCH official website www.dbscar.com
(refer to the "user manual" in the "Technical Specification "section of product webpage) and click Updating Tool Download icon.
Step 2: Download and install the CRP123 update tool and launch the program when installed.
Step 3: You will be prompted to type in the serial # (located on the back of the tool)
Step 4: Hit [Device Upgrade] to enter the register page, type your email info (check the "Register Code" on the device menu "Help–Tool Information" ).
Note: the "User password" is equal to the "Register Code."
Step 5: Install the TF card from the tool into the supplied USB TF card adapter and insert into USB port of CPU.
Step 6: Reopen the CRP update Suite and select the updates you would like to preform or click select all and click Download.
Step 7: Once all steps are complete, reinsert the TF card into the tool and power the tool via USB in computer or via OBD2 port in vehicle. The tool will prompt you to upgrade, select OK button on tool to proceed.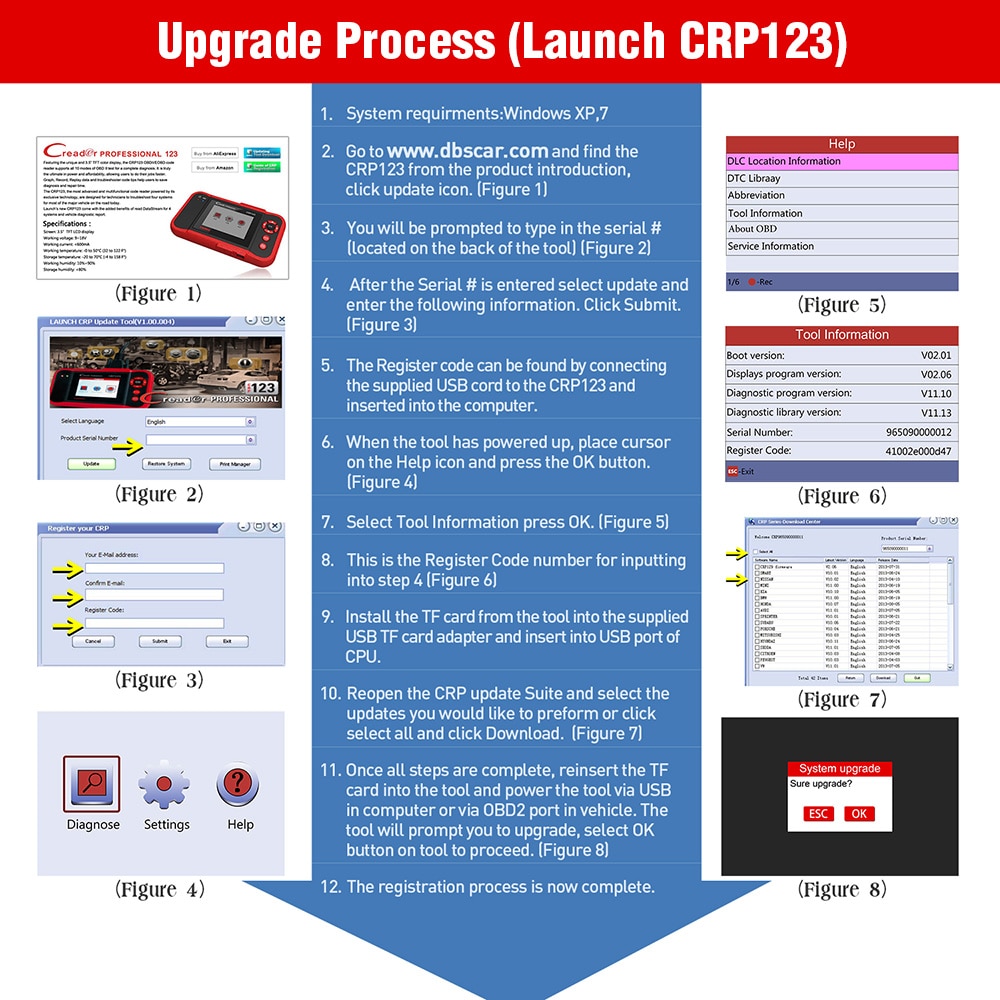 LAUNCH CRP123 Packing List
1*LAUNCH CRP123 ODB II Scanner
1*USB Cable
1*OBD II Cable
1*Card Reader
1*User Manual
1*Installation / Registration Instructions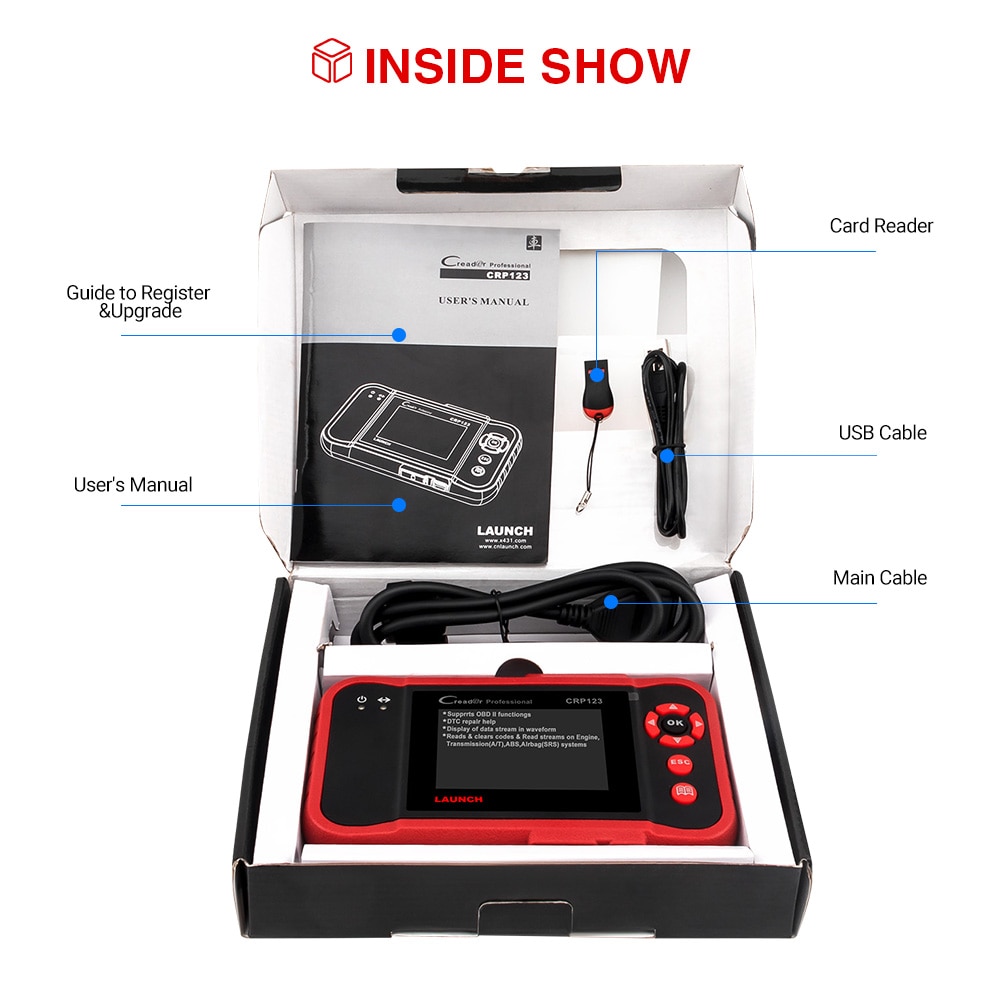 Only logged in customers who have purchased this product may leave a review.