ThinkCar 2 ThinkDriver Bluetooth Full System OBD2 Scanner for iOS Android
Free shipping by fast way 4-9 days
Description
ThinkCar 2 ThinkDriver Bluetooth Full System OBD2 Scanner for iOS Android
Highlights:
1. Software Free Update Online
2. Small Design, Dustproof, Shockproof, Easy to Carry and Store
3. Vehicle Coverage: Supports full system diagnosis and vehicle coverage more than 115 brands
4. Easy To Use, work together with both iOS and Android. Please download the "ThinkCar 2" from APP Store or Google Play, connect by bluetooth to use it
5. Target Customers: The target customers of ThinkCar 2 are for car owners who have certain maintenance knowledge, strong hands-on ability and can change parts themselves, and car DIYers.
6. Software Supports Multiple Languages and Displays with The Phone System Language: English, French, German, Spanish, Italian, Portuguese, Russian, Japanese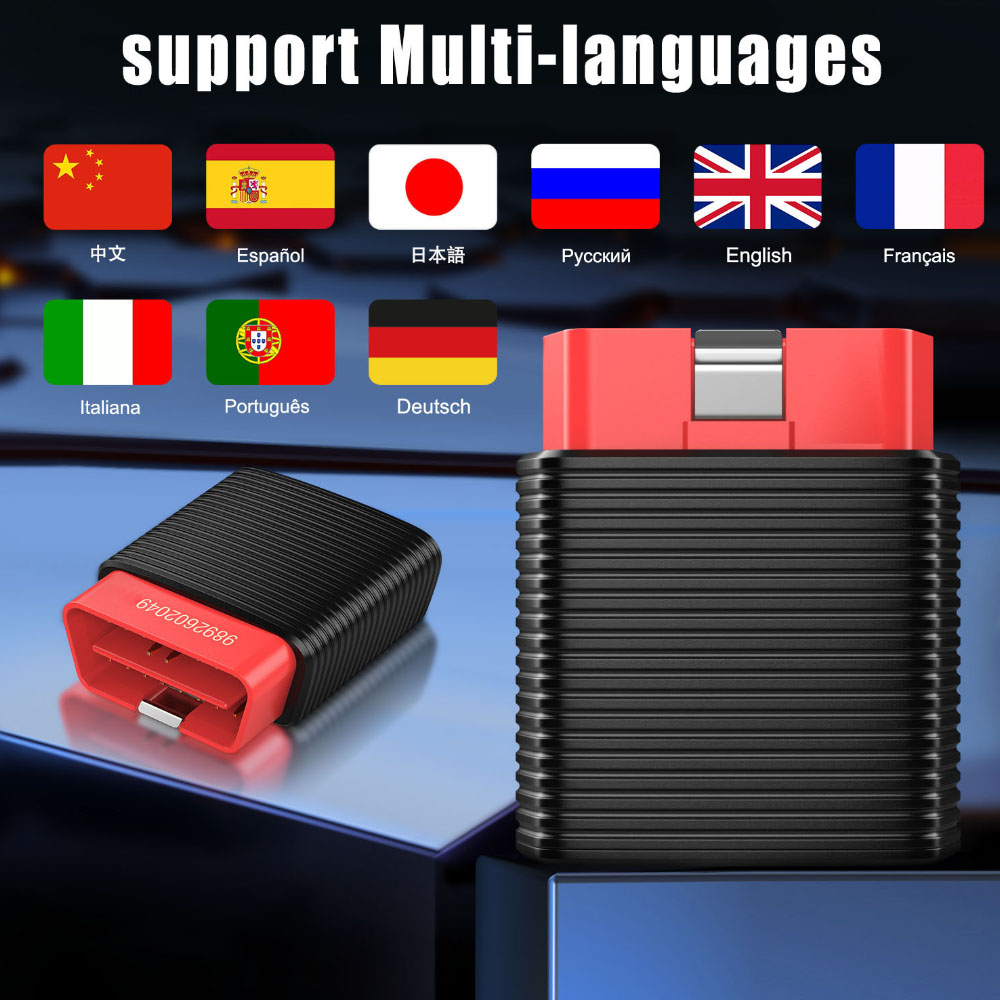 If You Buy One THINKDRIVER, You Will Get:
1. Free Car all system diagnose for three cars.
2. Free ABS Bleeding service function for one car
3. Free SAS Steering Angel Sensor Reset Function for one car
4. Free OBD2 Engine Diagnose for one car
5. Free Acceleration Tester for for one car
New Updates for You
For New customer Free Full System Diagnose for 3 Car's VIN now !!
More Car Brands were Contained (Indian,Malaysia Cars)
If you already subscribe the paid full system diagnose function for other car, these car's vin will enjoy one more year free update.
Newest version for ISO and Android already published,fixed all the bug and add new car brands.
Product Description:
ThinkCar 2 is an OBD diagnostic tool for car owners with powerful functions. It is equipped with full pins and full protocols support, making this ThinkCar 2 model more comprehensive.
ThinkCar 2 the connector is an on-board diagnostic device with Bluetooth function. Through the connection with OBD, it can read vehicle BOD ll data and real-time data of the entire vehicle system.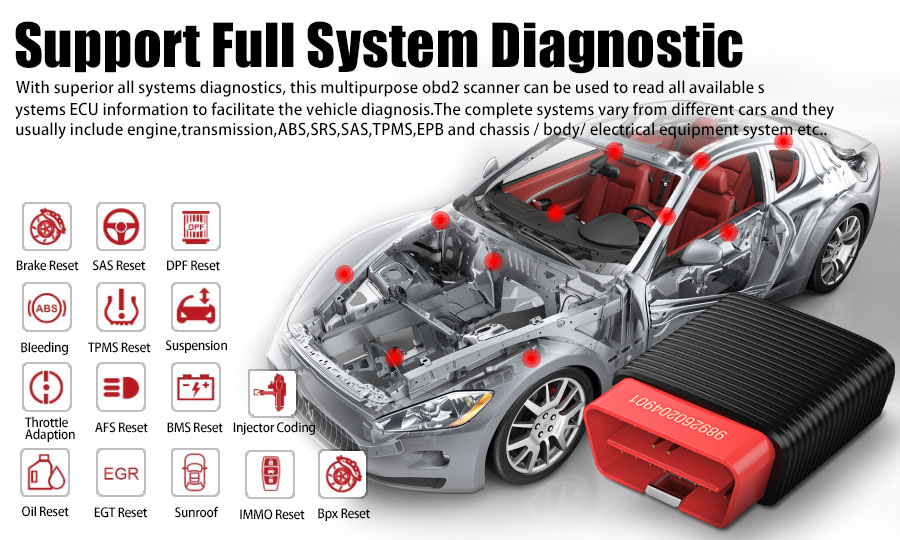 ThinkCar 2 Advantages:
1. Full system diagnosis.
2. Read/Clear all DTC type for entire vehicle system.
3. View and graph the real-time data flow of full system.
4. Test the acceleration timer from 0-100m.
5. Vehicle coverage more than 115 brands.
6. Support full OBD protocol after 1996.
7. Equipped with VIN code auto scan.
8. Small design, dustproof, shockproof, easy to carry and store.
Technical Service Support
We can provide consulting services and repair assistance for common car failures.
We combine industry knowledge to provide customers with high-quality products and maintenance solutions to benefit our customers.
Professional, Efficiency and Quality is always our mission.
Product Features
●ThinkCar 2 is easy to use. you can download the "ThinkCar" from the APP store, connect the bluetooth to use it. It supports the system for iOS, Android.
●The software supports multiple languages and displays with the phone system language.
●Software supports full system diagnosis for hundreds of models(engine, transmission, ABS, SRS, SAS, TPMS etc).
●Support 15 special functions(Oil reset service、EPB、SAS、BAT、TPMS etc).
●ThinkCar 2 provides a 100-meter acceleration test.
Through reading the real-time data of the vehicle, the 100-meter timing is more accurate. After the timing is completed, the results can be ranked to fight the entire network.
●ThinkCar 2 is a subscription service based on the VIN mode.
One VIN code can only use for one car. Users need to purchase usage right separately if they need to use in more cars.
In the case of inactivity, the user buy ThinkCar 2 will get 1 VIN and 2 maintenance software for free.
●The maintenance software can only be used in the same car which is bound to VIN
●Points: ThinkCar 2 and ThinkCar series products get through the points system, which can be used to purchase diagnostic software and hardware, adding more gameplay to earn points.
●Diagnosis: ThinkCar 2 vehicle diagnosis requires the purchase of vehicle vin code, which can be used for 1 year after successful purchase.
●Software support online upgrade.
●Suitable for different groups of users (maintenance factory, 4s service station, car DIYers).
●The device is connected to the mobile phone via Bluetooth, and it is light and easy to carry when going out.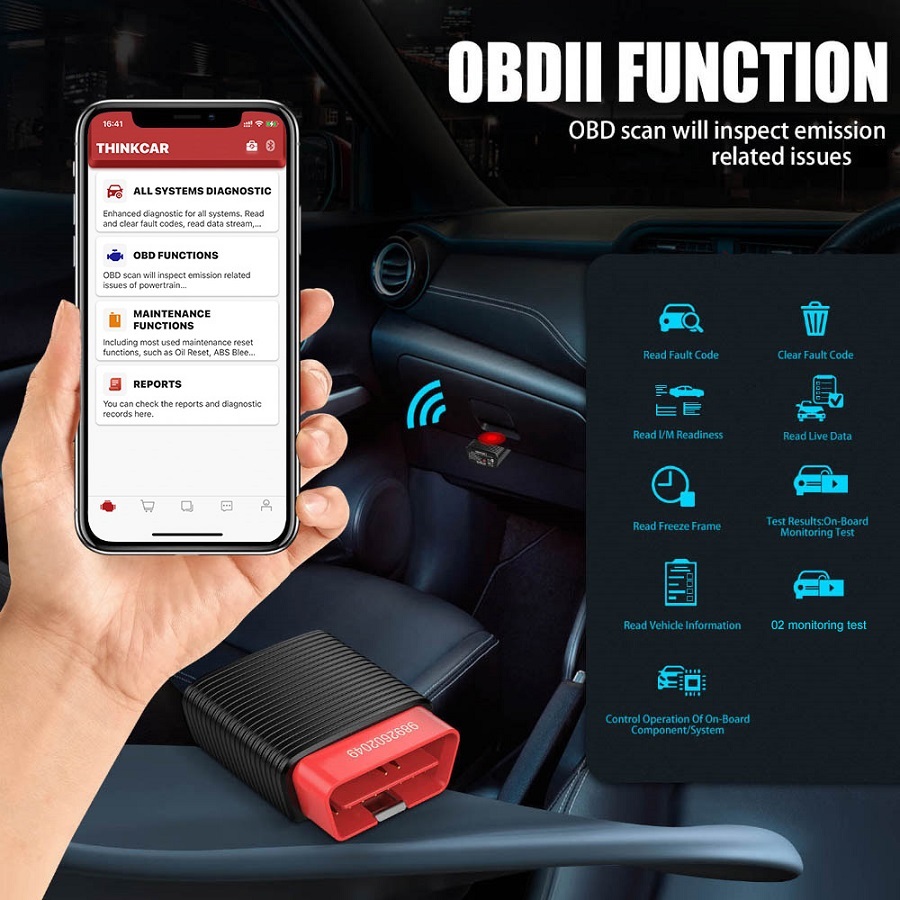 Function Introduction
Full System Diagnose
With superior all systems diagnostics, this multipurpose obd2 scanner can be used to read all available systems ECU information to facilitate the vehicle diagnosis.
The complete systems vary from different cars and they usually include engine, transmission, ABS, SRS, SAS, TPMS, EPB and chassis / body / electrical equipment system etc.
Traditional Diagnostics
Supports manual selection of car model software to complete vehicle diagnostics, including reading DTC, clearing DTC, reading data stream, reading version information, etc.
Supports 15 maintenance RESET functions:
1. Oil Lamp Reset Service: allows you to reset for a new calculation of engine oil life system once the oil is changed.
2. EPB service: it is important in the maintenance of electronic braking system's safety and efficiency.
3. BAT battery service: enables the scan tool to evaluate the battery's state of charge, monitor the close-circuit current, register the battery replacement, and activate the remaining state of the vehicle.
4. DPF service: works especially for Diesel Particle Filter System with DPF regeneration, DPF component replacement teach-in and DPF teach-in after replacing the motor control unit.
5.SAS service: helps clear the error steering angle sensor reminders and plays an important role in the steering angle sensor calibration.
6.TPMS service: Makes sense in displaying sensor IDs from the vehicle's ECU, entering TPMS sensor replacement IDs and testing sensors.
7.IMMO Key Programming: The unique auto key programming and reading pin code function, it is mainly to deactivate the lost vehicle key and program a new replacement key fob.
8. ABS bleeding: ABS brake bleeding to get a firm brake pad after air exhaustion after repairing ABS pump system
9. Sunroof Reset: The sunroof memory usually needs to be reset when the vehicle's battery is replaced or the car dies
10. Suspension Reset: try to reset electronic suspension air ride with the massage system close all doors koyo flip through message system go to suspension reset or to off
11. Gear Reset: Procedure Reset Transmission Adaptive Learning DIY. Start the car and stick.
Once you perform these procedures the Motor Control Unit (ECU) and Transmission Control Unit (TCU) work together to learn how you can drive by monitoring your driving pattern.
After you follow this programming method of the TCU / ECU drive the car.
12.AFS Headlight Reset: 'AFS' means Adaptive Front Lighting System (at night with Bi-Xenon Headlights) it turns either side, pressing that button means you stay pointing straight ahead and don't turn when you turn the steering wheel
13. Injector Coding: Leaking injectors and some dead injectors can be missed even if an injector is disabled. Other problems with the ignition system and mechanical components also may not show a rpm loss when injector is turned off
14. Throttle Adjustment : The throttle body is a tube with a swiveling flat valve (butterfly) used to control the amount of air entering a motor.
In an electronically fuel injected car, a throttle position sensor and airflow sensor communicate with the computer, which delivers the appropriate amount of fuel needed to the injectors.
It need to re-learn gas sensor position after erasing or repairing
15. Gear Learning: The scan tool monitors certain camshaft position sensors signals to determine when all conditions are met in order to continue with the process for engine running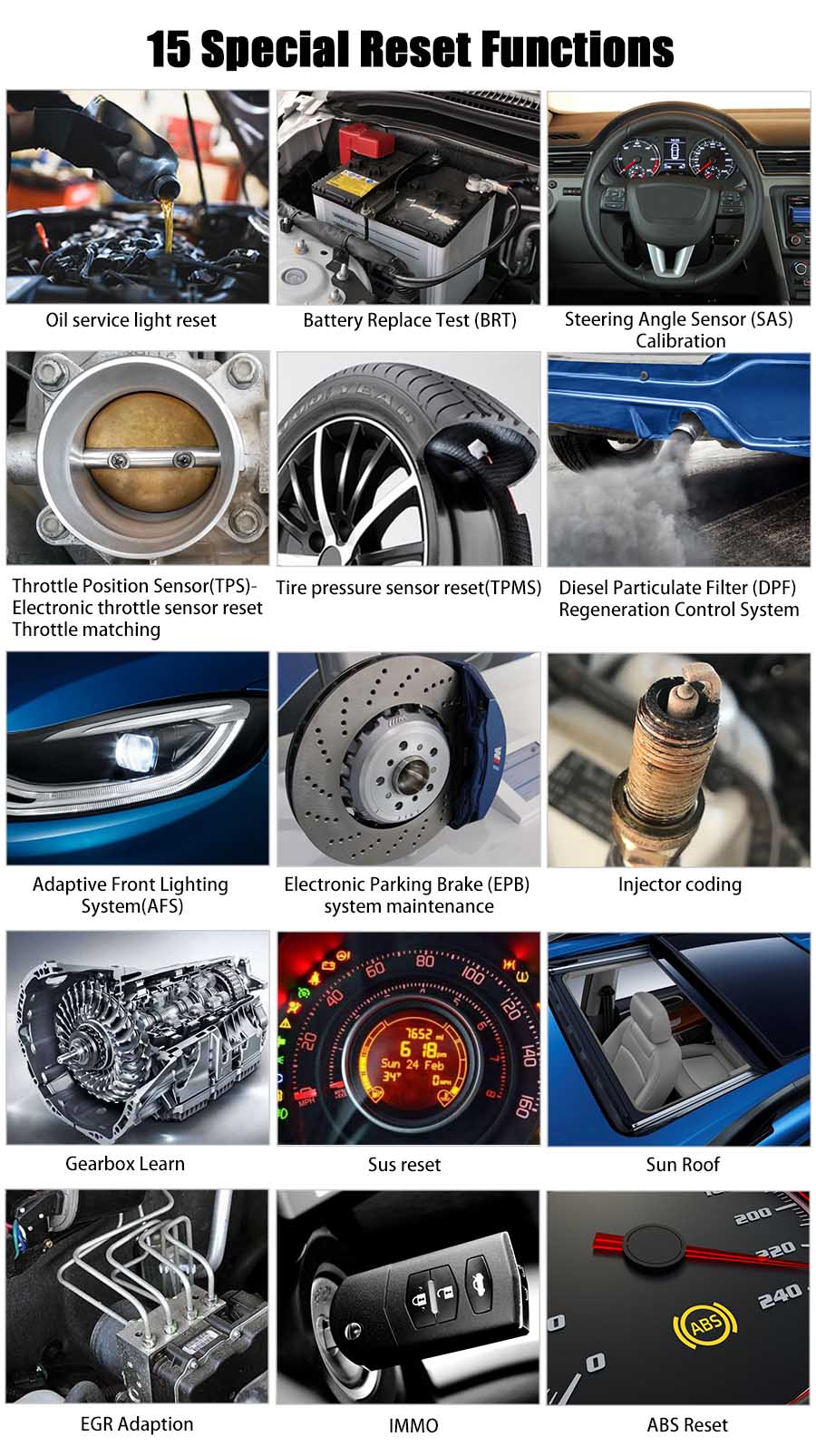 OBDII&EOBD Full Functions
Support standard OBD diagnostic protocol, vehicle coverage after 1996.
In addition to the function of reading/clearing code , ThinkCar 2 also support real-time data stream ,and switch status, percentage, and graph are displayed respectively.
●Real-time data, MIL, IM monitors
●Freeze frame data
●Stored DTCs
●Clear DTCs
●O2 monitoring tests
●Test results for continuously and non-continuously monitored systems
●Pending DTCs
●Request control of on-board-system or component
●Request VIN and other data
●Permanent DTCs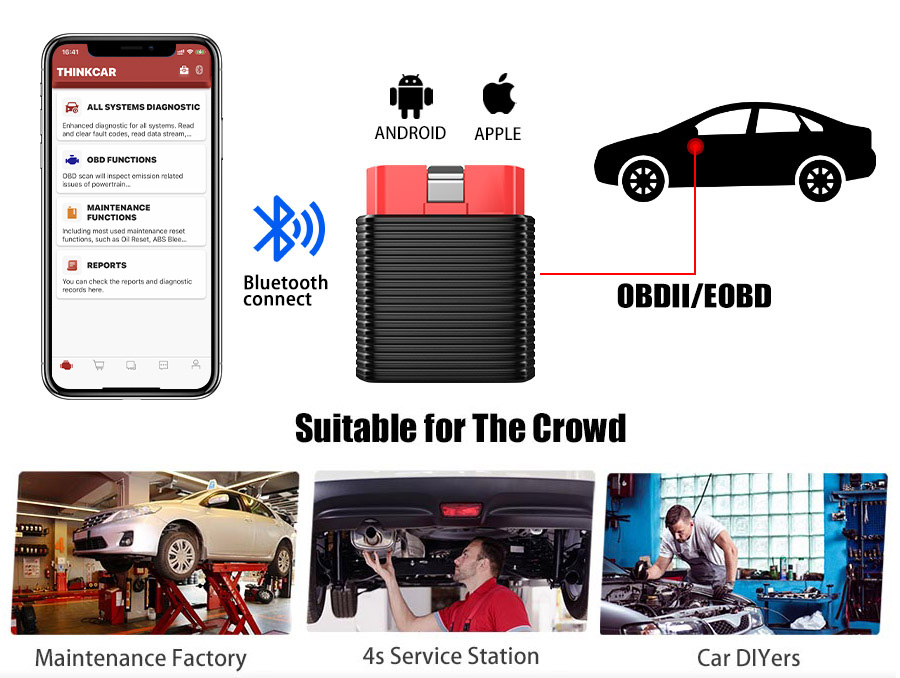 Application Scenario
1. Detect vehicle exhaust emissions
2. Detect potential safety hazards.
3. Detect fault codes, clear fault codes, and read real-time vehicle data streams.
4. 100-meter acceleration test.
5. Learn vehicle maintenance knowledge in the interactive community, and post maintenance difficulties for help
THINKCAR 2 Store
1. A vin is $14.95, and 2 resets (abs sas, when the user uses it will prompt free use) for one year.
2. A reset US$9.95, which can only be used for vehicles that have been bound to vin. Duration of one year
3. After the new user purchases, give a vin 2 reset
Now engage in activities, give 3 vins, each vin give 2 resets
How to purchase THINKCAR 2 software online?
After connecting the connector, click the system-wide diagnosis to start automatically identifying vin. After the recognition is successful, determine whether the current vin has been purchased. If not yet purchased, prompt to purchase or use the free software to obtain full power, and the user is free to choose
If vin is not obtained, you can manually select the model
(a) Prompt to get free vin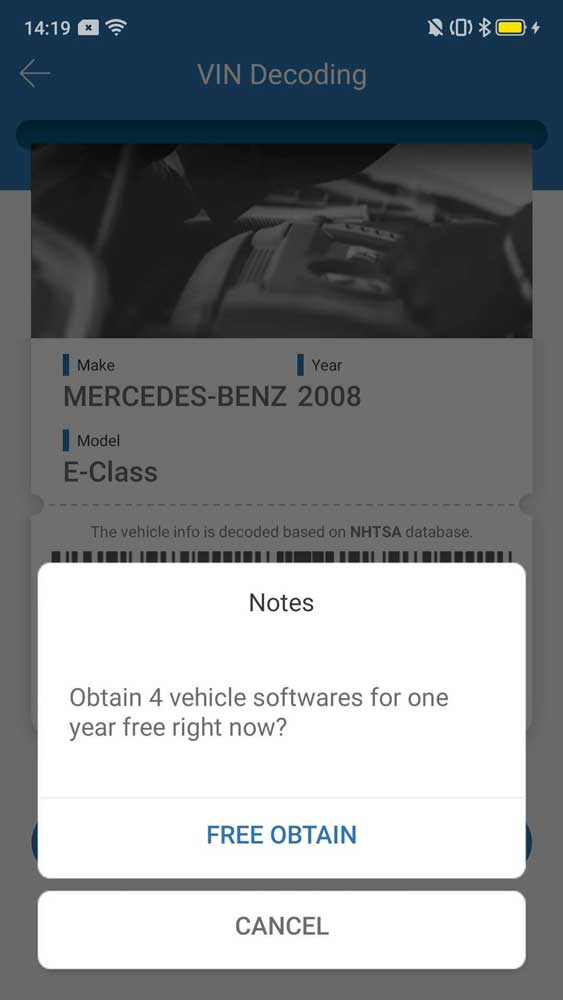 (b) Prompt to buy VIN, choose payment method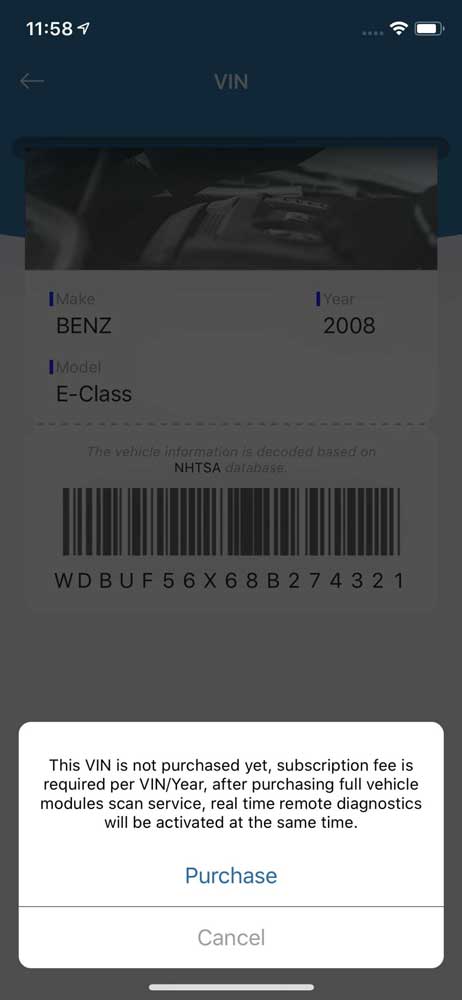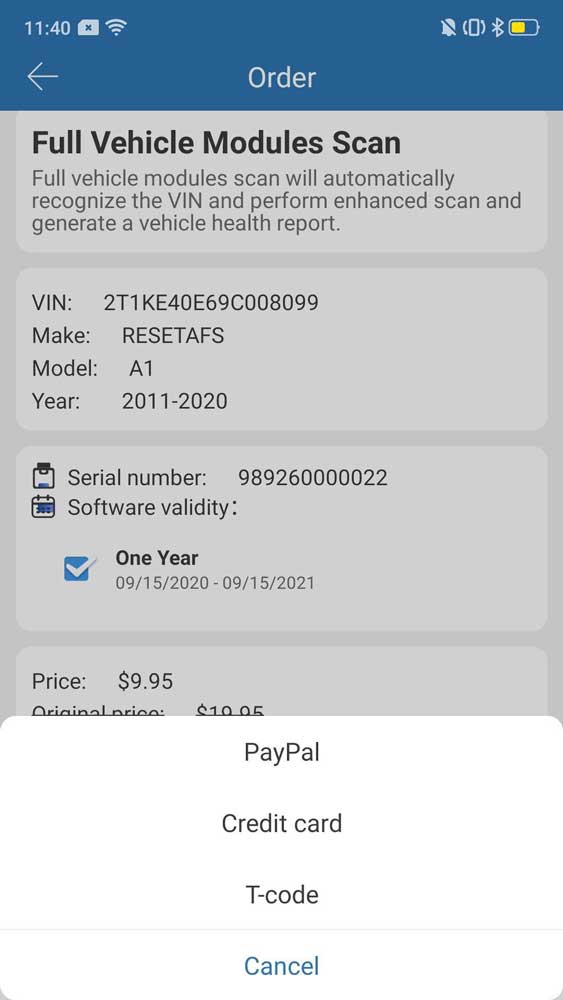 Specifications:
| | |
| --- | --- |
| Compatible OBD II Protocols |  ISO 14230-4(KWP2000), ISO 15765-4(CAN), ISO9141-2(iso), ISO14229(uds), SAEJ1850(VPW&PWM) |
| Smartphone Support | Android & iOS |
| System Version | Compatible with Android 5.0 and IOS 9.0 or above |
| Bluetooth | BLE5.0 (Do not occupy listening to songs) |
| Voltage | 12V |
| Current | ≤50mA |
| PIN | 16-Pin |
| Storage Temperature | -40°F ~ 140°F |
| Operating Temperature | -4°F ~ 185°F |
Q & A:
Q1: I want to know whether my vehicle is supported.
A1: Compatible with all vehicles supporting the OBD II / EOBD protocol since 1996, which can perform diagnostic services for more than 105 vehicle brands. Provide your car's VIN code to us before buying, we will help you check whether your car is supported. Or To check more details, please choose "ThinkDriver" and your car model to query through THINKCAR link: https://www.mythinkcar.com/coverage/checklistQ2: What's the difference between Thinkdiag and Thinkdriver?
A2: THINKDIAG do not have the 0-60miles acceleration test function.THINKDRIVER is based on THIKDIAG, but we optimize the cost and reduce functions for professional mechanics. We strive to minimize the price of THINKDRIVER to let all car owners test the full system of the vehicle, much more than the OBDII.
Q3: Does THINKDRIVER require an internet connection?
A3: The ThinkDriver device doesn't connect to the Internet. The ThinkDriver app will connect to the device via Bluetooth. The ThinkDriver app will need internet connection when using the diagnostic functions.
Q4: How to connect the equipment with my phone?
A4: Once your scanner tool is inserted into the OBD port, simply search for the THINKDRIVER using your Bluetooth settings and connect. The tool supports both Android and IOS systems.The ThinkDriver APP will only connect via Bluetooth.
Q5: Why did you offer subscriptions instead of one-time fees?
A5: This decision is made after careful thought and review of user feedback. Instead of charging you high one-time fees, we give you the flexibility and choice of renewing your subscription after a year. Users who change cars after one or two years can choose to switch to a subscription to another car manufacturer, instead of being stuck with a tool that only works for one manufacturer.
Q6: If I need to diagnose more vehicles or more special functions?
A6: $14.95/ year for one more VIN (OBD Full System Bleed Reset SAS Reset)
$9.95/ year for one more reset service(for one VIN)
Package includes:
1pc x ThinkCar 2
1pc x User Manual
Only logged in customers who have purchased this product may leave a review.