LAUNCH X431 CR619 OBD2 Automotive Scanner Professional ABS SRS Airbag Engine Check Code Reader
Description
LAUNCH CR619 OBD2 Automotive Scanner Professional Engine ABS SRS Airbag Check Code Reader OBD 2 Car Diagnostic Tool Free Update
Launch Creader CR619 scanner, can read, clear DTCs (error code) in car ABS and SRS Airbag . Help to identify the car problem, and also built-in OBD2 engine diagnose module, can read live data stream in graph and make car diagnose convenient.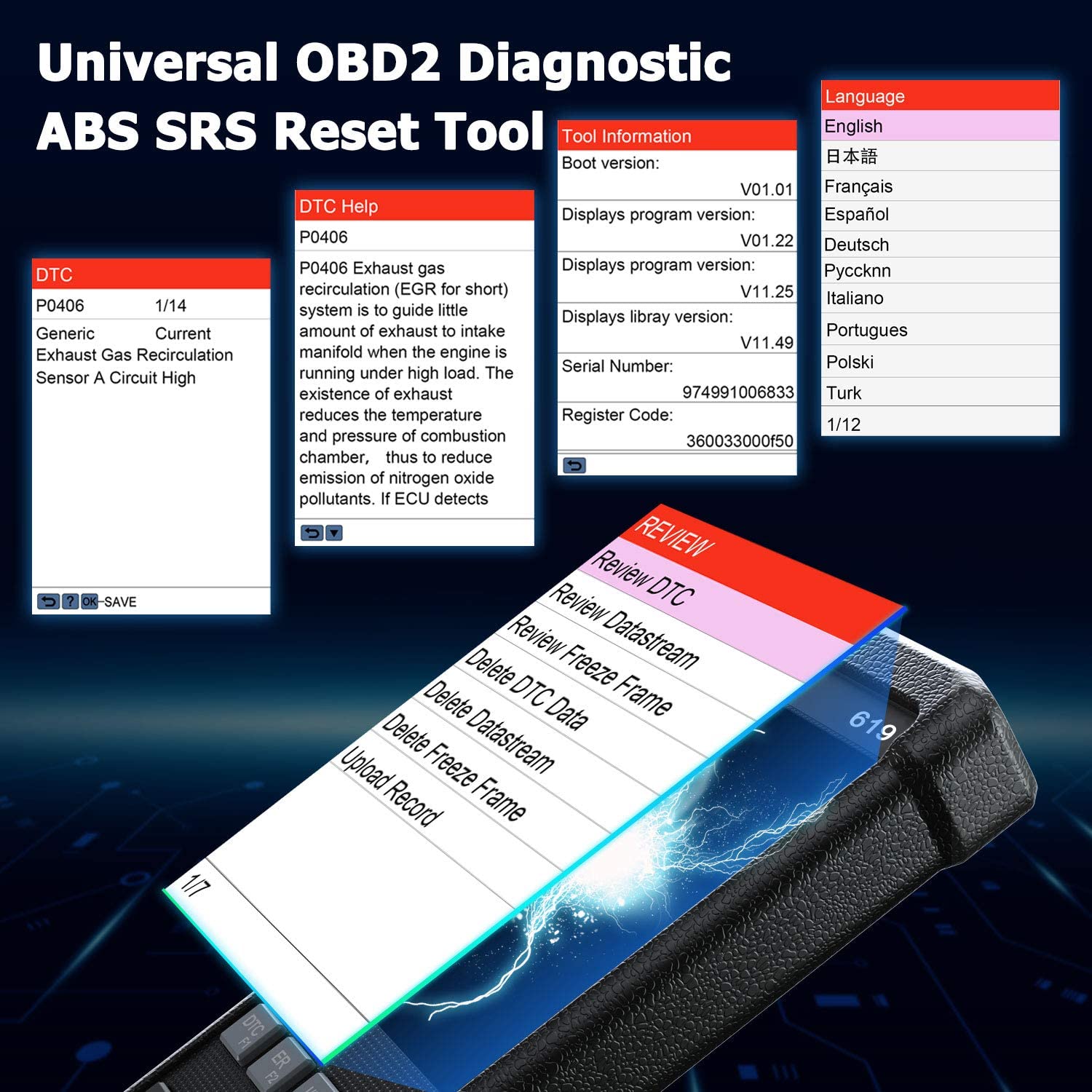 LAUNCH CR619 Support Multi-language
English, Spanish, French, Russian, Czech, Polish, Turkish, Portuguese, Japanese, Italian, Korean, Deutsche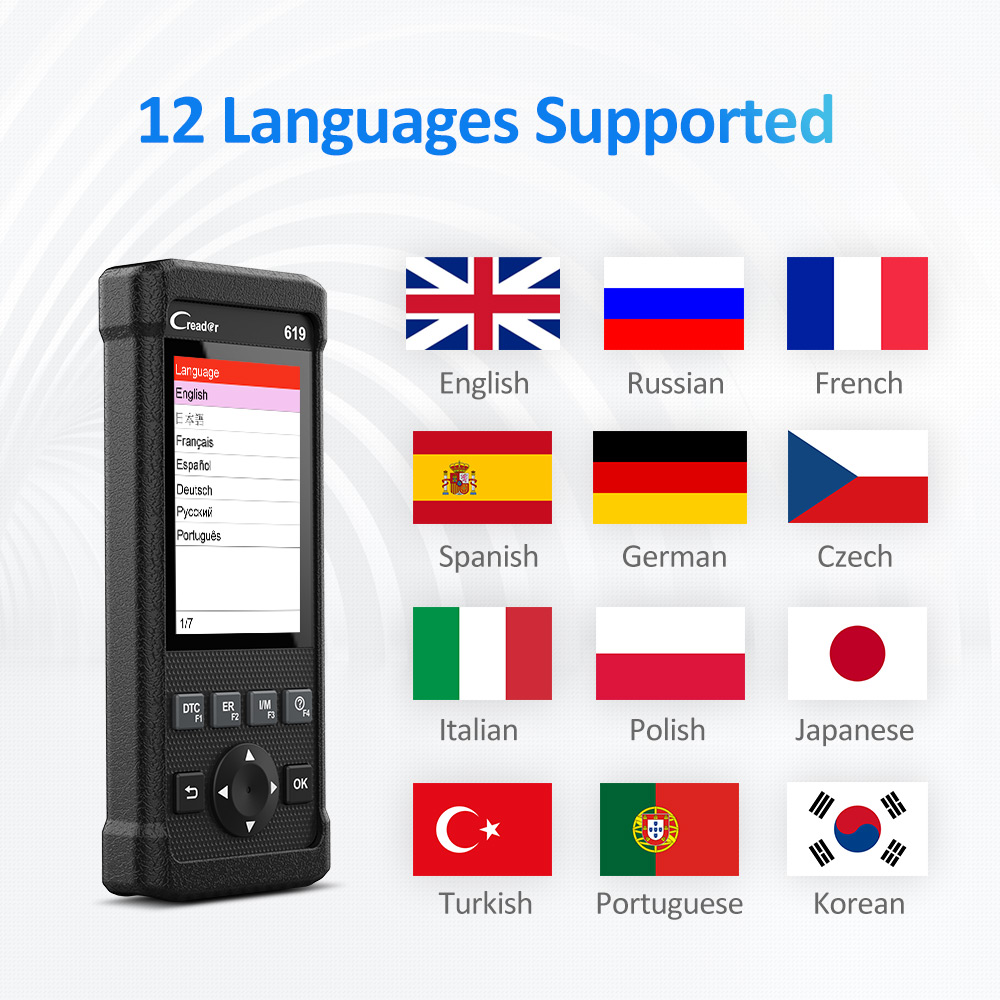 Multilingual instruction manual included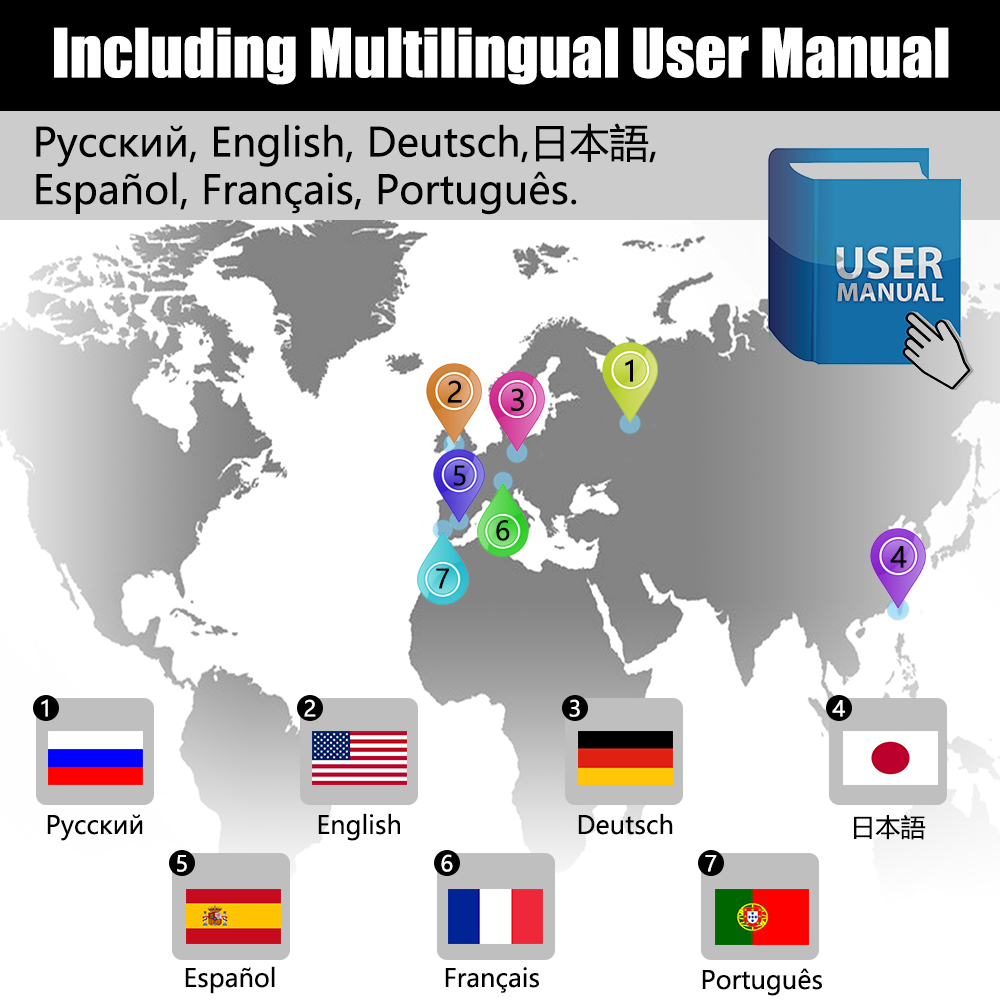 LAUNCH CR619 OBD2 Car Diagnostic Tool Function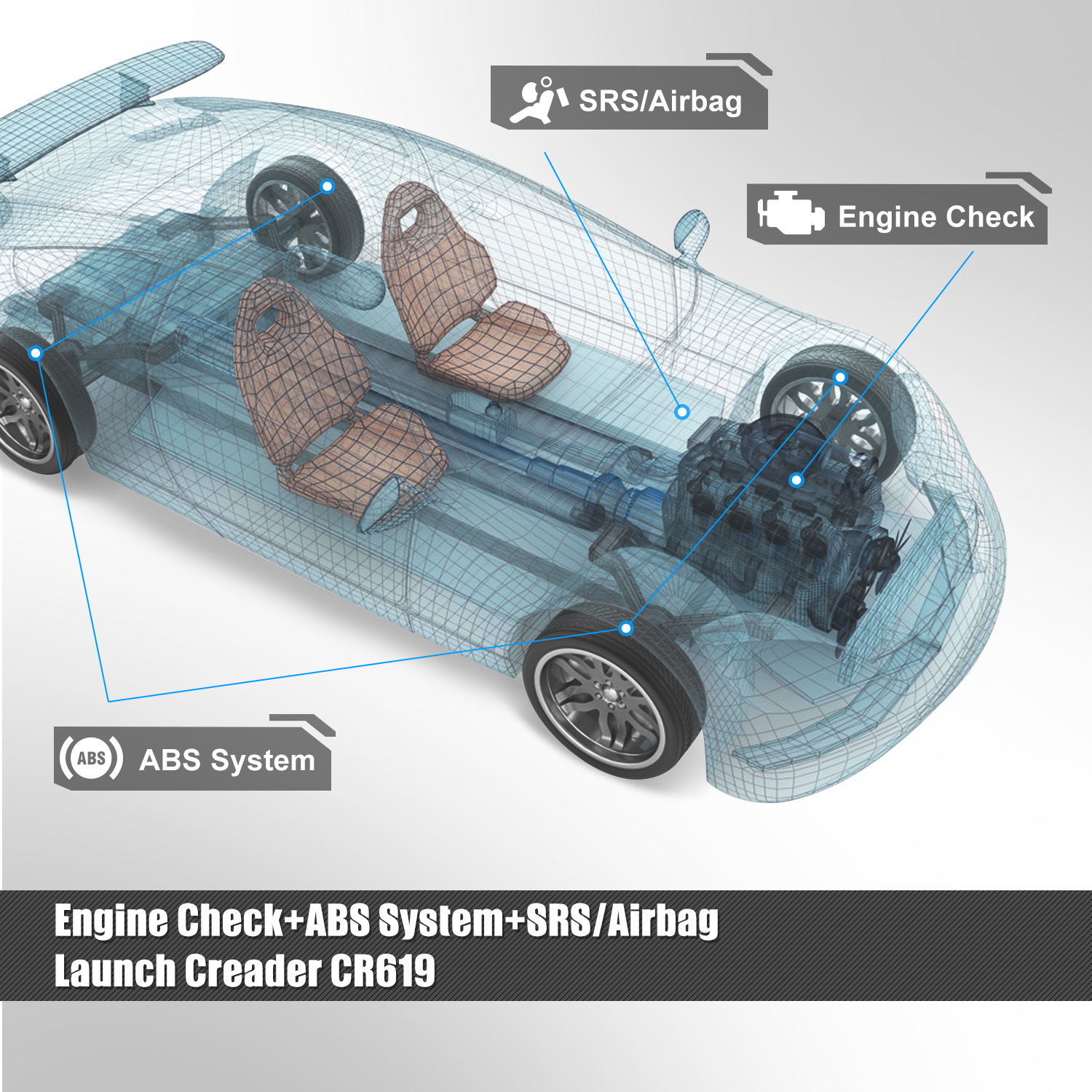 1. Basic engine check system
1) Read dynamic data streams and MIL
2) Read readiness status
3) Query freeze frame data
4) Read current DTCs
5) Clear DTCs
6) O2 sensor monitoring test
7) On-board monitor test
8) Read pending DTCs
9) On-board system or component control
10) Read vehicle information
11) Read permanent DTCs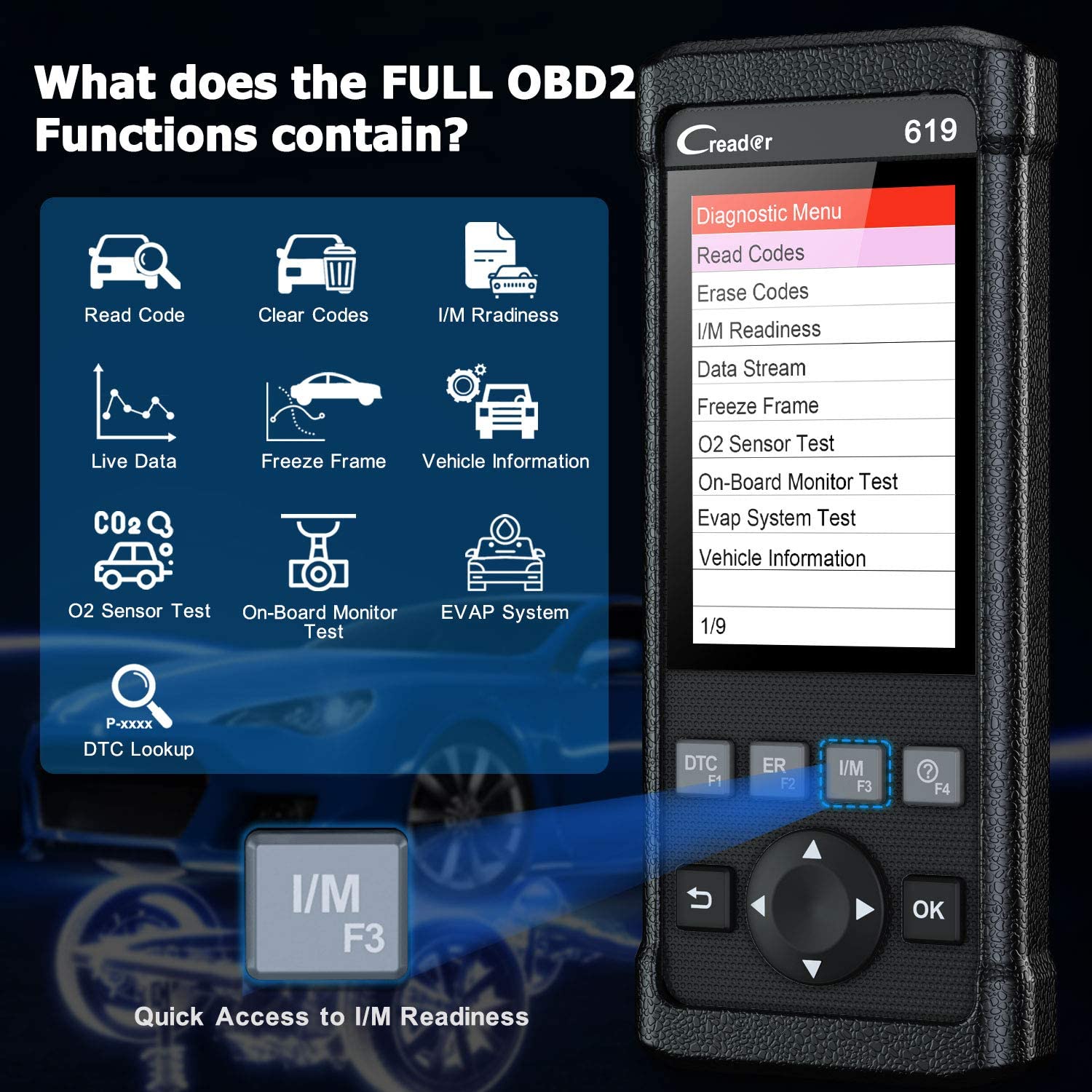 2. Support ABS SRS Airbag Scan
1) ABS Read DTCs, Clear DTCs Data Stream
2) SRS Airbag Read DTCs, Clear DTCs Data Stream
3. Covered mostly brand cars newer than 2006 with standard OBD2 protocol
4. Quick I/M Readness, one key engine check function
5. Qurery DTCs
6. PC upgrade online
7. PC data printing support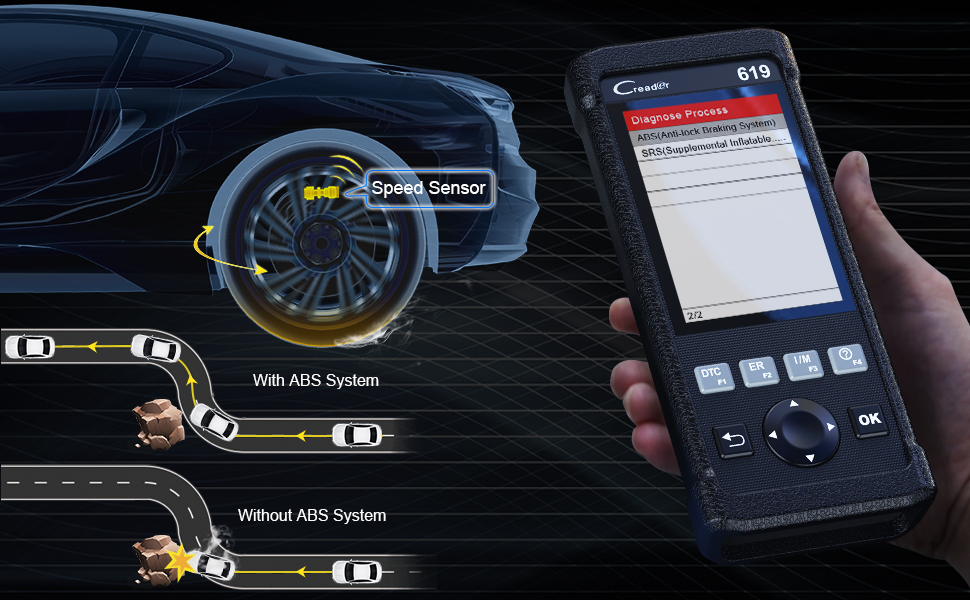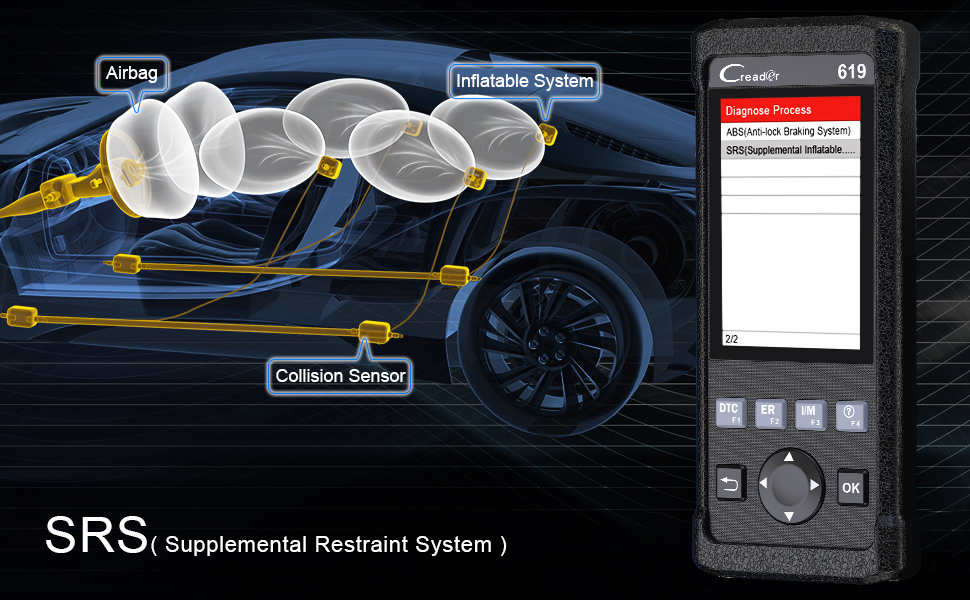 3.GRAPHING LIVE DATA
This obdii diagnostic scanner graph 2-PIDs real-time data simultaneously on color screen, including coolant temp, throttle position and intake temperature, as well as RPM, speed and some data about how much it has been driven since the last time a DTC code was cleared(in miles and hours). Please note, the data categories vary by vehicle.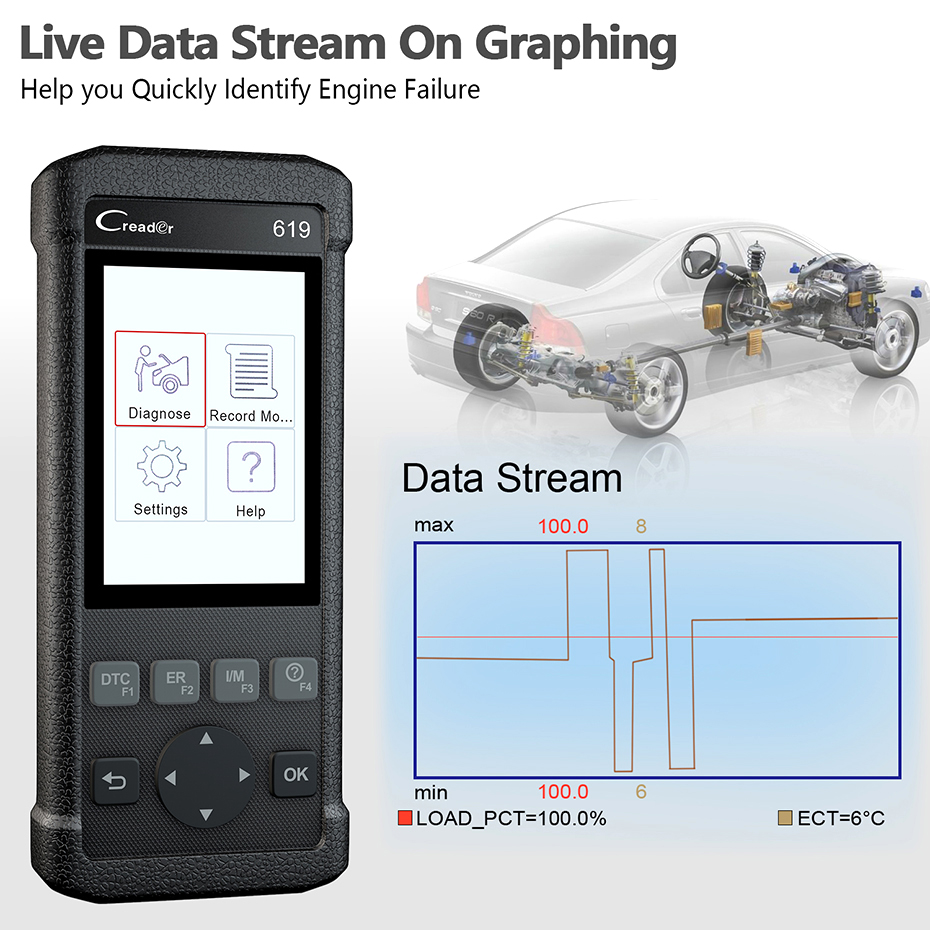 4.EXCLUSIVE CAUSE ANALYSES
Apart from DTC Lookup features that most engine fault code reader have, Launch CR5001 obd2 scanner has an DTC HELP function, revealing common causes of most fault codes to offer direct assistance for users, saving time by taking notes and Google them.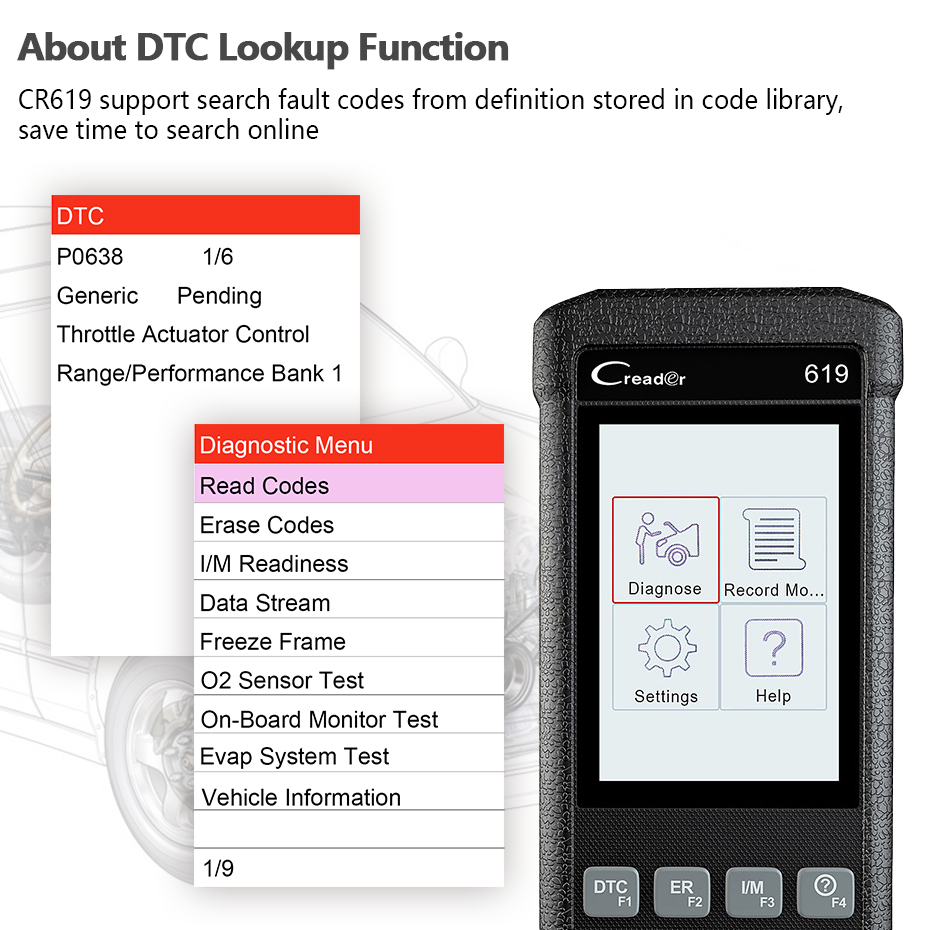 5.EXTRMELY USER-FRIENDLY
Launch CR619 car scanner is "Plug and Play", This car computer reader does not require any Battery or Charger, power itself from the vehicle's DLC socket.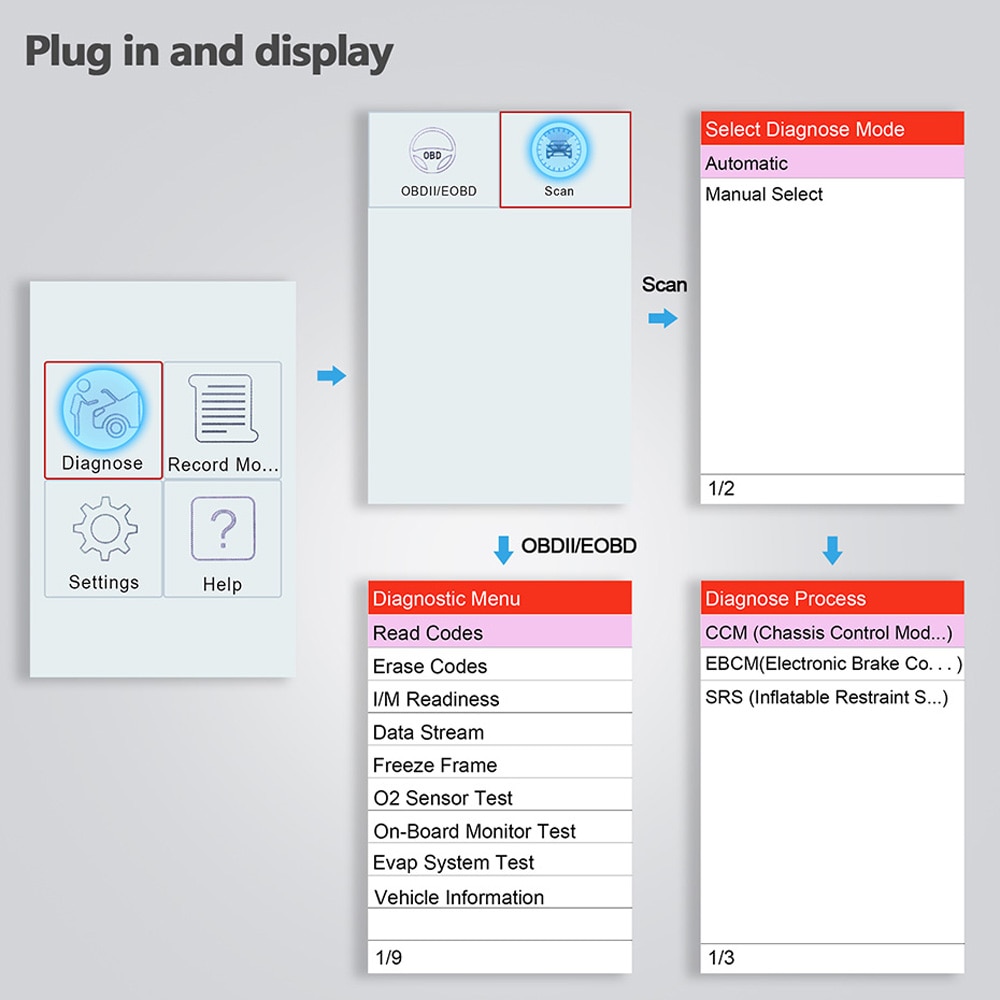 LAUNCH CR619 Automotive Tools Functional Supported Car List:
1.For Engine Checking
American (USA) car:
Compatible with Standard OBD2 Cars from 2001 to Now:
for Chrysler, for Ford, for GM, for Jeep
European car:
Compatible with Standard OBD2 Cars from 2004 to Now:
for Alfa Romeo, for SAAB, for Acura, for Opel, for Audi, for Seat, for Bentley, for Skoda, for Daewoo, for Benz, for Daihatsu, for Land Rover, for BMW, for Vauxhall, for Volvo, for VW, for Ford, for Jaguar
France Car after 2006:
for Citroen, for Fiat, for Renault, for Peugeot
Not Support for Renault Clio 2 Megane Dacia Logan
Japanese car
Compatible with Standard OBD2 Cars from 2005 to Now:
for KIA, for Isuzu, for Honda , for Mitsubishi, for Hyundai, for Dacia, for Lexus, for Mazda, for Nissan, for Subaru, for Suzuki, for Toyota
Chinese car:
Compatible with Standard OBD2 Cars from 2008 to Now:
for BYD, for Chery, for Geely, for Great Wall, for Karry
NOTE:
Even though it compatible with most cars, but different regions support the vehicle OBD2 protocol at different times, or some car is special design, so it may not compatible with some cars which do not support OBD2 protocol. Especially Japanese and Korean car brand.And this device only have OBD2 Functions,don't have Special Functions,Like ABS Reset,Airbag Reset…
Please Leave us message in below format, we will reply you within 8 hours.
for example : xx, 2005, 2.0cc, Diesel
Warning:
Not Support Russian Cars VAZ,UAZ,LADA ; Not works with trucks
For Ssangyong Actyon , from 2009 to 2017 years.
For Ssangyong Korando , 2.0 TD Diesel , from 2013 to 2017 years.
For Ssangyong Kyron , 2.0 Diesel , from 2010 to 2017 years.
For Ssangyong Rexton , 2011 to 2017 years.
2.For ABS,SRS Code Scanner (with standard obd2 protocol from 2006)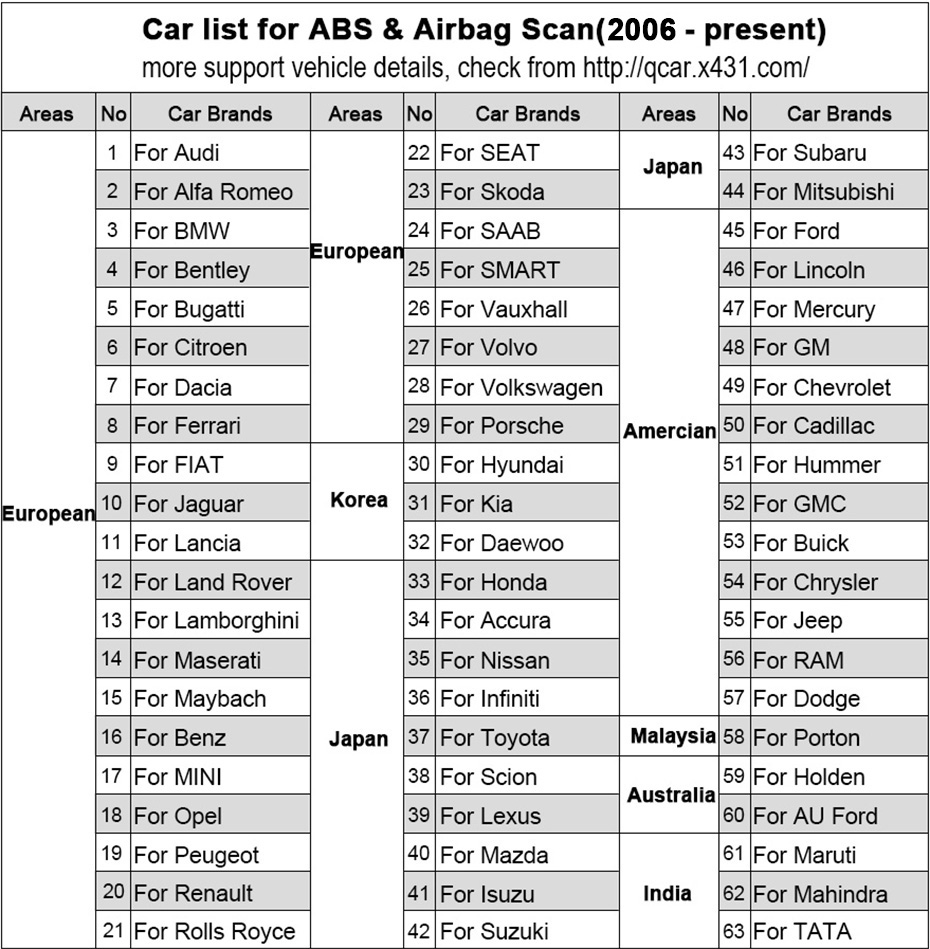 LAUNCH CR619 Free Upgrade Online Steps
1.You can download and install the Update Tool from our official Website.
(http://eninfo.x431.com/prod_view.aspx?TypeId=68&Id=197&FId=t3:68:3)
2.Find the Serial number and password In the tool information.
3.Choose the language that you want.
4.Input the Serial number and password on the update tool.
5.Click Update.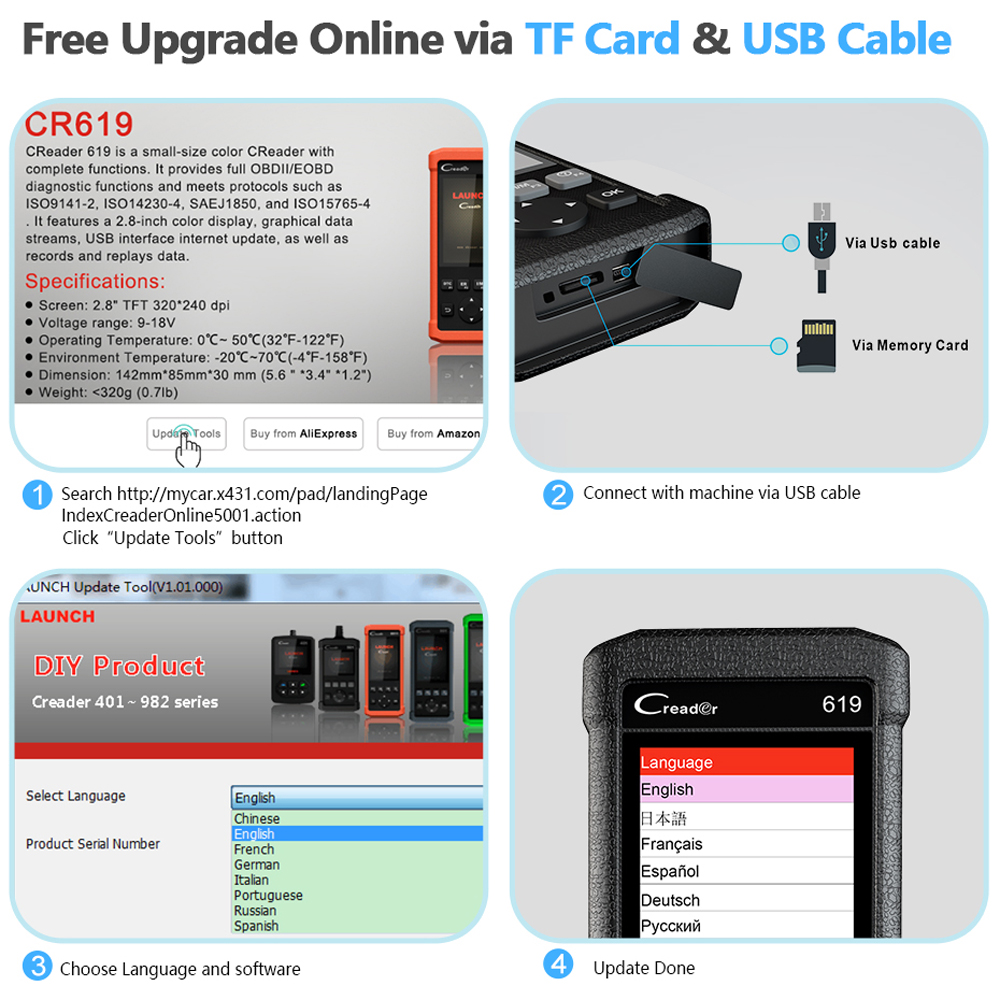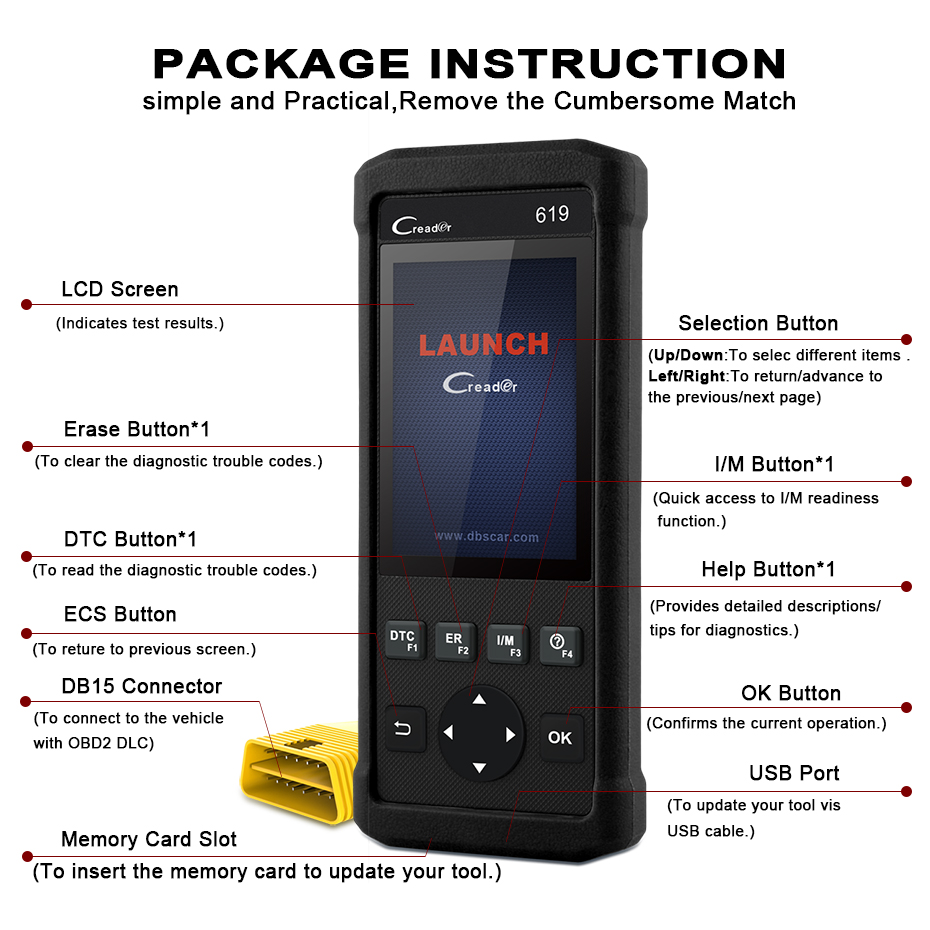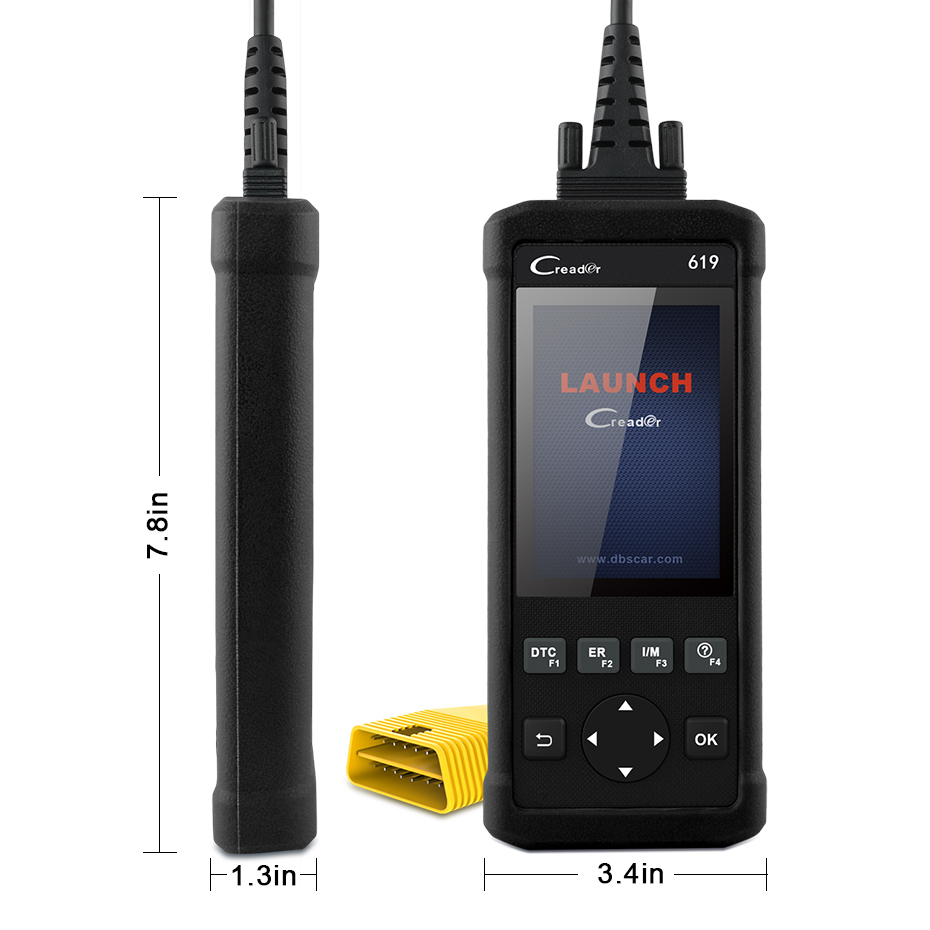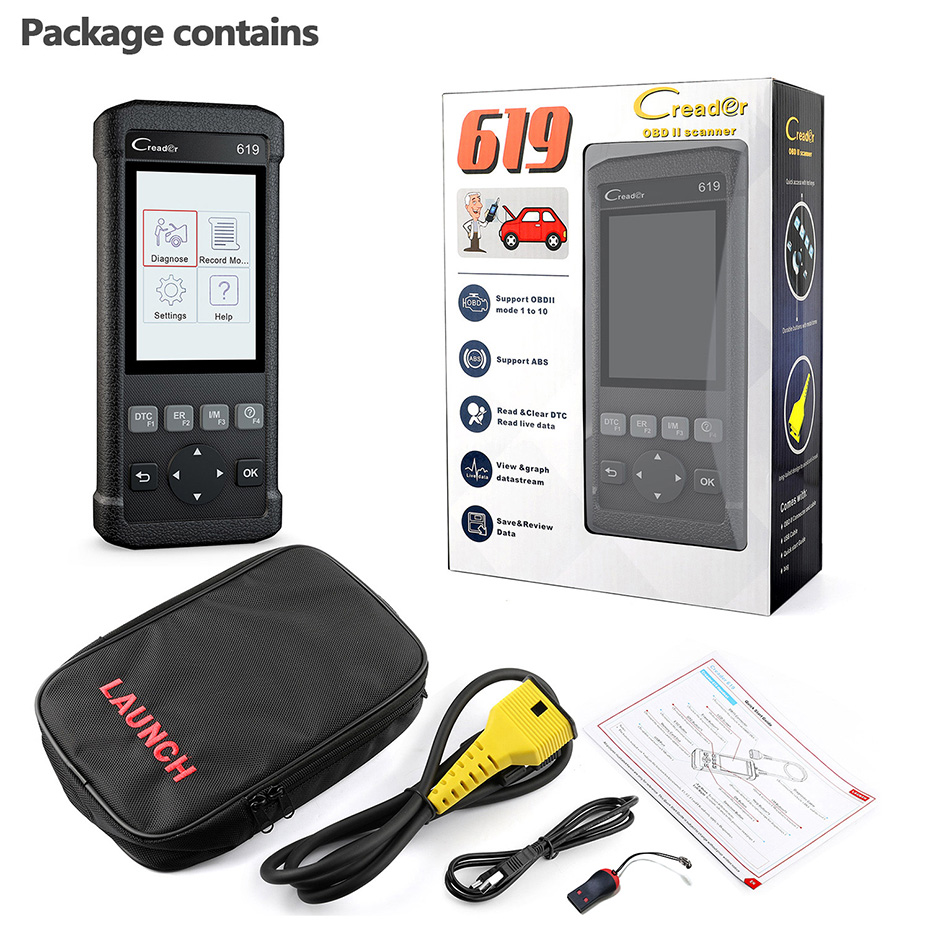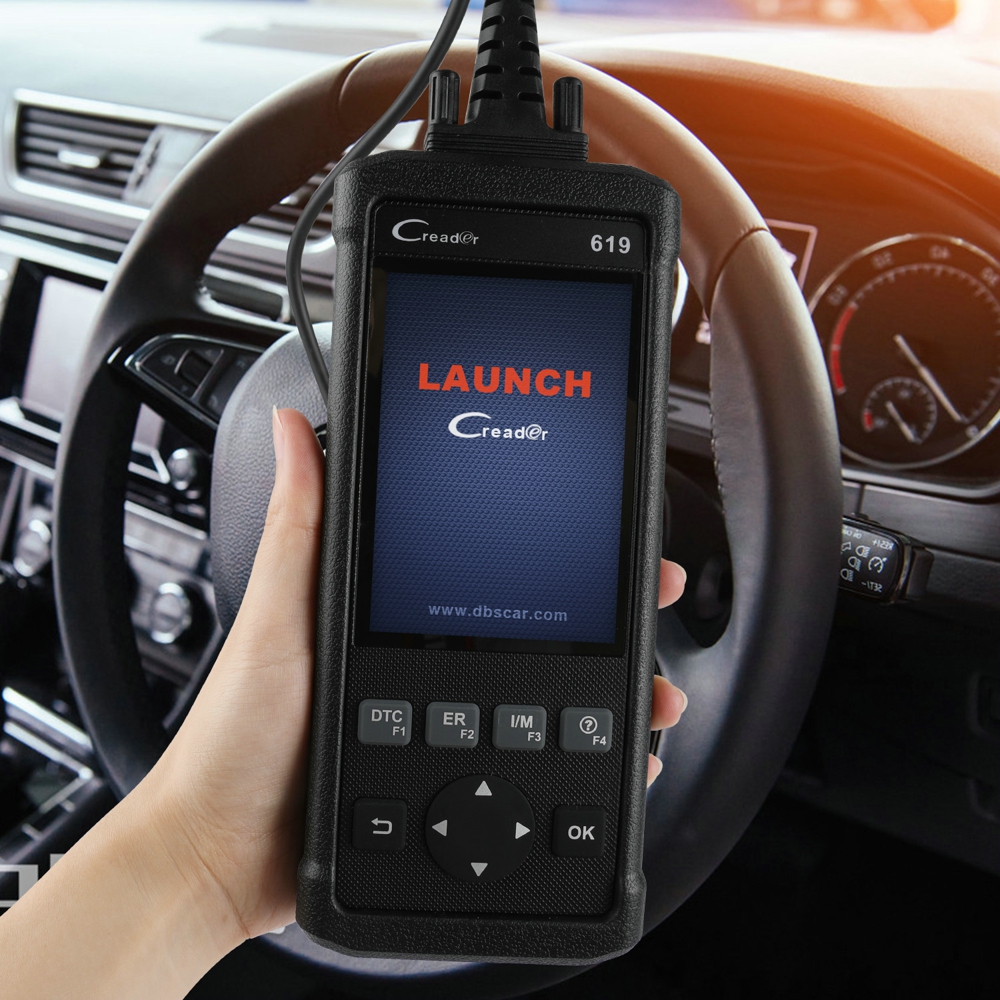 Only logged in customers who have purchased this product may leave a review.