LAUNCH X431 CRP919E Car Diagnostic Scan Tool
Free shipping by fast way 4-9 days
$350.00 – $370.00
LAUNCH X431 CRP919E Car Diagnostic Scan Tool All System Automotive OBD2 Scanner Active Test CANFD/DIOP with 29 Reset.
Description
2022 New Arrival LAUNCH X431 CRP919E Creader Code Full System Diagnostic Tools, A/F TPMS DPF IMMO 29 Reset, CANFD For GM after 2020 / DIOP, ECU Coding, Active Test , 2 Year Free Update, 9 Languages supported
LAUNCH X431 CRP919E Car Diagnostic Tablet is an newest evolutionary Android smart solution for 12V passenger car, light duty, pickup truck diagnosis & maintenance. Covering more than 60 car brands. it's design for car repair garage, car beauty service parlors, auto mechanic and DIY car owners auto scanner. This CRP919E OBD2 Scanner support All systems Diagnoses, All OBD-II functions, 29 Reset All OBD-II functions.
Why is LAUNCH CRP919E the first and best choice?
1. LAUNCH CRP919E supports CANFD Protocol for GM after 2020 year, it supports more new cars, It also supports DOIP Protocol, supports more new cars such as For Volvo after 2017 year.
2. LAUNCH CRP919E supports ECU Coding and Active Test ( Bi-directional Control ), these two functions are very powerful, with them, it can almost solve the problem of the car.
ECU coding (subscription required) can be customized for the car, and can do some hidden functions like setting alarms, door locks and outdoor lighting etc.
Active Test / Bi-direction Tests ( Free Function, no subscription required) can test whether the actuator is normal, such as turning on the radiator fan, adjusting the throttle, opening/closing windows, etc Other similar products require subscription functions.
If you are a car owner, through these two functions, you can understand the problems of your car more clearly, and you can also directly customize your car. You can save a lot of money by not having to go to a car repair shop.
If you are a car repair shop, CRP919E can supply all your needs, you don't need such expensive tools, just CRP919E (about US$410) ! ! !
3. LAUNCH CRP919E has Lifetime Free for All system diagnosis function, OBD2 function and 26 reset functions, you can use these functions for free at any time.
LAUNCH CRP919E with 2 Year Free update, after 2 year, you still can use the functions Free, they won't go away, don't worry. Even if you're renewing, it's a great deal, just $89 a year! ! ! (Unlike other products, updates cost $399/year)
All in All, whether you are a car owner or a garage, we recommend the LAUNCH CRP919E to you!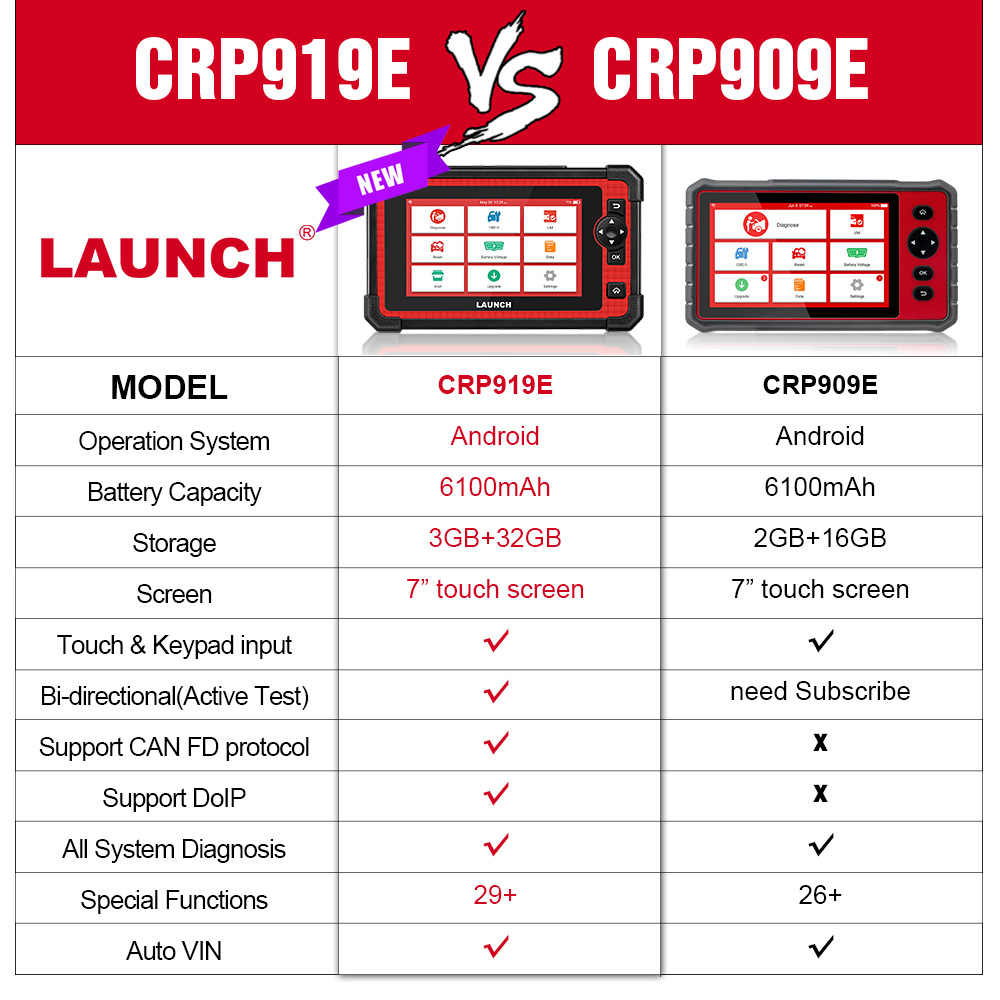 LAUNCH CRP919E supports CANFD and DOIP protocol, it supports For GM after 2020 !
It is the only product at this price that is compatible with the CANFD protocol and supports the latest For GM cars produced after 2020. Adopts advanced CRC algorithms to accommodate more data from 8 to 64 bytes in the CAN frame,run faster than other products, and reduces the risk of undetected errors to greatly enhance the user experience.
Supports For Chevrolet Onix 2020-2021 year
Supports For Chevrolet Tracker 2020 year
Supports For Chevrolet Suburban 2021 year
Supports For Chevrolet Tahoe 2021 year
Supports For Buick
Supports For Cadillac Escalade 2021 year
Supports For Cadillac Escalade 2021 year
Supports For GMC Yukon 2021 year
Supports For GMC Yukon XL 2021 year
Supports For Holden
Supports For DAEWOO
Supports For Alpheon
Supports For Ravon
Supports For Pontiac
Supports For Saturn
Supports For Hummer
LAUNCH CRP919E supports 29 Reset Function now, 3 more reset functions than CRP909E, it adds EGR reset, HVOLBAT reset and reset ENGPBM functions.
LAUNCH CRP919E supports 9 kinds of Languages
English, French, Spanish, Russian, Japanese, German, Italian, Portuguese, Korean.
LAUNCH X431 CRP919E support Diagnose Car Full System diagnosis
The whole system of the car mainly includes the drive system, chassis system, body system, and electrical system:
1. PCM(Drive System): Engine, Transmission, Transfer case, Electrical Machine Electronics, Fuel Pump, Gear, and more…
2. Chassis System: Accumulator Management Electronics, Steering, Integrated Chassis Management, Tyre Pressure Control, Active Cruise Control, Braking System, Suspension, TPMS and more…
3.BCM (Body System): SRS Airbag, Camera, Audio Radio, Gateway, Cluster Dashboard, Rain Sensors, Charging Interface Module, Parking Assistance, Power Control Unit, Touch box, Light, Battery Charging System, Head up Display, Wipe Control System, Roof, Seat & Door Motor system, Immobilizer, ABS ESP system, Air Condition.Electric Windows, Telephone, and more…
4. Electrical System: Including Centralized control system for engine and power transmission, Chassis integrated control and safety system, Intelligent body electronic system, Communication and information / entertainment system.
It supports the detailed Function
— read fault codes: read and decode the DTCs to identify where the fault location is;
— clear fault codes: erase the DTCs to turn off the MIL after repairs;
— retrieve ecu information: allows you to retrieve vehicle information;
— Graph live data stream: view the dynamic data stream to determine vehicle condition
With the Diagnostic Function, you can enhance performance, save energy, reduce emissions and more as following:
For Engine: detect common issues as Poor lubrication, Failing oil pump, Oil deposits and debris, Inadequate fuel and air compression, Leaking engine coolant, Blocked engine radiators, Prolonged engine detonation, Damaged oxygen sensors, Aged spark plugs, etc.
For SRS: pinpoint the trouble area as: a bad seat belt, a corroded crash sensor, or some water intrusion in a connector, etc.
For ABS: diagnose Blown sensor fuse, Low brake fluids, and Faulty sensor, etc.
For Transmission: avoid Grinding or shaking sensation in gear, Whining, humming or clunking noises, Burning smells, Gears Slipping, Low or Leaking Transmission Fluid, etc.
For TPMS: verify problems of Low tire pressure, Faulty in tire pressure monitor control module, Unknown tire sensor, Failure to identify tire sensor, etc.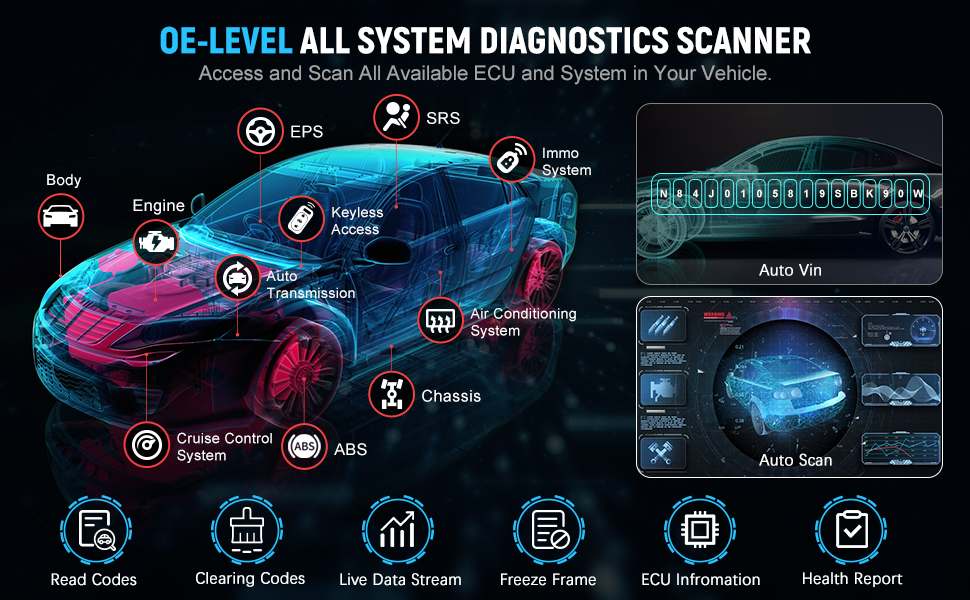 LAUNCH CRP919E also supports ECU Coding & Active Test
1. ECU Coding (subscription required, about USD49.95/brand)
The advanced coding function is used to re-flash the vehicle control modules, which allows you to update the computer software on the vehicle to the latest version, as well as to reprogram adaptive data for certain components after making repairs or replacements, providing solutions for the issues of drivability, fuel efficiency, power loss, fault codes, durability of mechanical parts etc. But please note, ecu coding are NOT universal for all vehicles, please check compatibility with VIN number before purchase.
2. Active Test / Bi-directional control (Free)
Bi-Directional Control capability and is capable of performing Active Tests to access vehicle-specific subsystems and component tests. The tester outputs commands to the ECU to drive the actuators in order to determine the integrity of the system or parts by reading the ECU data, or by monitoring the operation of the actuators. For example, x431 v have the ability to actuate relays, injectors, coils, or perform system tests, etc. Also it will actuate solenoids valve and actuators for active testing to identify the error easily moreover. The bidirectional functions are quite extensive. even open an e.g.r. valve and seeing the difference in idle response and oxygen sensor voltage.
Please note: Active tests are NOT universal for all vehicles, check compatibility with VIN number before purchase. Active tests vary depending on the manufacturer, year, and model, and only the available tests display in the menu.
LAUNCH CRP919E support 29 Kinds Maintenance Functions
(please note that different reset function supports different cars, also supports some cars, not for all cars, pls contact us check the detailed car list, you also can check in the link directly : https://qcar.x431.com/qcar/#/pc/index?q=eyJsYW4iOiIxMDAyIn0%3D )
1. Steering Angle Reset
Reset the steering angle to zero to keep the car running straight.
2. Injector Coding
Write the new injector code into the car system for the correct cylinder injection quantity.
3. IMMO Service
Disable any lost keys and add new keys. **ONLY for cars with an easy IMMO system.
4. DPF Regeneration
Especially works for D-P-F system with D-P-F regeneration, D-P-F component replacement teach-in and D-P-F teach-in after replacing the engine control unit.
5. A/C relearn
The vehicle air conditioner replaces the electronic control unit, replaces the actuator or the memory of the electronic control unit memory is lost, and requires air conditioning initialization learning.
6. ABS Bleeding
Help exhaust the air after repair the ABS pump system.
7. AdBlue Reset
Reset urea after the diesel exhaust treatment fluid is replaced or filled up.
8. Throttle Matching
Initialize the throttle actuators to the default state.
9. TPMS Reset
Makes sense in displaying sensor IDs from the vehicle's ECU, inputting TPMS sensor replacement IDs and testing sensors.
10. Tire Reset
Set the size parameters of the modified or replaced tire.
11. AFS Headlamp Reset
Initialize the adaptive headlamp system.
12. Sunroof Initialization
This function can set the sunroof lock off, closed when it rains, sliding / tilting sunroof memory function, temperature threshold outside the car etc.
13. Battery Reset
Register the battery after replacement.
14. Seat Calibration
Calibrate the memory in replaced or repaired seats.
15. Oil Reset
Allows you to perform reset for a new calculation of Engine Oil Life system once changed the oil.
16. A/F Reset
Set or learn Air/Fuel ratio parameters.
17. GEARBOX LEARN
Help complete the gearbox self-learning to improve gear shifting quality.
18. Transport Mode
Deactivate the transport mode.
19. Windows Calibration
Perform door window matching to recover ECU initial memory.
20. Language Change
Change vehicle system language.
21. Suspension Reset
Adjust the vehicle body height sensor for level calibration.
22. NOx Sensor Reset
Reset catalytic converter learned value stored in ECU.
23. Stop/Start Reset:
Set up the automatic start-stop function in ECU.
24. Coolant Bleeding
Activate the electronic water pump.
25. Brake Reset
It is important in the maintenance of electronic braking system's safety and efficiency.
26.Gear Learning
The scan tool monitors certain camshaft position sensors signals to determine if all conditions are met to continue with the procedure for Engine running.
27. RESET EGR
EGR Adaption is used to learn the EGR (Exhaust Gas Recirculation) valve after it is cleaned or replaced.
28. RESETHVOLBAT
High Voltage Battery Detection is used for high voltage battery diagnosis and status information
detection.
29. RESET ENGPBM
Engine Power Balance Monitoring is used to monitor crankshaft acceleration in the power stroke of each cylinder, to determine the relative power provided by each cylinder.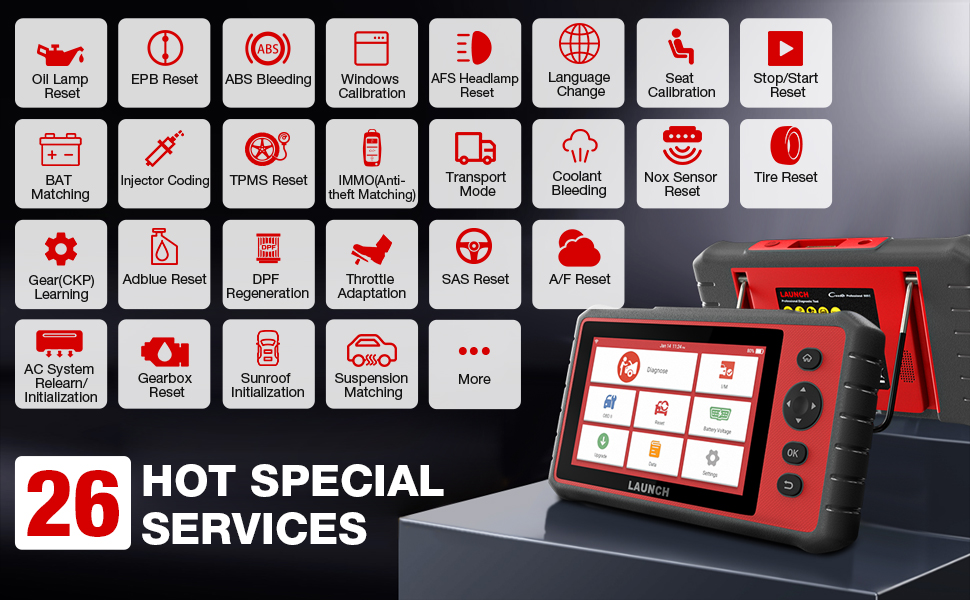 LAUNCH CRP919E supports 4-in-1 graphic data flow
4 kinds of Data Dream shows in 1 Graphic, it is better to compare them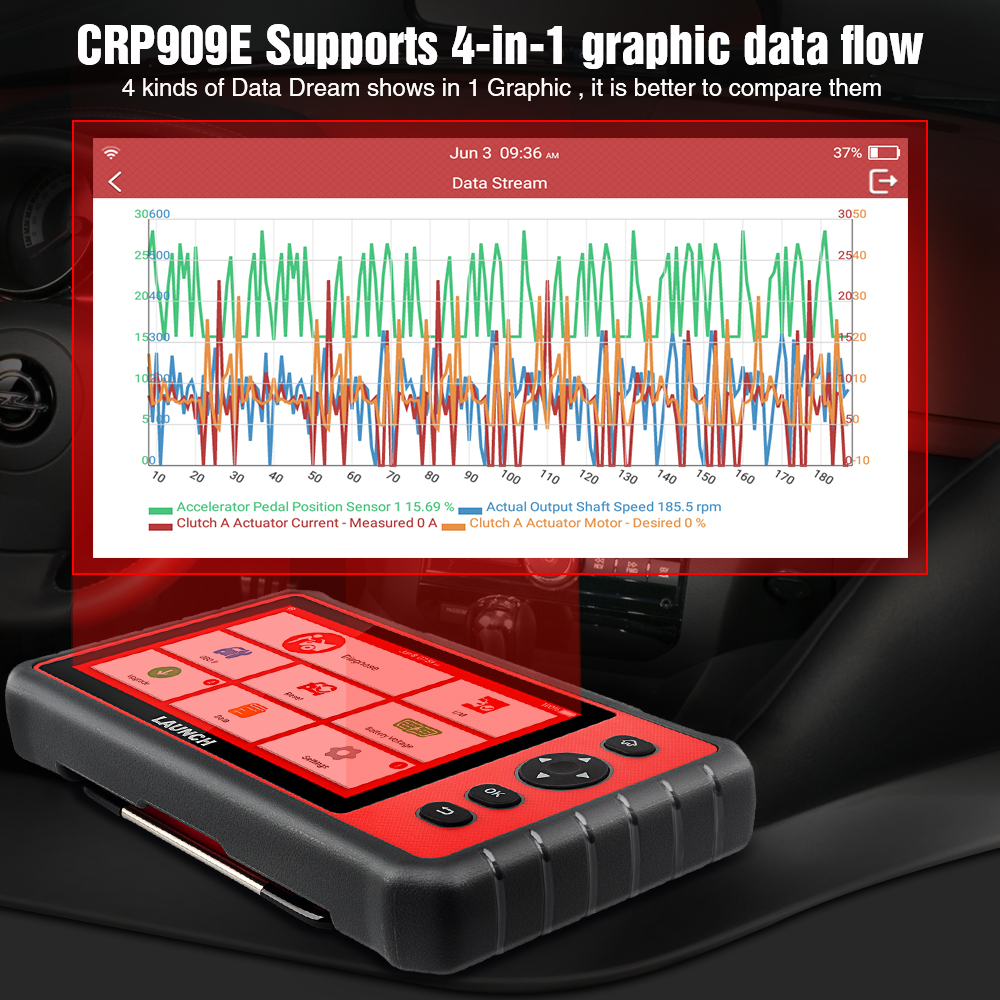 Full 10 Mode OBDII/EOBD/JOBD Car Diagnostics Functions:
1. Reading Codes: Show the detailed description of the Diagnostic Trouble Code (DTCs)
2. Erasing Codes & Reset: Turns off Check Engine Light (MIL), clears codes and resets monitors.
3. Data Stream: Reads and displays live ECU/PCM data stream, plotting functions graphically and stores freeze frame data.
4. I/M Readiness Status: Shows whether the various emissions-related systems on the vehicle are operating properly and are ready for inspection and maintenance testing.
5. Read Live Data Stream: Show the information of continuous data stream from a vehicle in live graphic (waveform) display.
6. View Freeze Frame Data: Check the certain vehicle conditions which are recorded by the on-board computer at the time the emission-related fault occurs.
7. O2 Sensor Test: Allows retrieval and viewing of O2 sensor monitor test results for the most recently performed tests from the vehicle's on-board computer.
8. On-Board Monitor Test: Retrieves and displays test results for emission-related powertrain components and systems
9. Read Vehicle Information: Display the information such as VIN (Vehicle Identification Number), CID (Calibration ID) and CVN (Calibration verification number), etc.
10. Component Test: Certain vehicle components can be actuated by commands sent from the scanner to test their operability.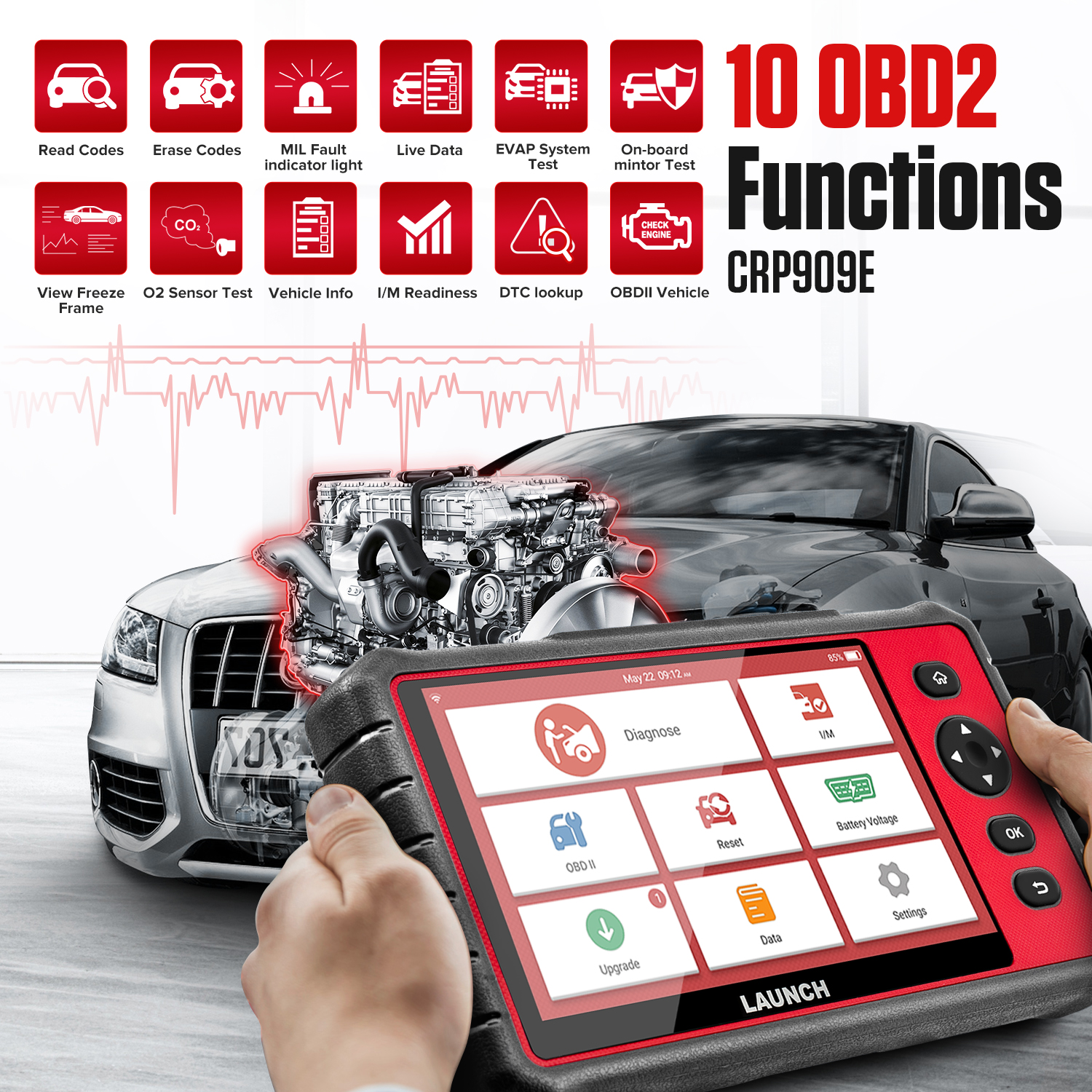 LAUNCH CRP919E Supports One-Key I/M Checking and One-Click Vehicle Diagnostic Health Report Generate
1. Battery Test Function, Perfect Performs Vehicle Battery Analysis
For 12V car, SUV, Van, Light Truck, Pickup.
Detect real-time data from 12V batteries and display BATTERY DATA with fluctuations ranging from 8V to 16V.
The discharge voltage of a normal battery is about 12V, the starting voltage is generally 12V, and the charging voltage is about 14V.
2. Auto VIN Scan, Professional Fast Identifies VIN Number
Once connect with car OBD2 port, CRP919E will Auto Detect car Vin number. Give you a quick access to start the vehicle system detection.
3. One-Key I/M Checking
It support one-key I/M checking for all available emission systems. Help your car pass the emission test simpler.
4. One-Click Vehicle Diagnostic Health Report Generate
With Launch CRP919E , you can generate a Vehicle Diagnostic Report by ONE-CLICK. Health Report will scan all vehicle modules and give you a status list for each modules condition. Also known as "Global Test" or "Full Scan" . You no longer have to worry about potential problems in your car.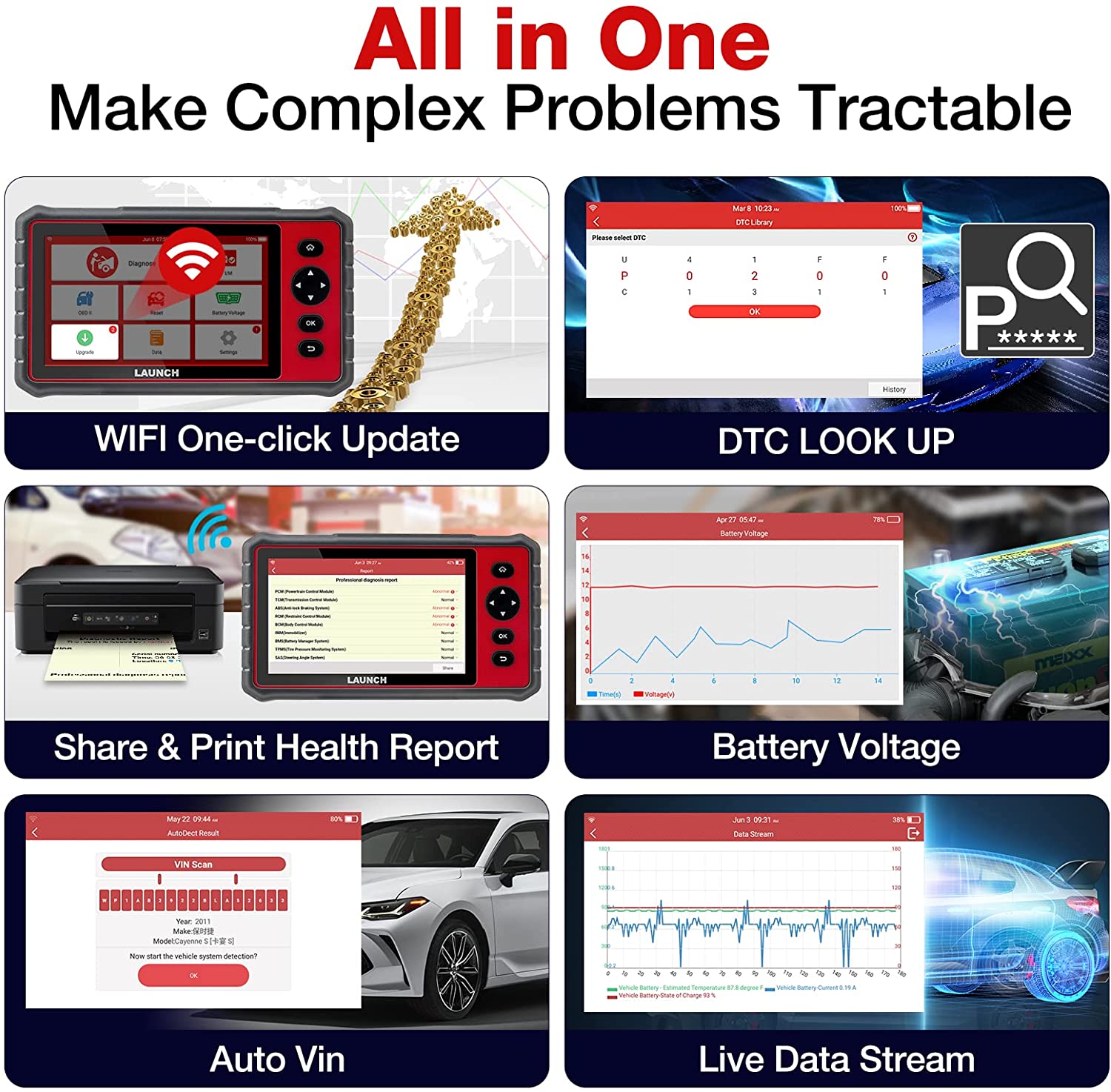 LAUNCH CRP919E Packing List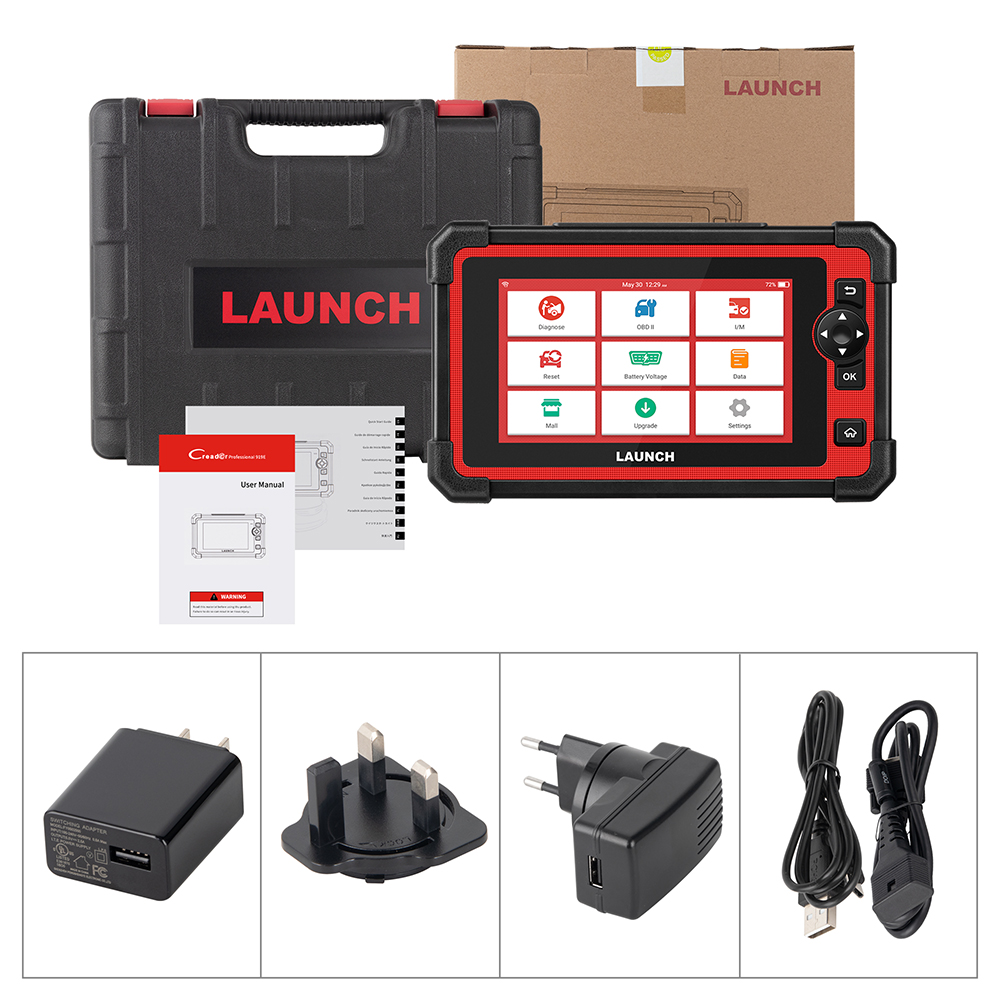 LAUNCH CRP919E Details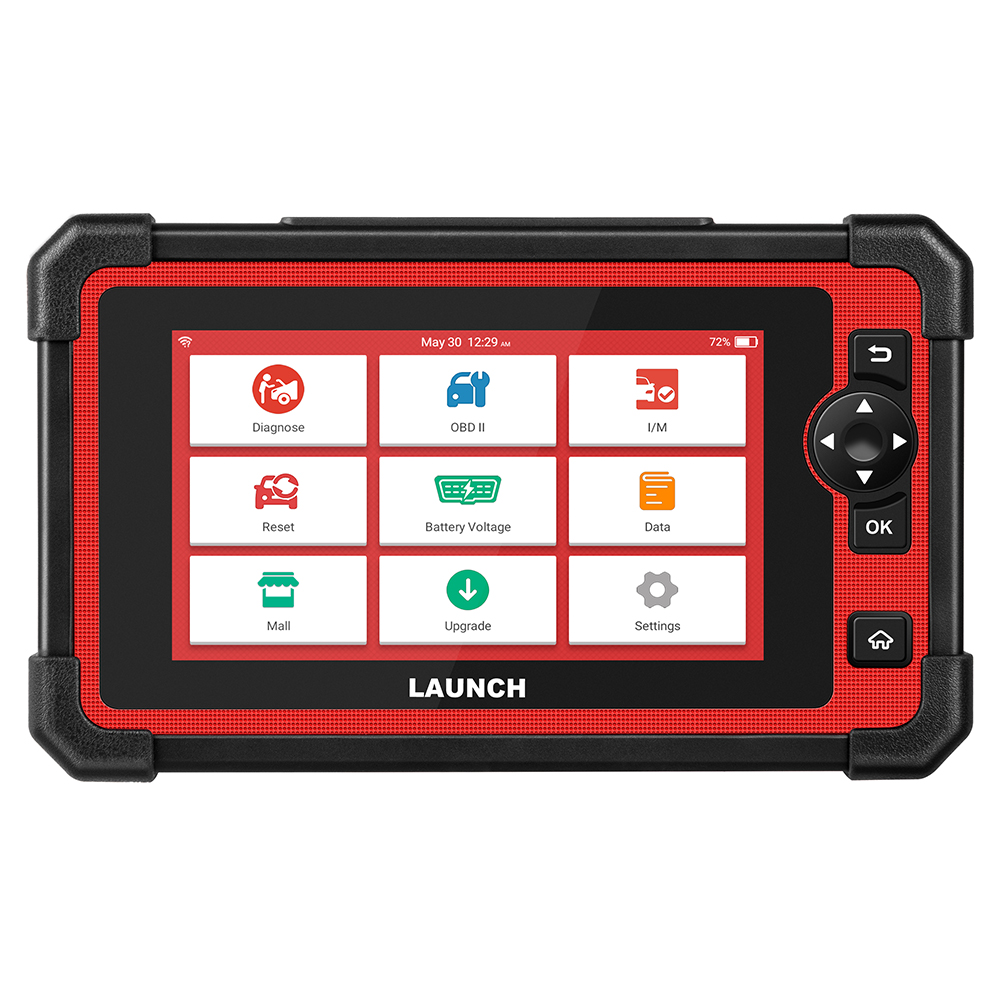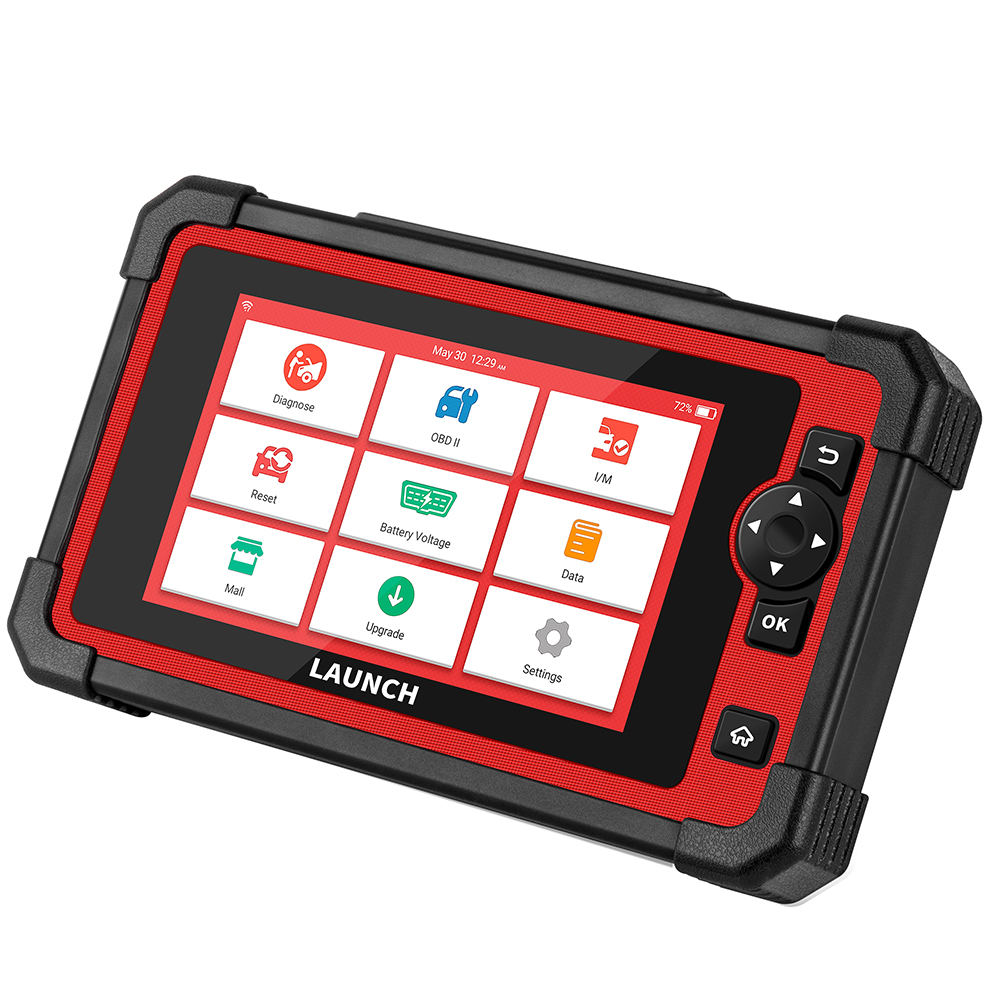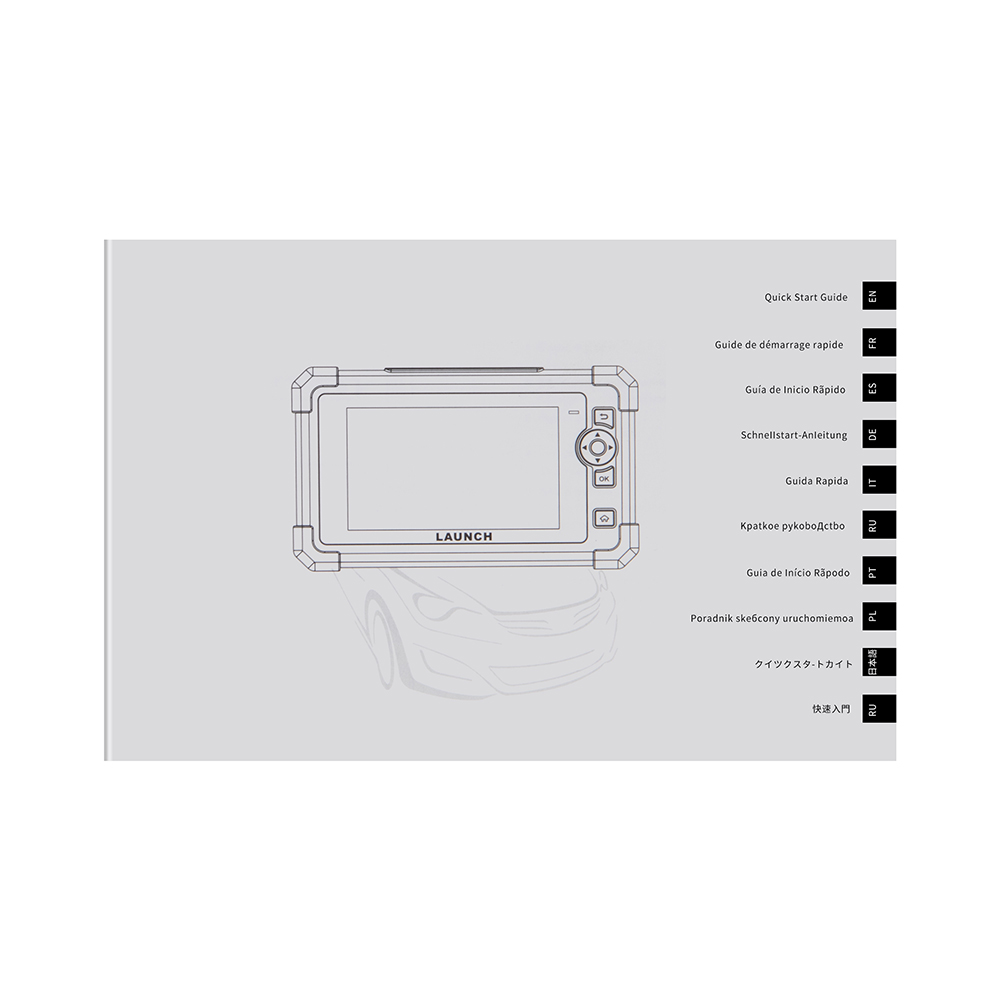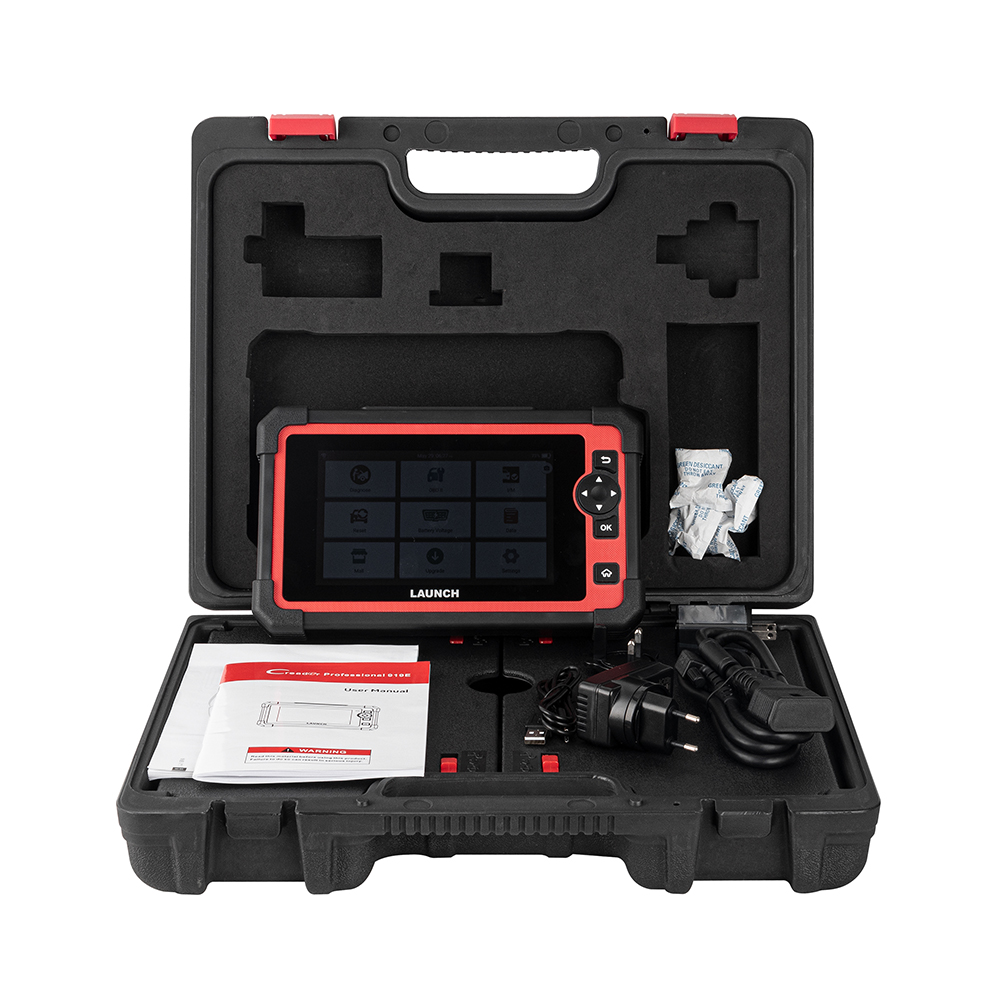 Additional information
| | |
| --- | --- |
| Weight | 3.5 kg |
| Version | EU Version, Global Version |
Only logged in customers who have purchased this product may leave a review.