LAUNCH X431 CRE202 OBD2 Diagnostic Tool Work ABS Airbag SRS System EPB Oil SAS 16 Reset Services
Description
LAUNCH Creader Elite CRE202 ABS airbag SRS OBD2 Scanner Code Reader Car Diagnostic Tool Touch Screen Screenshot 4 in 1 Live Date Graph Auto VIN WiFi Free Update 2 Free Reset Functions
Life with CRE202,you can do your own car repair and maintenance work instead of spending a lot of money and time to go to an auto repair store.
Creader Elite 202 BORN FOR HOME MECHANIC, DIYERS
It has the following functions and advantages:
* ABS & SRS System Diagnosis
*2 Free Reset Functions. 16 kinds option to buy
* 10 Language Support &1000 Car models
* Smart(Auto-Detect) Diagnosis/AUTO VIN
* Full EOBD & OBDII Vehicels
* Displays battery real-time voltage
* One-Click WIFI Free Update
* Diagnostic History & Diagnostic Feedback
* Email Share Diagnostic Report
* Support the definition of retrieving diagnostic trouble codes in DTC database.
….. ect..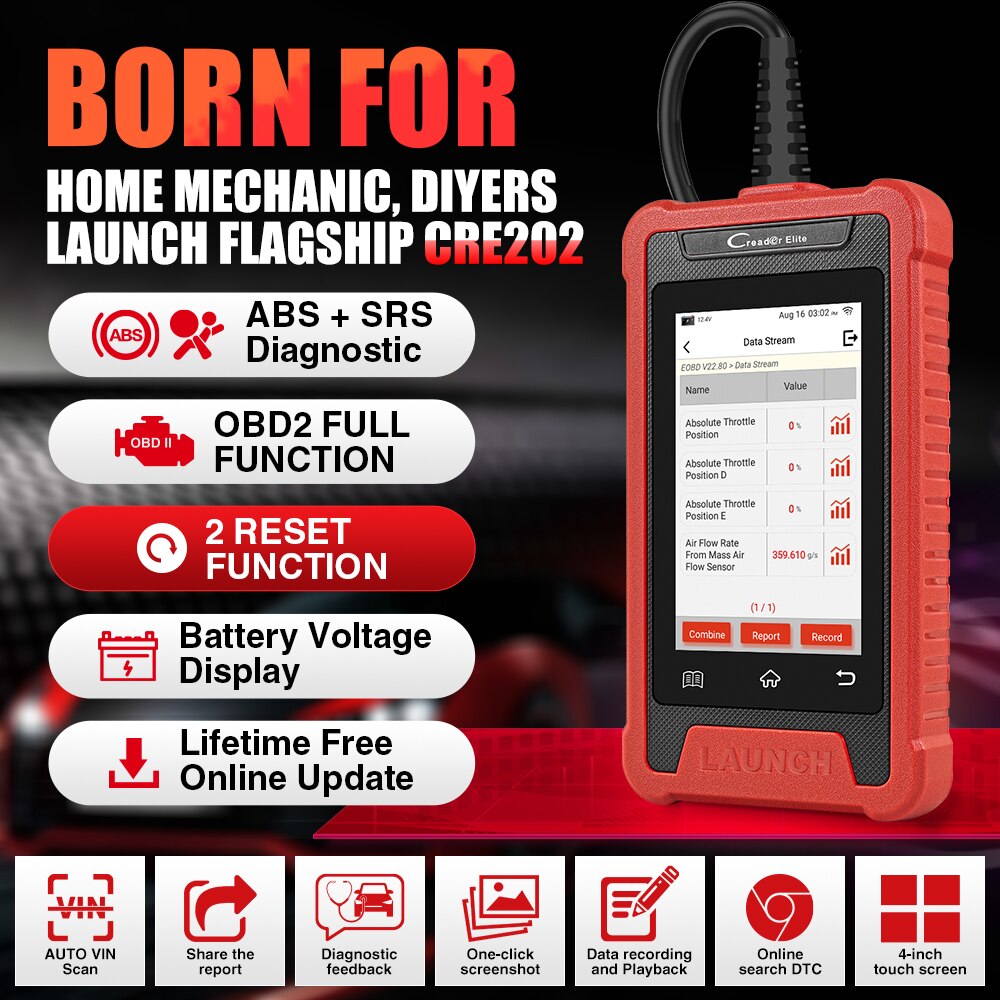 √ABS (Anti-lock Braking System) Diagnose:
Diagnosing an ABS problem should always start with a visual inspection of all brake components, next you will need to retrieve ABS codes to tell you where the problem is, and this is what this scanner does for you.
ABS (anti-lock braking system) enables the wheels of a vehicle to maintain tractive contact with the ground, helping drivers retain steering control by prevents unexpected skidding of the car on slippery roads, thus reducing the risk of crashing.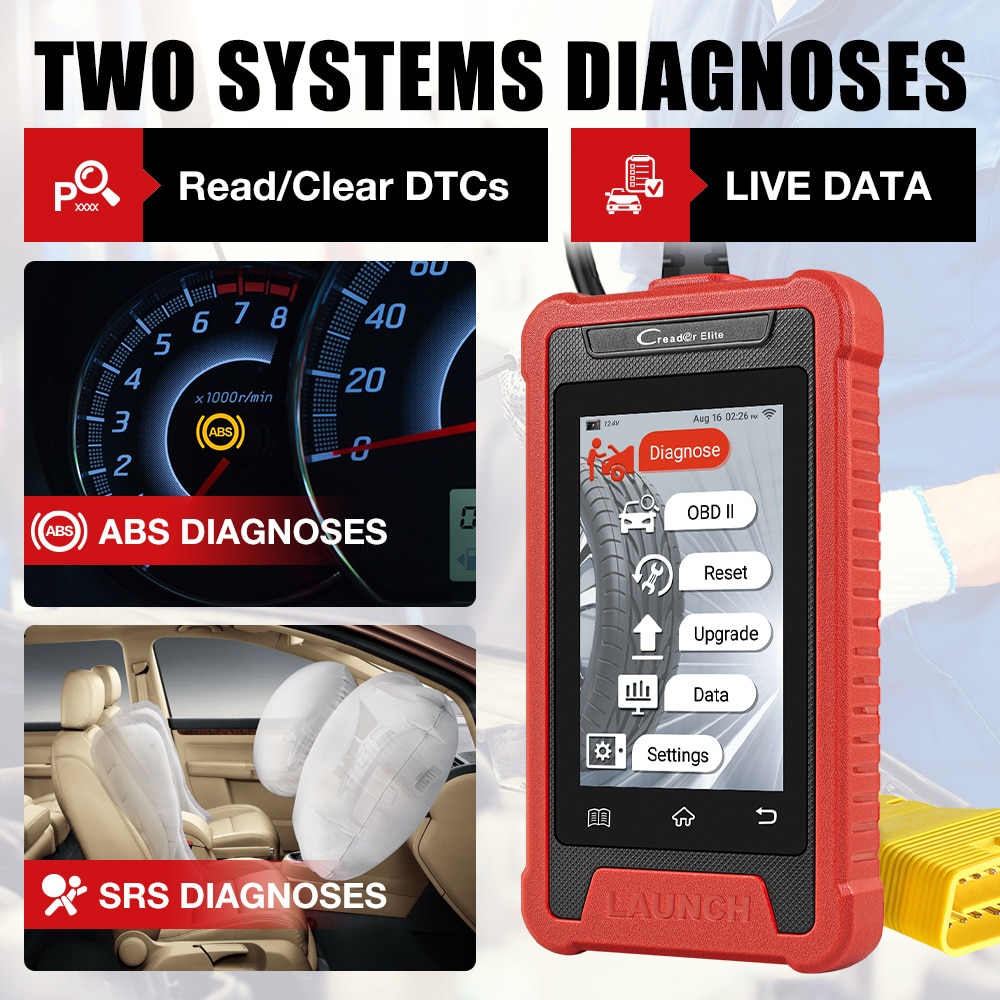 SRS (Supplemental Inflatable Restraint System)Diagnostic
SRS is a safety restraint system of your car, which is made up of impact sensors, a control module, and the airbags themselves, Launch CRE200 scanner can detect every electronic parameter to check its health status.
A supplemental restraint system, an extra safety measure that is commonplace in vehicles, is designed to improve occupant protection in some ways of crushes. Check the SRS (Airbag) system to ensure passenger safety in certain types of collisions.
√Muitl-Language &1000 Car Models
Language List :
English, Spanish, French, German, Italian, Russian, Portuguese, Japanese, Korean, Traditional Chinese
Car Models Worldwide Coverage:
From American Based Cars/EU Based Cars/Asian Based Cars( Japan&Korea&China&India…)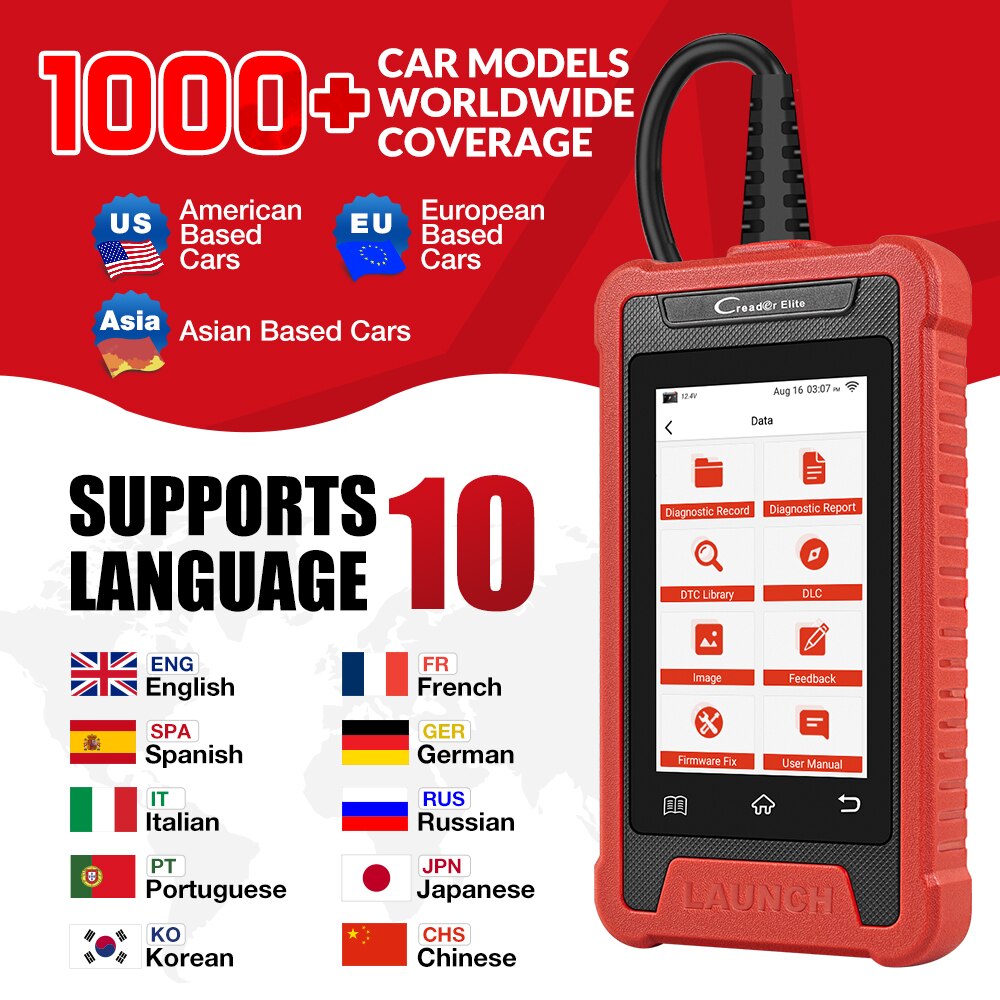 √Choose 2 Free Reset Function from 16 Reset Function List
Note : you Can choose 2 Resets Service Free
One More Reset Software : US $19.95/year
16 Reset Function List
1. Oil Lamp Reset Service
Allows you to perform reset for a new calculation of Engine Oil Life system once changed the oil.
2. EPB Electronic Park Brake Reset
It is important in the maintenance of electronic braking system's safety and efficiency.
3. BAT battery service
Allows the scan tool to evaluate the battery charge state, monitor the close-circuit current, register the battery replacement, and activate the rest state of the vehicle.
5. SAS Steering Angel Sensor Reset
Helps clear the fault steering angle sensor memories and plays an important role in the steering angle sensor calibration.
6.TPMS Tire Pressure Monitoring System Reset
Makes sense in displaying sensor IDs from the vehicle's ECU, inputting TPMS sensor replacement IDs and testing sensors.
7. IMMO Key Programming
The unique car key programming and read pin code function, it is mainly used to disable the lost vehicle keys and program a new replacement key fob.
8. ABS Bleeding
ABS brake bleeding to get a firm brake pad after air exhaustion after repair ABS pump system.
9. Sunroof Reset
The sunroof needs to be reset when the sunroof control unit have communication problem or changed.
10. Suspension Reset
Try reset electronic suspension air ride with the massage system close all doors koeo flip through messages system go to suspension reset or on off.
11. Gearbox (Transmission )Reset
Procedure Reset Transmission Adaptive Learning DIY. Start the car and drive. Once you perform this procedure the Engine Control Unit (ECU) and Transmission Control Unit (TCU) will work together to learn how you drive by monitoring your driving pattern. After you follow this programming method of the TCU / ECU drive the car.
12. AFS Headlamp Reset
'AFS' means Adaptive Front lighting System (at night with the Bi-Xenon headlights) it swivels either side, pressing that button means they stay pointing straight ahead and don't turn when you turn the steering wheel.
13. Injector Coding
Leaking injectors and some dead injectors can be missed even when an injector is disabled. Other problems with the ignition system and mechanical components also may not show an rpm loss when an injector is turned off.
14. Throttle Adaptation
The throttle body is a tube containing a pivoting flat valve (butterfly) that is used to control the amount of air entering an engine. In an electronically fuel injected car, a throttle position sensor and air flow sensor communicate with the computer, which supplies the corresponding amount of fuel needed at the injectors. It must need re-learning throttle sensor position after clearing or repair.
15. Gear Learning
The scan tool monitors certain camshaft position sensors signals to determine if all conditions are met to continue with the procedure for Engine running.
16. Air Level calibration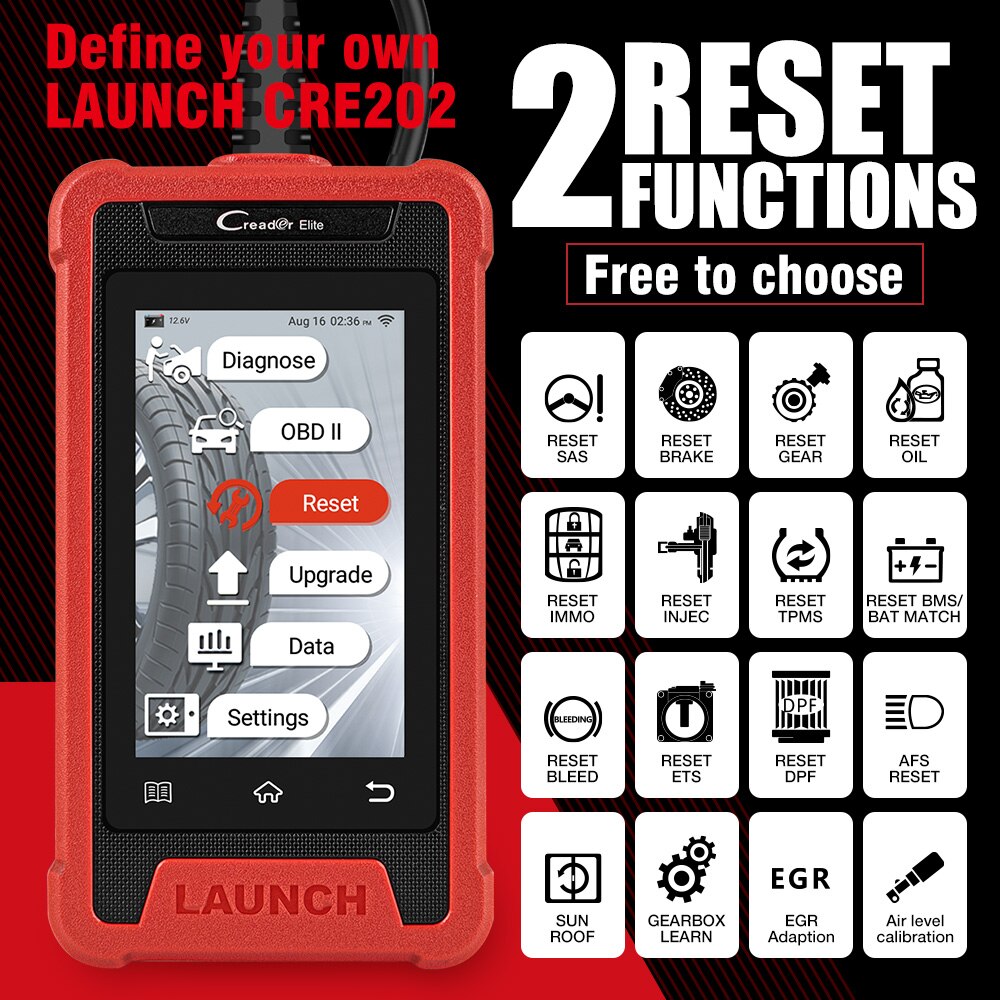 √Smart(Auto-Detect) Diagnosis: Fast AUTO VIN Scan
After connecting the vehicle, turn the ignition key on and the system enters auto-detect mode ( Note: Please make sure the "Automatic detection on connect" in "Settings" is set as ON). Once the system successfully obtains the VIN (Vehicle Identification Number) information of the currently identified vehicle, it will continue scanning the vehicle systems. After the scanning is complete, a diagnostic report will be automatically generated in the Settings -> Data -> Diagnostic Report.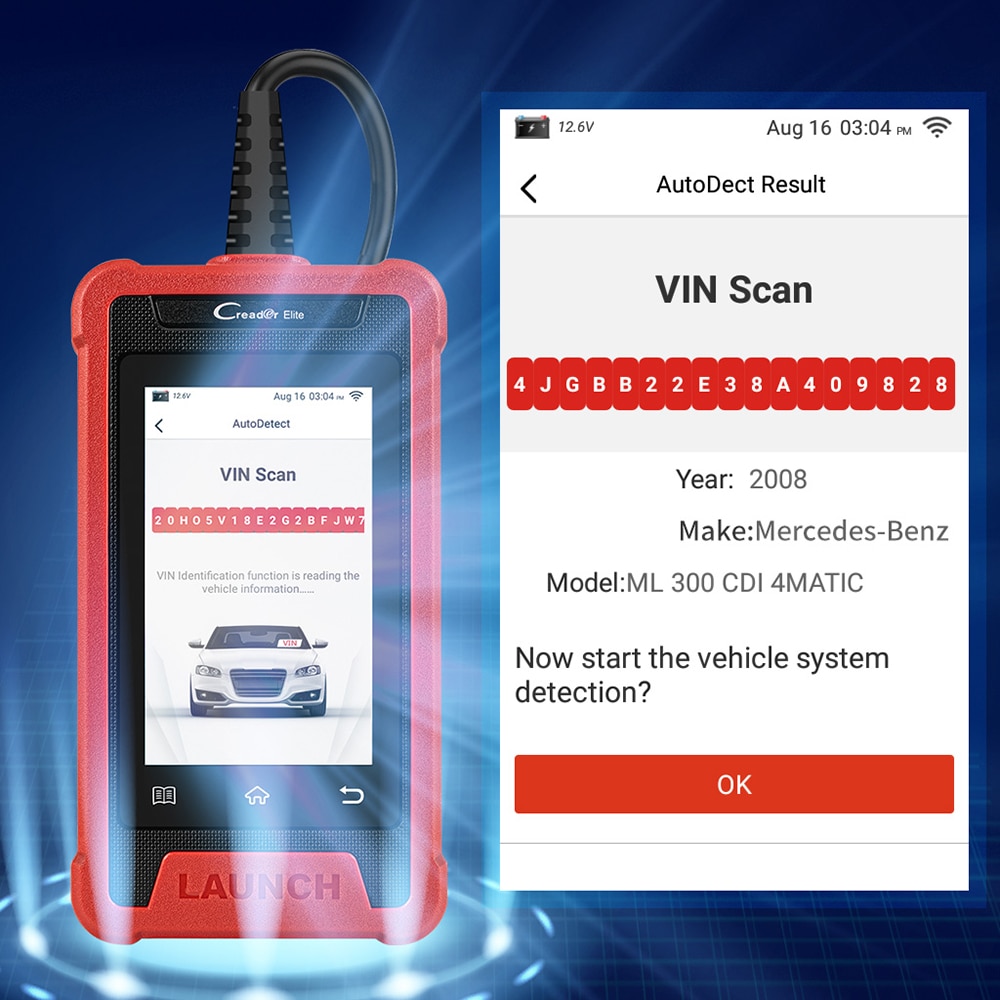 √Manual Diagnosis:
If Auto-Detect failure occurs, manual diagnosis is also available. Diagnosis functions include: Version Information, Read DTCs, Clear DTCs and Read Data Stream (supports 3 display modes: Value, Graph and Merged).
√Turn off the Engine Light:
CRE202 is a new scanner developed by LAUNCH. You can check all engine-related fault codes, find out the cause of the check engine light to turn on, turn off the fault indicator (MIL), and locate the broken O2 sensor.
Displays battery real-time voltage?once properly connected to the vehicle.
√OBD II Diagnosis:
OBD2 function presents a quick way to check for DTCs, isolate the cause of the illuminated Malfunction Indicator Lamp (MIL), check monitor status prior to emissions certification testing, verify repairs, and perform a number of other services that are emission-related.
$01 – Request Current Powertrain Diagnostic Data
$02 – Request Powertrain Freeze Frame Data
$03 – Request Emission-Related Diagnostic Trouble Codes
$04 – Clear/Reset Emission-Related Diagnostic Information
$05 – Request Oxygen Sensor Monitoring Test Results
$06 – Request On-Board Monitoring Test Results for Specific Monitored Systems
$07 – Request Emission-Related Diagnostic Trouble Codes Detected During Current or Last Completed Driving Cycle
$08 – Request Control of On-Board System Test or Component
$09 – Request Vehicle Information
$0A – Request Emission-Related Diagnostic Trouble Codes with Permanent Status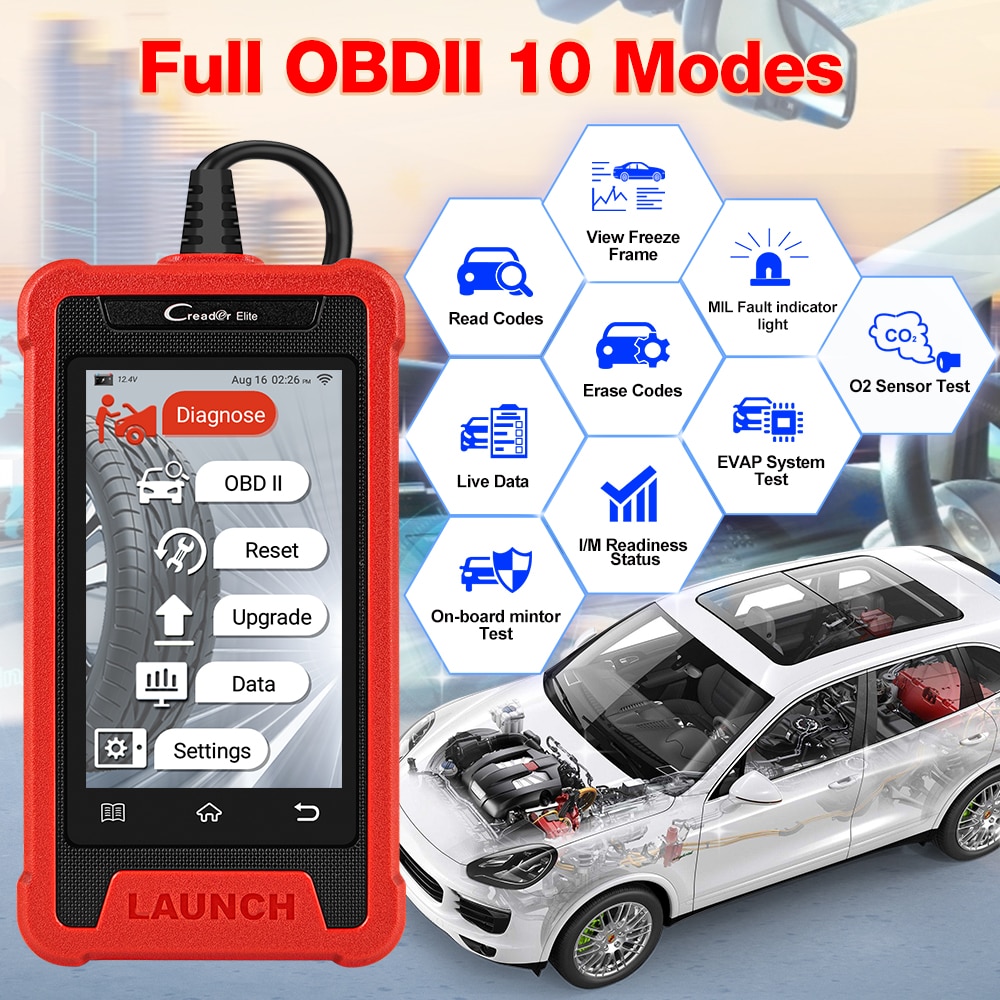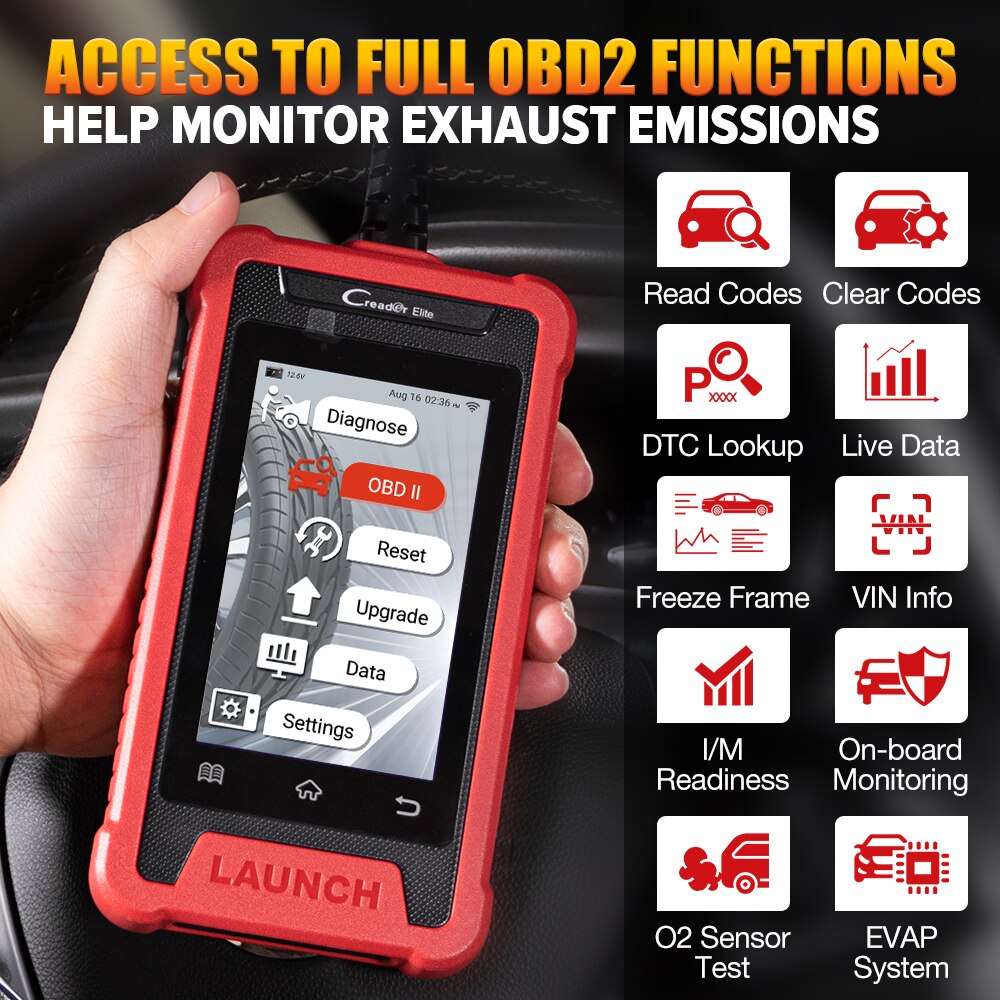 √DTC Library:
Allows you to retrieve the definition of the diagnostic trouble code from the abundant DTC database.Once you pull a code or DTC , it can link to web sites via Google search when searching for more information on DTCs.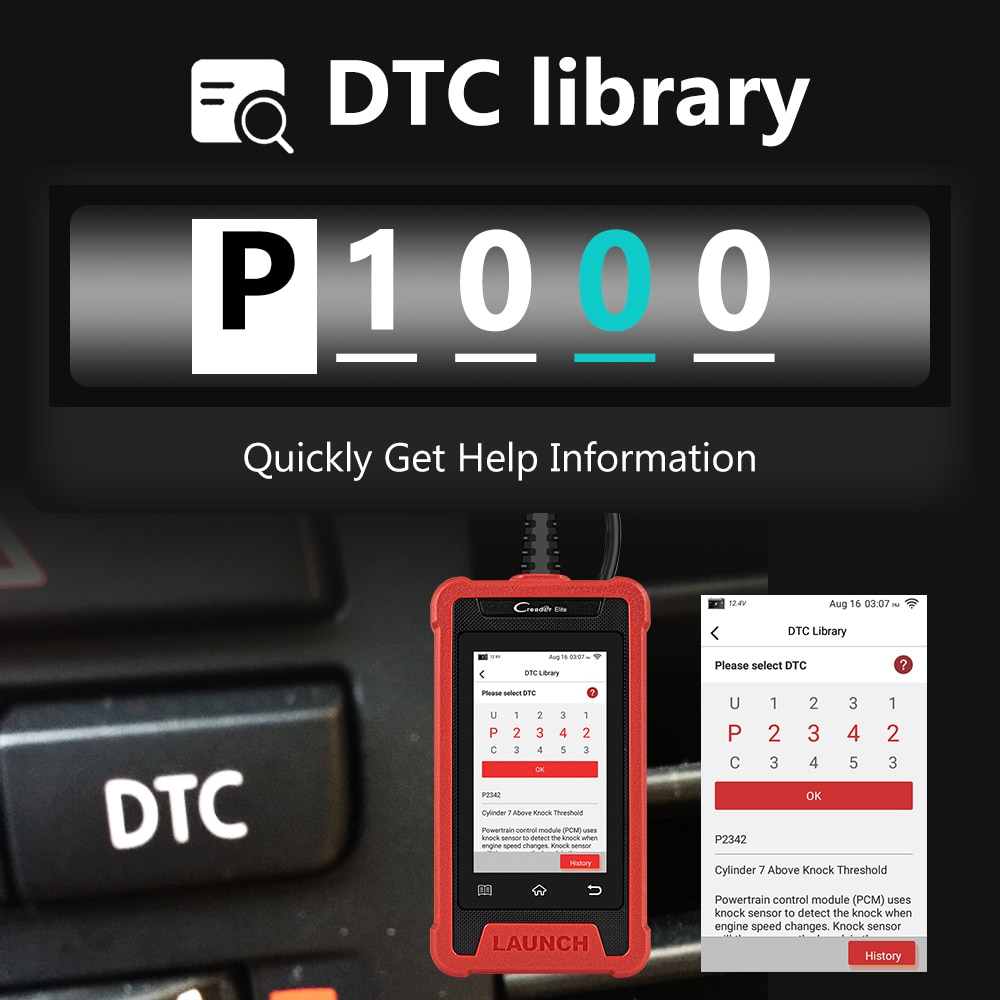 √Diagnostic History:
This function provides a quick access to the tested vehicles and users can choose to view the test report or resume from the last operation, without starting from scratch.
√Diagnostic report generation and sharing
LAUNCH CRE202 OBD2 scan tool provides you with reliable, accurate, and rich diagnostic information along with automatic generation of diagnostic reports. You can share this email with a mechanic, colleague or friend who is familiar with solving vehicle problems for help, providing you with a shortcut to solving problems.Once the tool and the vehicle are properly connected, the system starts auto-detect process. Once the whole process is successfully finished, a diagnostic report will be automatically generated.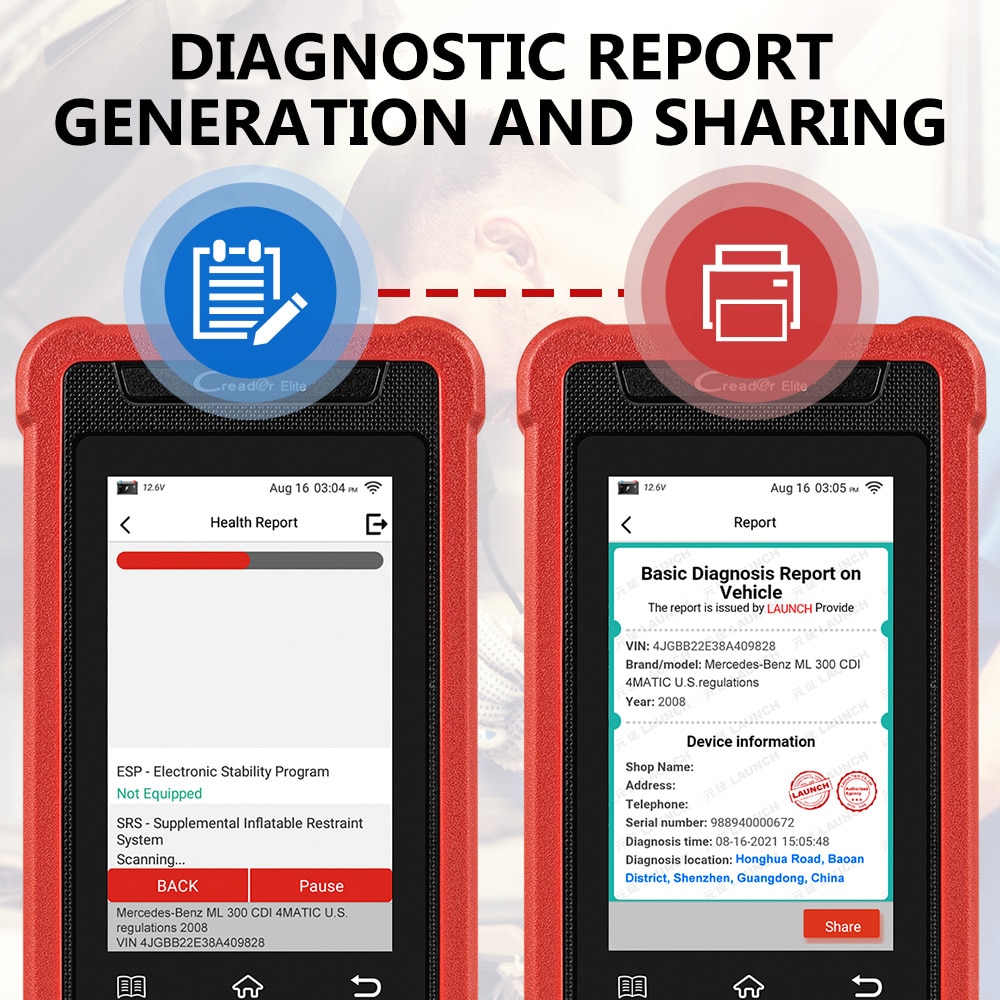 Graphical display of data
LAUNCH CRE202 displays sensor data in real time for you, provides data graphics, facilitates intuitive diagnosis and monitoring of your vehicle performance, and helps you better analyze abnormal parameters.
The data recording function is amazing, customers can record real-time data streams of multiple synchronized PIDs. Once these are recorded, they can be played back in text format and/or graphical format. Playback supports two graphics (independent) or four PID graphics (combination). The playback timeline can be scrolled, paused, viewed, etc. The chart has a considerable effect.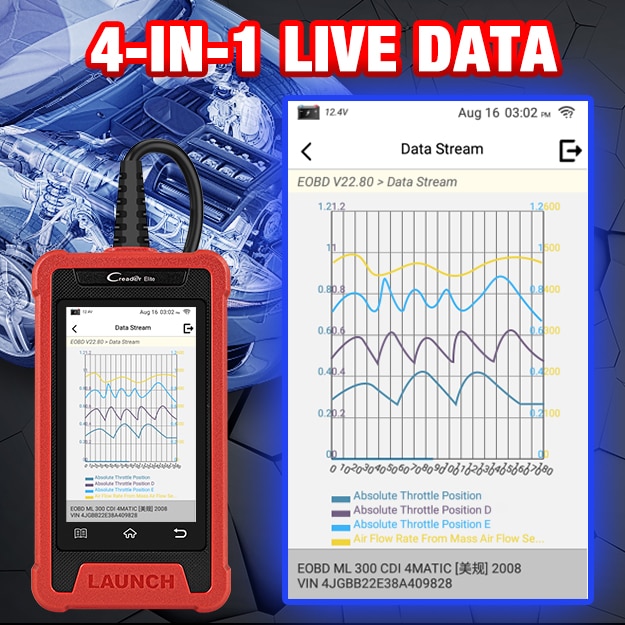 Battery Voltage Test
The battery voltage is displayed in real time, and the battery voltage can be monitored in time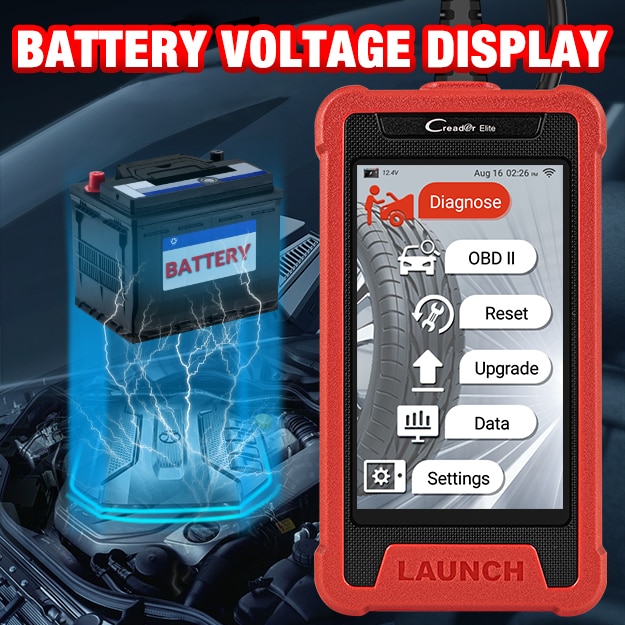 Support Car Brands List
for AUDI, for BMW, for ROLLS ROYCE, for MINI, for CHRYSLER, for DODGE, for JEEP, for CITROEN, for DAEWOO,for FIAT, for ABARTH,for ALFA ROMEO, for LANCIA ,for FORD, for LINCOLN,for FORD(EUROPE),
for GM, for CHEVROLET, for CADILLAC, for BUICK, for HONDA, for ACURA, for HYUNDAI, for ISUZU, for ISUZU(THAILAND, for KIA, for LAND ROVER/JAGUAR, for MAZDA, for MERCEDES-BENZ, for MAYBACH, for MITSUBISHI, for NISSAN, for INFINITI, for GTR(NISSAN), for GTR, for OPEL, for VAUXHALL, for OPEL(SOUTH AFRICA), for PEUGEOT, for PORCHE, for RENAULT, for DACIA, for SAMSUNG RENAULT, for SAAB, for SEAT, for SKODA, for SMART, for SPRINTER, for SUBARU, for SUZUKI, for TOYOTA/LEXUS, for VOLVO, for VW, for BENTLEY, for BUGATTI, for LAMBORGHINI, for Holden
LAUNCH X431 Creader Elite CRE202 Technical Specifications :
Screen : 4 inch Touch Screen with a resolution of 480*480
CPU : 4-core 1.3 GHz Processor
Memory : 1GB RAM 16GB ROM
Wifi : 802.11b/g/n 2.4GHz
USB : Type C
OBDII input voltage range : 9-18V
Working Temperature : -10 to 50 °C ( 14 to 122 °F )
Storage Temperature : -20 to 70 °C ( -4 to 158 °F )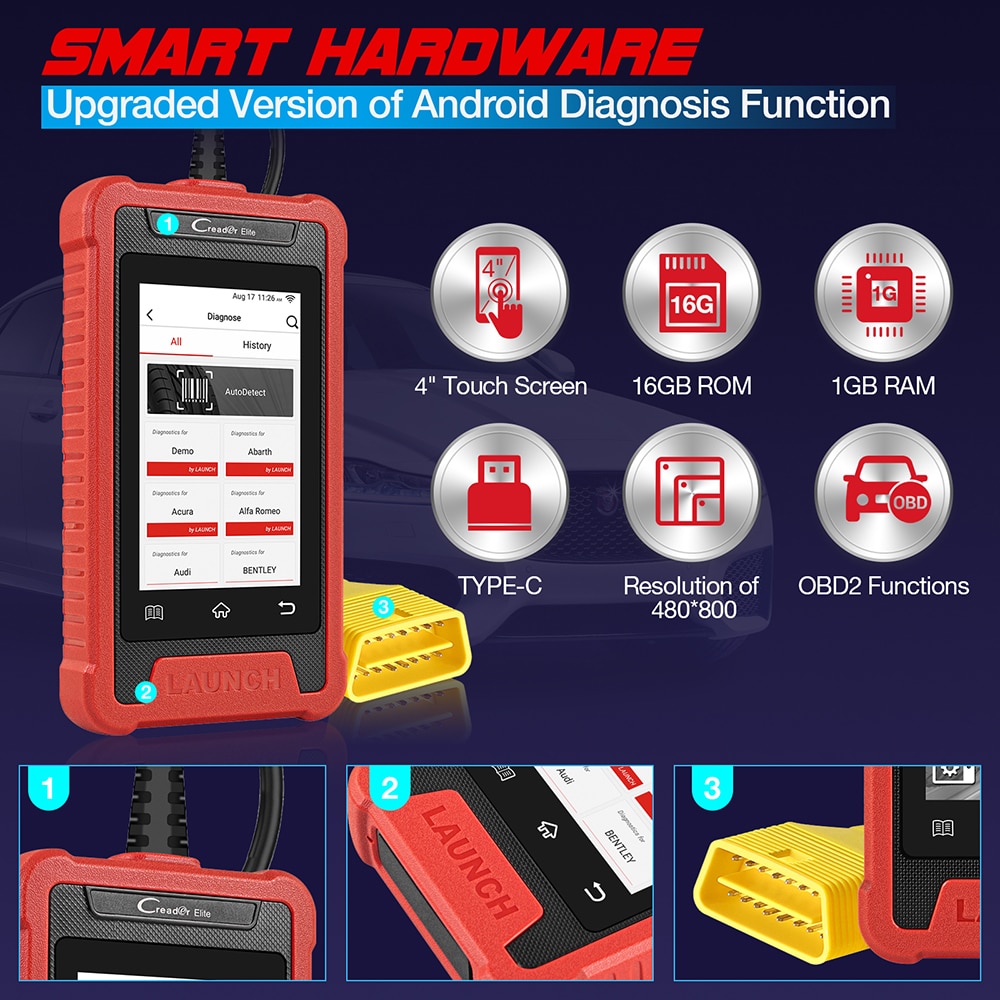 Only logged in customers who have purchased this product may leave a review.