Launch X431 PRO DYNO Bidirectional Diagnostic Scanner
Free shipping by fast way 4-9 days
$710.00
Description
LAUNCH X431 PRO Dyno Bi-directional OBD2 Scanner for All Cars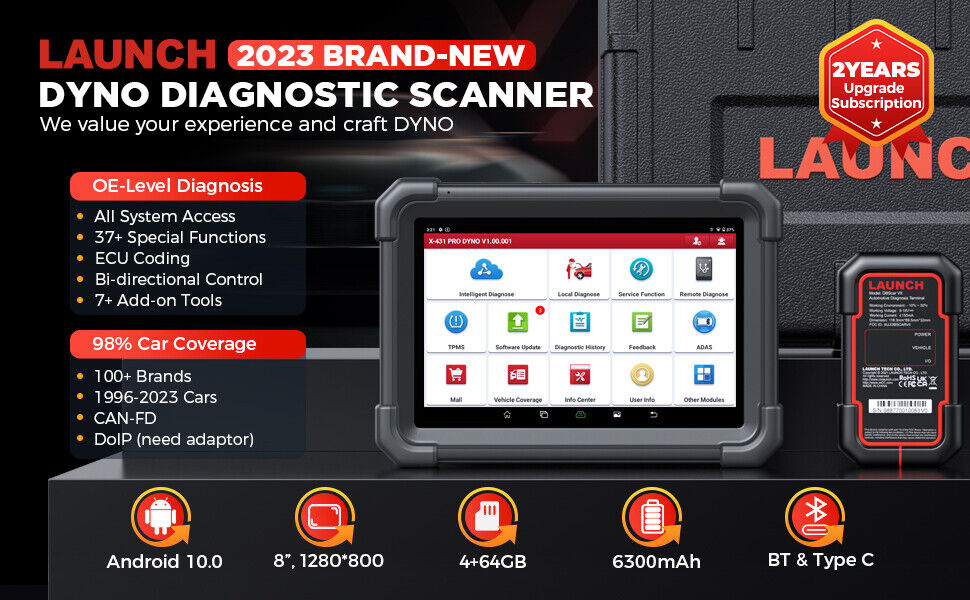 BULLET POINTS:
[Meet LAUNCH X431 PRO Dyno] A 2023 all-new car scanner, boasts of flagship-level diagnostics, yet at rock-bottom prices! You'll affordably repair 99% car issues in one solution: E.CU Coding, All System Access, Active Tests, 37 Special Functions, AutoVIN & Scan, Remote Diagnosis, Diagnostic Record & History, 2-Year Update,8 Optional Expanded Tools (ADAS/Scopebox/Sensorbox/Multimeter/Videoscope/BST360/IMMO Programmer/TSGUN); covering 100 brands, CAN-FD & DoIP.
[All Level-up Settings] This scanner for car connects via DBScar VII, allowing 33ft. wireless range for you to freely walk around as using scan tool. To ensure successful coding work, the type-c port is available for more stale connection.➤Superior Hardware: 4-Core 2.0GHz Processor for smoother operation; 6,300mAh battery for 21 hrs of continuous use; 4 64GB ROM/RAM for more data storage and faster updating; 8″, 1280*800 for clearer and at-a-glance display of data.
[More Coverage & Features] Unlike OE scan tools that work on limited range of vehicles, this car scanner diagnostic for all cars has complete database covering 100  diverse brands. It supports CAN-FD (for 2020- GM & Chrysler models), DoIP (for Volvo, LandRover/Jaguar, BM.W F/G …; *need adaptor). It has more productive features, more powerful hardware than PRO ELITE, PROS V , and keeps adding more maintenance services into the coverage. See details on page.
[Advanced E.CU Coding] This scan tool offers E.CU Coding to suit more repair needs and thus win more business: 1) relearn, recode newly-installed E.CUs (match current car settings); 2) make adaptive data for components (solve major car issues); 3) personalize car OE settings (e.g. change lights brightness & flashing intervals/setup reminder/close start & stop).➤This works on top-selling brands in US, compatible with Toyota, Honda, Chevrolet, Fo.rd, B.enz, B.MW, Au.di, Ren.ault, and more.
[All System Scan Active Test] This diagnostic obd2 scanner gets an insight into all accessible system such as PCM/ECM/EPS/PDM/BCM/TPM/SCCM/RADIO etc., to read, clear 99% generic & manufacturer DTCs, obtain E.CU info, and display graphic live data. It is also bidirectional scan tool, can send commands to E.CU and receive a response like turn on/off radiator fan, lights, sound horn, fu.el pump, etc. to quickly locate faulty auto parts. This is very helpful to smooth your workflow.
[37 HOT Special Functions] LAUNCH PRO Dyno features 37 commonly-used special functions to help solve most cars issues you'd meet in workshops: Oil/Brake/Immobilizer/Steering/TPMS/Battery/DP-F/E-PB/Throttle/Stop&Start/NOX/Adblue/ETS/SUS/Air&Fuel/Sunroof and more. Almost all basic, special, and advanced resets & relearns are included. You'll have ever-effective repair thanks to its OE-level accuracy and menu-guided procedures.
[8 Add-on Service Modules] This LAUNCH scanner can work with 8 service tools to better suit your various repair needs: 1) VideoScope: to check hard-to-reach vehicle parts; 2) BTS360 Battery Tester: to get a thorough battery test; 3) Immobilizer Box: to have locksmith-level IMMO services; 4) X431 TSGUN: to have complete TPMS functions; 5) O2-1 Scopebox: to simulate vehicle sensor faults; and ADAS Tool Kit, Multimeter, Sensorbox, etc. All are sold separately.
[Buy With Confidence] You'll also have 1) Remote Diagnosis: remote tech. assistance to fix complex issues; 2) Diagnostic Report: auto-generated to keep a record for further analysis; 3) Online Feedback: instant message to get timely operating / diagnostic tips. LAUNCH PRO Dyno includes 2 years of subscription-free updates and reliable lifetime tech. assistance offered by a team of experts.
LAUNCH X431 PRO DYNO: Next–Level Solutions, Maximize Your Power
This 2023 newly-released LAUNCH PRO Dyno is a great car scanner diagnostic for all cars for car shop owners, DIY enthusiasts, and professional technicians. It is sold at an affordable, very unbeatable pr.ice, yet remains easy to use, fast, reliable, accurate and has extensive basic, special, and advanced functions, to transform your garage into a mechanics paradise:
All Level-up Specifications: this scanner for cars offers a fast operation speed and a quick diagnosis benefiting from superior specifications: 2.0GHz 4-core processor, a crystal-clear 8" 1280*800 screen, 4 64GB expanded memory, a larger 6300mAh battery, and wireless & wired VCI connections.
Advanced E.CU Coding: match, calibrate, personalize, relearn, recode various E.CU components, to optimize driving quality and make personalized settings for preferences.
OE-Level All System Diagnostics: decode not only generic but also OE-specific codes, ensuring comprehensive analysis, precise detection, and accurate troubleshooting.
Bi-directional Control: send instructions directly from the scan tool to the vehicle, greatly reducing your repair time and quickly pinpointing fault's location.
37 HOT Special Functions: handle 99% of daily car reset and relearn services to meet your majority of repair needs.
CANFD & DoIP Support: this LAUNCH scanner covers modern cars adopting these two automotive protocols. You'll get more reliable and efficient means of data transfer, and greatly reduced repair time and costs. *Need DoIP adaptor.
8 Expanding Service Module: working with a rich array of service tools to meet your various diagnostic scenarios: X-PROG3 Box, ADAS ToolKit, O2-1 Scopebox , S2-2 Sensorbox , S2-2 Multimeter , BST360, VideoScope, X431 TS-Gun, and more.
24 Languages Supported: English, French, Spanish, German, Russian, Korean, Japanese, Portuguese, Italian, Polish, Dutch, Hungarian, Finnish, Czech, Turkish, Greek, Arabic, Danish, Persian, Romanian, Serbian, Swedish, Chinese, Bulgaria.
OE-Level All System Diagnostics
LAUNCH X431 Pro Dyno is a full system obd2 scanner, designed to be used within the professional repair shop. A full system scan tool can run diagnostics across all vehicle systems and electronics. For example, this LAUNCH scanner can pull codes, clear codes, check freeze frame data, view live data, and plot PIDs on the AntiLock Braking System (ABS), and quickly report back on whether there are any issues with this system. Using a scanner for car in this way can save a lot of your valuable repair time.
Other accessible systems include: "Engines, Auto Transmission, Air~bags, Immobilizer, Key Coding, ABS, Cruise Control, Instruments, Self Leveling Suspension systems, Seats, Doors, Gateway, Steering Angle, Air Suspension, Body Systems, Electronic Power Steering & Motor Assisted, Power Steering, Tire Pressure, Rain Sensors, 4WD System …" depending on your vehicle's make, model and year.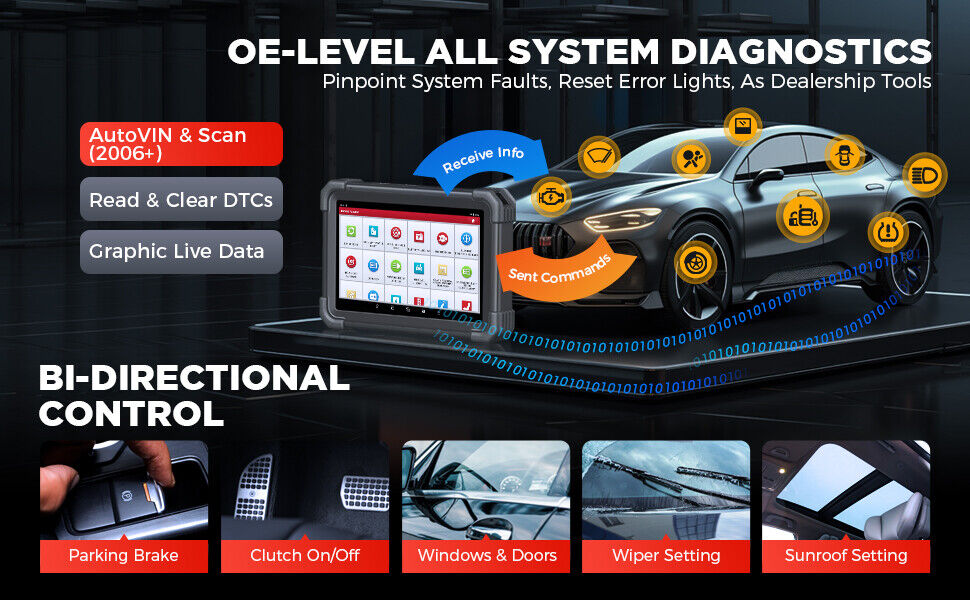 Bi-directional Active Tests
LAUNCH Pro Dyno is also a full bidirectional scan tool (Active Test). You can send the command to the E.CU and receive a response. Consequently you can control car functions directly from the scan tool to easily find problems and possible solutions in minutes.
For example: "Turn on the radiator fan – modulate the throttle – open/close windows – operate mirrors – test injector buz – turn on interior/exterior lights & sound horn – test door loc-k actuators – test injector – turn off ACC lane keeping assist system (LKAS) – turn on/off front & rear side ACM solenoid – turn on/off the fuel pump – cycle the A/C – clutch on/off – test left clutch electromagnetic coil – test acceleration device – test oil pressure control – aim dynamic camera – calibrate vehicle level position – pump brake vacuum – test inlet & outlet valve – test open brakes – supply wheel speed sensor – test parking brake and more."
Benefits for Pro Mechanics & DIYers
For Pro Mechanics: this all system scan tool can read a full range of parameters and data. Pro mechanics can then use this information to identify the specific problem areas and make necessary repairs. Additionally, its accurate and fast bi-directional car scanner can greatly smooth your workflow.
For DIYers: this all system bi-directional scanner can help you save a lot of time and money by quickly identifying and addressing problems before they become more serious or costly to fix.
**REMINDER: the function menu varies by manufacturer, year, and model. Only the available diagnostics and tests will be displayed in the menu.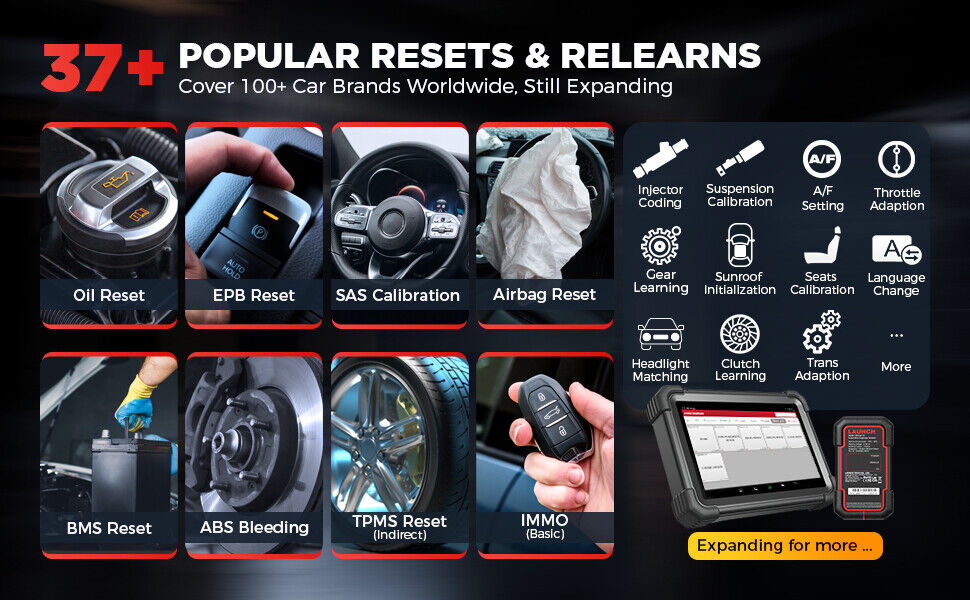 37 Special Functions: Satisfy Your 98% Repair Work
There is an independent "Special Function" function module in this LAUNCH X431 PRO Dyno. It can effectively access vehicle systems to reset partial parameters' status after repairs are done. This will save you the hassle to search for the target service in car software.
The 37 special functions are:
"Oil Maintenance Reminder Reset, Throttle Adaptation, Steering Angle Reset, Brake Pad Reset, Tire Pressure Reset, IMMO & K.ey Programming, ABS Exhaust, Battery Matching, Gear Learning, Injector Coding, DPF Regeneration, Headlight Matching, Gearbox Matching, Suspension Matching, Sunroof Initialization" and more of 2023 newly-added functions that cannot be found on other scanners for cars.
The following are some applications:
Oil Reset Service: to reset the engine oi-l life system, so the system can calculate when the next oi-l change is required.
ABS/SRS Services: to perform various bi-directional tests to check the operating conditions of both the anti-lock braking system and the supplemental restraint system.
Steering Angle Sensor (SAS) Service: to clear the steering angle sensor fault memory, and calibrate the system to the default straight-ahead position.
ABS Bleeding: to help remove trapped air, ensuring your car remains safe to drive.
Injector Coding: to write in the adaptive code, achieving the optimum injector running status for smooth running.
Windows Calibration: to restore the automatic ascending & descending function of a power window.
Suspension Matching: by reducing the root mean square (RMS) acceleration, to help enhance the comfort of the vehicle's ride, even on uneven or bumpy roads.
**REMINDER: The function menu varies depending on the year, make and model of your vehicle. Visit the LAUNCH website, or message us to get the complete compatible car list.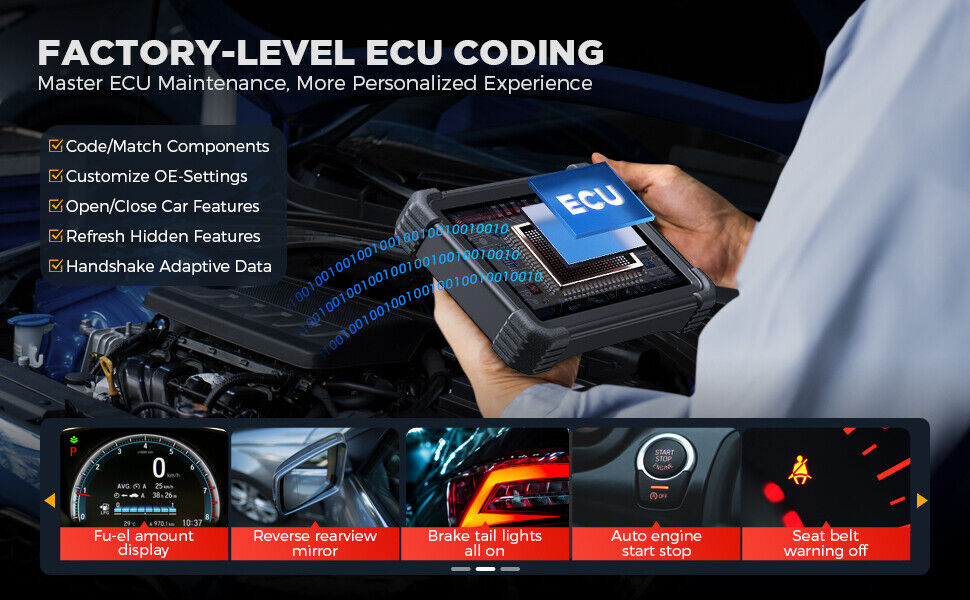 Advanced E.CU Coding: Customize the Car to Your Tastes
This is a fantastic feature that is usually only seen on top-ranking LAUNCH X431 bidirectional scan tools. It allows you to recode elements of a vehicle's CPU. This could be to customize the vehicle to a customer's specifications, or to match a new component so that everything works properly.
Setup New E.CU Modules: After replacing the E.CU/module, you have to match, learn, or code it before it functions normally. Otherwise, the car cannot start or some parts cannot work normally. The E.CU Coding will make sure the newly-installed E.CU modules work in harmony with the rest of the vehicle system.
Open/Close Car Functions (personalization): You can also bring higher-level (deluxe) functions into your general model for better driving quality. For example: make the moving pointer perform self-check / display the amount of fuel consumption / open beep sound / one press to close all windows / flash all brake lights during emergency braking / make turn signal light & rear fog light alternatively flash / open & close daytime running lights, etc. In addition, close some functions that you probably won't need like the auto star-t & sto-p system.
Fix Complex E.CU-controlled Issues: many tricky issues can be fixed through recoding or calibrating E.CU modules. The issues include low fu.el efficiency, mysterious power loss, unknown faults in mechanical parts, and others.
**REMINDER: Please be aware that the coding operations displayed in the menu may vary depending on the test vehicle. Only the operations that are available for the specific vehicle will be shown.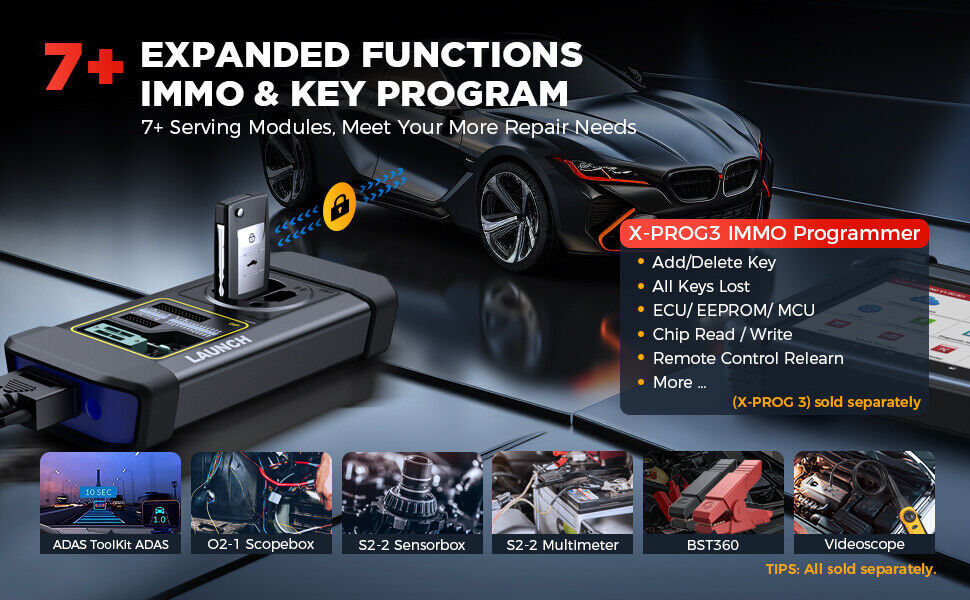 Work with 8 Extension Modules: Get More Functions & Business
You can add a series of add-on servicing modules to extend the functionality of this LAUNCH obd2 scanner. The function modules include:
LAUNCH X-PROG 3: by working with this state-of-the-art key programming module, this car diagnostic scanner for all cars can turn into a fully-capable IMMO service tool:
IMMO & Key Programmer: Key matching/ copy, anti-theft IC reading & writing, E.CU/ EEPROM/ onboard MCU 1000 models reading & writing, anti-theft type identification, remote control matching, key chip reading & matching, anti-theft password reading, anti-theft component replacement, etc.
Advanced IMMO Technology: Reads & writes most engine/ gearbox E.CUs without disassembling the shell.
Core Functions: E.CU replacement (for VW/Aud.i non-35XX instrument; 4th Gen. of V-W/ Aud.i engine; 5th Gen. of V-W/Aud.i Bosch and Siemens engines, etc.); 8HP Gearbox E.CU reprogramming to empty (for BM.W F & G chassis); Module replacement (for BMW CAS4/CAS4 ); E.CU cloning and replacement (for BMW Siemens engines); Erase engine and gearbox password (for Ben.z) and many more.
Wide Brands Coverage: V-W, Au.di, Skoda, Seat, BM.W, Be.nz, Toyota … still growing.
Board System Coverage: engine, automatic transmission, CAS, body, lock … and more.
ADAS ToolKit ADAS: to make ADAS calibration for systems like automatic emergency braking, lane departure warning, lane-keeping assist, blind-spot elimination, and night vision etc.
O2-1 ScopeBox: to quickly acquire the circuit signal, and slowly display the waveform for better data analysis.
S2-2 Sensorbox: to diagnose and simulate vehicle sensor faults quickly.
S2-2 Multimeter: to measure voltage, current, and resistance in electrical circuits.
BST360 Battery Tester: to get a thorough test of the vehicle battery (SOC/SOH/Cranking/Charging, etc.)
Videoscope: to have up-close visual inspections in confined areas.
X431 TS-Gun: to activate all sensors, relearn & program LAUNCH sensors; complete TPMS features.
**REMINDER: Need extra costs to buy separate service modules.

Remote Diagnosis & Feedback
When you encounter a complex car issue that is beyond your ability, you can easily get connected with an expert who is NOT physically present to help you fix it by using "Remote Diagnosis". And if you have some difficulties or find some bugs during the use of this scan tool, you can send "Feedback" messages to LAUNCH technicians. They will handle the issues promptly.
Diagnostic History Record
This scan tool will record every detail of the diagnostic session in a date sequence. With direct access, you can resume the last operation without starting from scratch. Additionally, you can maintain vehicle health logs, compare changes in vehicle conditions, and easily share the repair details with other experts.
2018 FCA SGW Access
After registering with AutoAuth Services, this LAUNCH scanner can get diagnostic access to FCA SGW-equipped cars (e.g. 2018-2023 Fiat, Chrysler, Alfa Romeo, Dodge, Je.ep, etc.). You can perform diagnostic tasks such as code clearing, bi-directional functions, etc. after skipping the SGW barrier. Note that it may require a subscription fee annually.

Guided Functions for VAG
Are you having difficulty diagnosing VAG group models (Au.di, Volkswagen, Skoda, Seat, etc.) because of not having security codes and channel numbers? With this diagnostic tool, you don't need to search online for code. The Guided Function will be your solution. By simply following the provided guidance, you can easily match, calibrate, and make basic settings.
98% Worldwide Car Coverage
These one-station LAUNCH car scanner works across 100 major car brands around the world, including the top-selling Toyota, Honda, Chevrolet, Fo.rd, Ben.z, BM.W, etc. It even supports CAN-FD cars (for 2020 & newer GM and Chrysler models), and DoIP-compliant cars (*Need adaptor, for Volvo, BM.W F/G, Land Rover/Jaguar, etc.).
AutoVIN & Scan (2006 )
LAUNCH has pioneered the intelligent "AutoVIN & Scan" based on 20 years of automotive diagnostic technology. With this car scanner you can automatically scan all models in all systems in minutes, without manual input to get make/model/year/engine model/engine size/VIN data; and have quick access to matched diagnostics, and history records.
One-touch Smart Updating
This LAUNCH scanner is fully Wi-Fi capable. You don't need to hook it up to a computer to renew the unit's software and firmware. And the updating is easy. LAUNCH PRO Dyno will automatically filter out commonly-used software based on your user habits. With one touch, you'll have expanded car coverage, enhanced functions, and bug corrections.
Helpful User Info. Center
LAUNCH PRO Dyno integrates "Operation Tips, DTC Help, Technology Handbook" modules providing extensive repair knowledge every time you use it. You'll have a mind-blowing experience like following an expert to fix every hassle you'd meet. It also offers 9 different languages user manuals, for you to conveniently master this scan tool.
Only logged in customers who have purchased this product may leave a review.