Original LAUNCH CRP429C 4 Systems Diagnostic Scan Tool + 15 Special Service Functions Free update lifetime
Description
LAUNCH X431 CRP 429C OBD2 Code Reader Test Engine/ABS/Airbag/AT 15 Reset Function
Launch CRP429C is an evolutionary smart solution for passenger car diagnosis. It inherits from LAUNCH's advanced diagnosing technology and is characterized by covering a wide range of vehicles, featuring powerful functions, and providing precise test result. CRP 429C supports all 10 models of OBDII test for a complete diagnosis. CRP 429C also supports the system diagnosis of ABS.SRS, ENG and AT system, and supports 15 reset functions.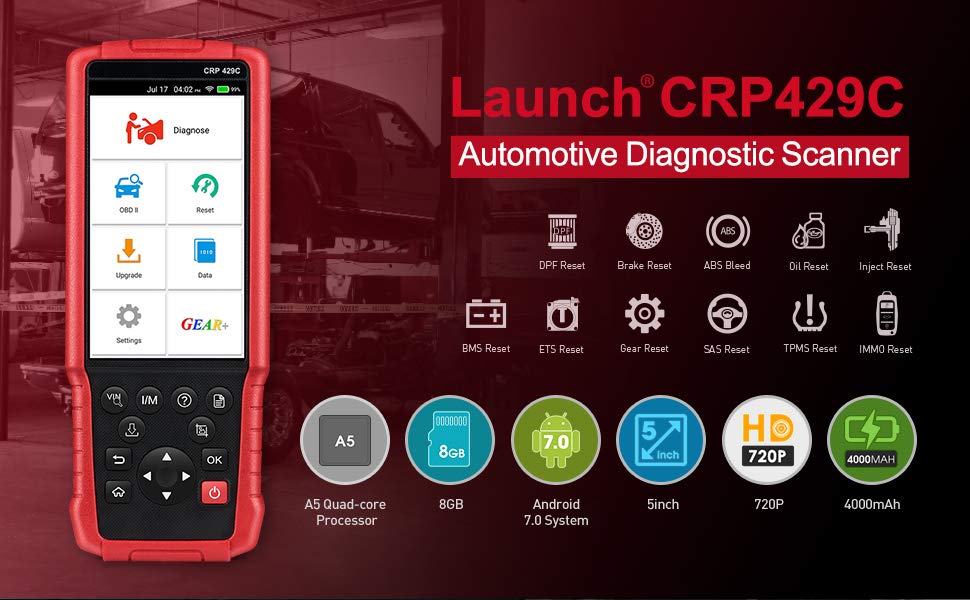 Top 10 Reasons to Get Launch CRP429C:
1. OBD2 FULL FUNCTION 11 SPECIAL FUNCTIONS: Launch CRP429C is one professional diagnostic tool with powerful function, support obd2 full function such as read and clear DTCs for Engine/ABS/SRS/Transmission, graph live data of all system, evap system test. Compared with general obd2 scanner, CRP429C add oil reset, SAS reset,electronic parking brake reset,battery maintenance, ABS bleeding, electronic throttle position reset, DPF regeneration, injector coding, TPMS reset, IMMO matching, gear learn.
2. POWERFUL SCAN TOOL: CRP429c can do comprehensive diagnosis for Engine/ABS/SRS/Transmission system, and it built in over 3000 generic error code definitions, help you know car problem quickly.
3. OBD DIAGNOSTIC TOOL: this automotive code reader&scan tool not only support obd2 connector car , also support obd1 connector car, it very practical. Please note, launch crp429c only comes with obd2 connector cable.
4. EASY TO USE: CRP429c is one 5inch touchscreen obd2 scanner, equipped with android system and A5 quad-core processor, 8GB ROM, high-speed diagnostic and feedback, it is like our mobile phone, very easy to use for every person.
5. CONVENIENT BUTTON: Launch crp429c have one-click update online button, one-click read I/M readiness button, one-click screenshot, one-click identify VIN, one-click read diagnostic report, and you can print the report by sharing it to pc.Launch crp429c is advanced version of launch crp129 and Launch X431 creader viii.
6. Multilingual Support: English, French, Spanish, Russian, Japanese, German, Italian, Portuguese.
7. Compare with crp123, crp129, creader vii , creader viii ,launch crp429c can not only work for obd2 cars, it also can work for obd1 cars.
8. Eliminated complex registration steps, crp429c can be used without register.
9. One-Click Update Scan Tool with Touch Screen  and Android System. Free update lifetime Online.
10. Support obd2 full function & Support 11 special functions, it is one economic DIY tool for mechanic!
The Advantages of Launch X431 CRP429C:
1. Supports all 10 models of OBDlI test
2. Support 4 major systems of Engine , Transmission , ABS and Airbag system
3. 11 Reset Function : including Oil Lamp Reset, Brake Pad Reset, TPMS Reset,Battery Matching, Injector Programming,  Throttle Adaptation, DPF Reset, GearLearning, Steering Angle Reset, ABS Brake Bleeding, and Anti-Theft Matching.
4.Basic diagnostic functions: Version Information, Read DTCs ,Clear DTCs and Read Data Stream (supports 3 dispiay modes: Value, Graph and Merged).
5.Support Multi-languages
6.Update:One-Click update online via Wi-fi , One years free update
7. Print : Support print out diagnostic report via PC
8.Multiple car models (covering over 40 prevailing models from Asia, America and Europe).
9.Touch screen and button operation model, meets majority of users needs
Smart(Auto-Detect Diagnosis: Once CRP 429C and the vehicle are properly connected, the system starts auto-detect process. Once the whole process is successfully finished, a diagnostic report will be automatically generated and sent to your email box (if bound). Diagnostic Feedback: Use this option to submit the vehicle issue to us for analysis and troubleshooting
DTC_ Library: Allows you to retrieve the definition of the diagnostic trouble code from the abundant DTC database.Displays battery real-time voltage once properly connected to the vehicle Features screenshot capture. Screen shots and reports sharing are supported.Touch & Keypad input are supported. Quick Dial buttons enables you to easily access the corresponding functions.
Launch X431 CRP429C: ALL 10 Mode OBDII Functions
Mode 01—Request current powertrain diagnostic data.
Mode 02—Request freeze frame information.
Mode 03—Request emissions-related diagnostic code
Mode 04—Clear/reset emissions-related diagnostic information.
Mode 05—Request oxygen sensor monitoring test results.
Mode 06—Request on-board monitoring test results for specific monitored systems.
Mode 07—Request emission-related diagnostic troublecodes detected during current or last completed driving cycle
Mode 08—Request control of on-board system, test or component.
Mode 09—Request vehicle information.
Mode 0A—Request emissions-related diagnostic troublecodes with permanent status after a clear/reset emission-related diagnostic information.
Launch CRP429C Special Functions:
Oil Lamp Reset
ABS Bleeding
Injector Coding
Gear Learning
EPB (Electronic Parking Brake Reset)
TPS(Throttle Position Matching)
IMMO ( Immobilizer Matching )
SAS Reset ( Steering Angle Calibration )
BMS ( Battery Register / Battery Maintenance )
TPMS Reset (Tire Pressure Monitor System Reset)
DPF Regeneration ( Diesel Particulate Filter Regeneration)
Email Setup: This option is used to set up the default email address for automatically receiving the diagnostic reports, then you can print it on computer.
Basic system ENG/ABS/SRS/Transmission diagnostic tool —- launch crp429c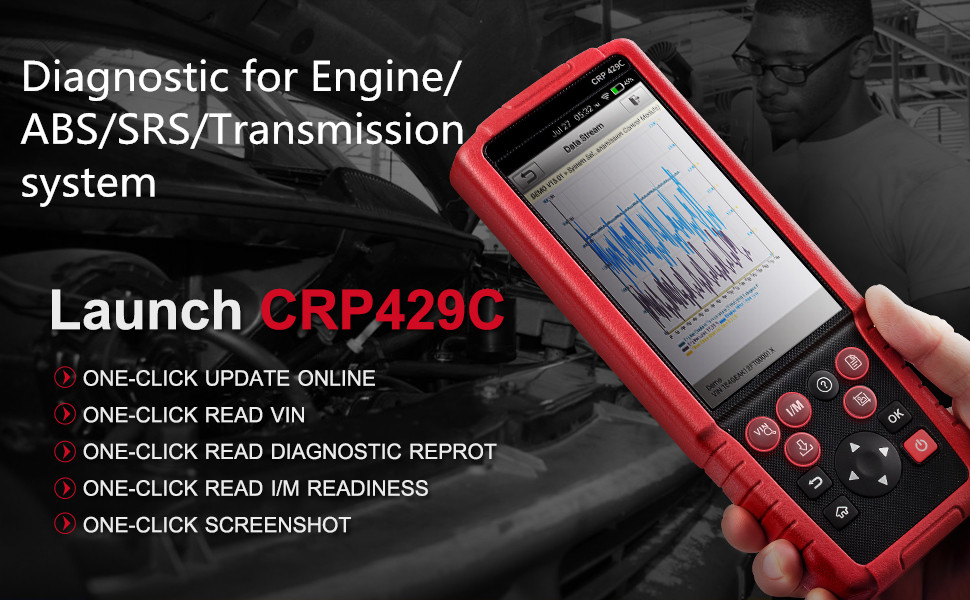 Engine System
An engine or motor is a machine designed to convert one form of energy into mechanical energy. Heat engines, including internal combustion engines and external combustion engines , burn a fuel to create heat, which then creates a force. So it is very important to check engine system, launch crp123 can help you find out the problem of engine system
Transmission System
Automatic transmission, also called AT, is a type of motor vehicle transmission that can automatically change gear ratios as the vehicle moves, freeing the driver from having to shift gears manually. Like other transmission systems on vehicles, it allows an internal combustion engine, best suited to run at a relatively high rotational speed, to provide a range of speed and torque outputs necessary for vehicular travel. The number of forward gear ratios is often expressed for manual transmissions as well.
SRS System
The Supplementary Restraint System (SRS) is basically an air-bag system. This works together with conventional 3-point seat belts and prevents impact of the driver's chest and face with the steering wheel in the event of a collision. SRS may sometimes be installed to the passenger's side to prevent impact with the dashboard. Side-impact air-bags are also fitted to protect the upper body and head during a sideways impact.
ABS System
An anti-lock braking system or anti-skid braking system (ABS) is an automobile safety system that allows the wheels on a motor vehicle to maintain tractive contact with the road surface according to driver inputs while braking, preventing the wheels from locking up (ceasing rotation) and avoiding uncontrolled skidding.
DTC LOOKUP and Print Report
Launch CRP429C built in over 3000 generic error code definitions, you can type the fault code online, it can help you know car problem quickly.You take screenshot for the data you need, then share them to your email to print. This function is very excellent.
Supported Brands:
Demo, ACURA, Alfa Romeo, Audi, BMW, BUGATTI, Chrysler, Citroen, DACIA, Daewoo, Euroford, Fiat, Ford, Mitsubishi, Nissan, Opel, Peugeot, Porsche, Renault, SAAB, SAMSUNG, Seat, Skoda, Smart, Sprinter, Subaru, Suzuki, Tlisuzu, SAAB, SAMSUNG, Toyota, Vauxhall, Volvo. VW, GM, Gmsa, Honda, Hyundai, Infiniti, Isuzu, Jaguar, Kia, Lancia, Landrover, Lexus, Lincoln, Mazda, Mercedes, Mini
Data Stream Graph
Data stream can help view different data with graph at the same time.4 Live Data Stream Analyse in 1 Graph: This OBDII diagnostic scanner has big size LCD color screen .it also shows live vehicle sensors data in text,multiple graph format shows 4 live Readiness and allows you to focus on any suspicious or symptom-specific data parameters.
Save the Trips to Your Mechanic
Built-in generic codes definition look up library, help you know car problem accurately, save time for fixing.Launch crp429c is powerful function but simple button scan tool.It is very easy to use for all people, you can diagnostic the car at home then go to the repair, save the trips to your mechanic.
Comparison Between Launch CRP429C and CRP129: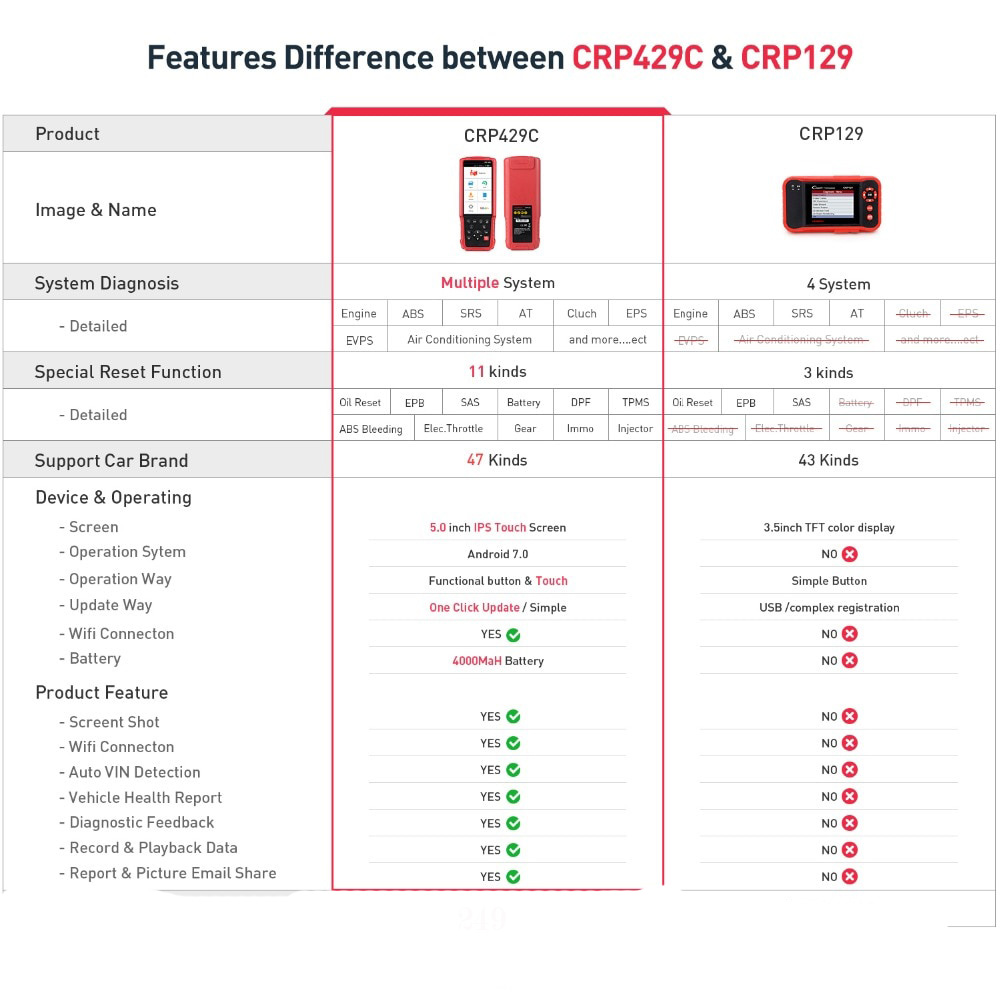 How to Update Launch CRP429C:
1.If some new software or APK can be updated, a numeric indicator will display on the "Upgrade" module on the Job menu. In this case, you may use this option to keep it synchronized with the latest version.
2.Tap "Upgrade" on the Job menu to enter the update center. By default, all diagnostic software is selected.
3.To deselect certain software, tap "Unselect", and then check the box next to vehicle model.
4.Tap "Update" to start downloading. It may take several minutes to finish it, please be patient to wait. To pause downloading, tap "Stop". To resume it, tap "Continue". If network connection failure occurs, tap "Retry" to try again.
5.Once download is finished, the software packages will be installed automatically.
Launch CRP429C FAQs:
Q: System halts when reading data stream. What is the reason?
A: It may be caused by a slackened connector. Please turn off the CRP429, firmly connect the connector, and switch it on again.
Q: Screen of main unit flashes at engine ignition start.
A: Caused by electromagnetic disturbing, and this is normal phenomenon.
Q: There is no response when communicating with on-board computer.
A: Please confirm the proper voltage of power supply and check if the throttle has been closed, the transmission is in the neutral position, and the water is in proper temperature.
Q: What to do if the system fails to start auto VIN detection?
A: Please check the following possible reasons:
1. Whether CRP429 is properly connected to the vehicle's DLC.
2. Whether the "Automatic detection on Connect" switch is OFF. If yes, slide it to ON.
Launch CRP429C Technical Parameters:
Operating System:               Android 7.0
Processor:                            Cortex-A5 processor (1.5 GHz)
RAM:                                    1GB
ROM:                                    8GB
Display:                                5 inch IPS touch screen
Connectivity:                       Mini USB 2.0,  Wi-Fi
Power and Battery:             4000 mAh lithium-polymer battery
Built-in Lithium Battery:     4000mAh
Ambient:                              -20℃ ~ 70℃ (storage); -10℃ ~ 50℃ (working)
Product Size:                       248.7×93.5×36(mm)
Product Net Weight:          530g
Launch CRP429C Package List:
1 * Main Unit
1 * OBDII Diagnostic Cable
1 * DC 5V Charging Cable
1 * User's Manual
1 * Padded Carry Case
Only logged in customers who have purchased this product may leave a review.